Posted on 15. Jan, 2012 by Harrison Cheung in Featured
British actor Dominic Cooper's breakthrough role was on the London and Broadway stage in a production of  THE HISTORY BOYS, a popular play about 8 teenage boys coached to get into Cambridge.
The popularity of the play resulted in an acclaimed 2006 film adaptation, for which Cooper was nominated Most Promising Newcomer by the British Independent Film awards, and by the Empire Awards, as well as a Best Supporting Actor nomination by the London Critics Film Circle.  He had come a long way from his professional debut in a condom commercial!
The Buzz: Cooper's career has since been full of variety (and acting award nominations) – from British television to Masterpiece Theater to supporting film roles, probably best known for his beefcake portrayal of Sky in MAMMA MIA, the Abba musical. During production, he and co-star Amanda Seyfried started going out, though they ended their relationship soon afterward.
Great acting by Dominic Cooper in Lee Tamahori's "The Devil's Double."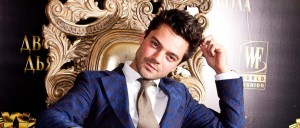 With his dark good looks and his oscillation between leading man and character actor, Cooper may not have the ambition (or luck) of his contemporaries like Andrew Garfield. But he definitely has the talent as the critics take notice of this rising star.
Up next Dominic will sink his teeth into "Abraham Lincoln: Vampire Hunter" playing the blood hungry Henry Sturgess. The hunt begins June 22, 2012.
Why wait? See Dominic Cooper now  in "My Week With Marilyn."
Watch movies online:  Dominic Cooper in "The Devil's Double" (via Amazon.com's instant video)
Dominic Cooper on IMDB