This month we received exciting news about our friend, Brave New Hollywood guest-blogger, author Harrison Cheung who has been achieving new success and aiming for higher, creative grounds. Harrison is the author of Christian Bale: The inside Story of the Darkest Batman, an entertaining, character study of one of Hollywood's brightest stars, and the career trajectory observed, in person, by Cheung who was Bale's right-hand man for over 10 years.
How did Harrison Cheung find himself in such an intimate position with a British actor who would become super-famous as Christopher Nolan's Batman? It's the tale movies are usually made of.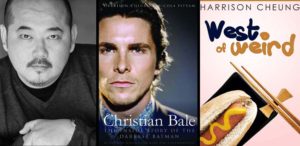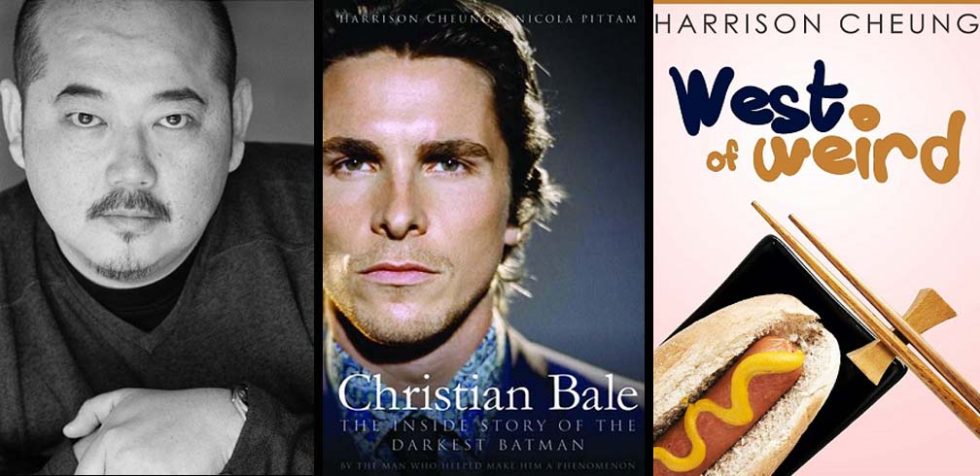 As a fan of the 1987 film Empire of the Sun, Cheung wrote a letter to the film's director Steven Spielberg expressing his appreciation for the film and the filmmaker's attention and efforts shedding light on the important historical events most people in the world may not know about. By the way, Bale, as a child actor, steals the film. Spielberg, get this, replied to Cheung, asking him to express his thoughts to the film's young star, Bale who did not take the film's weak box office performance easily. And so it began as Bale and Cheung started exchanging letters. Finally, the senior Bale, Christian's father, David who was monitoring the entire interaction, decided on hiring Cheung to help lead his son's career while serving as a publicist, a script reader, and a confidant.
At Brave New Hollywood, we read The inside Story of the Darkest Batman, and can tell you more about the exciting and turbulent team that was Bale and Cheung, but you should get your hands on a copy and find out about the celebrated English actor and learn about the inner workings of Hollywood and its star-making machinery.
The exciting new news we really want to share is about Harrison Cheung's new book, West of Weird a Young Adult novel about a teenager who gets adopted by an Asian-American father and finds himself relocated, with his adoptive father, from California to Texas.
So far, in its preliminary stage, the story of the book has generated enough buzz for the book to move up the list on the prestigious Launch Pad Manuscript Competition, a yearly competition in creative writing, sponsored by industry heavyweights such as director Ridley Scott.
Harrison Cheung's novel is ranked in the Top 50 Best manuscripts of 2016.
In support of creative, new voices, we also ask you to take a look at the book's crowdfunding page, mainly because we think it would make a great film with diversity in casting, something Hollywood seriously needs to pay attention to, perhaps more than ever. This way, you can get a better idea about the novel, its story and hopefully help support its growth and publishing.
In a Q&A conversation with Harrison Cheung, we asked him about this new adventure.
BNH: How did you come up with the story of this book and how did you decide on the title?
West of Weird came about from my volunteer work with teens in foster care.  These kids all have the same worries about wanting a home before they age out of the system at 18.  Adoption agencies try their best to match kids with potential parents, but there are still some antiquated screening criteria based on race, religion.  I wanted to write about what I experienced myself when I tried to adopt a child as a single Asian father.  And the truth is that adoption agencies rank potential parents like this – traditional mom/dad first, single moms, then way down, are gay parents, and bottom on the list are single dads.  I've had a caseworker bluntly tell me that it wouldn't be fair for a child to be picked up at school by someone of a different ethnicity because it would be immediately apparent that the child was adopted.  So, in this caseworker's eyes, was it better for a child to be homeless than to risk a "transracial" adoption?
I also noticed how teens in general have more and more to worry about in life:  Terrorism, earthquakes, and seriously, the zombie apocalypse?  When your school is running drills in case of an armed intruder, there's no wonder that teens today can get fatalistic.
What I also wanted to explore is the humor and challenge of moving – that "stranger in a strange land" theme.  I watched this when the very English Christian Bale tried to get used to living in America.  And I myself made big moves from Canada to Los Angeles to Texas.  And that's where the title comes from – West of Weird.  Austin, Texas calls itself Weird (borrowing a page from Portland), so Californians are considered "West of Weird."
BNH: Why do you think the novel, before being published, has garnered such attention?
I was very lucky that the Christian Bale biography had built up a large audience (over 216,000 Facebook fans to date) and there was this regular, "What's next? What's next?" from my readers.  So after I finished 'West of Weird,' I sent it off to my editor and then entered it into the Ridley Scott / Launch Pad Competition.  When I was told that the book was in their Top 50, I started getting requests for reviews, and the first reviews have been beyond my expectations!
November is also National Adoption Month, and I think the timing was good, especially thanks to the success of the ground-breaking TV series, The Fosters (ABC Family) which portrays a transracial lesbian couple with a large, extended mix-ethnicity family.  Also, there is the comedy, Fresh off the Boat (ABC), where an Asian-American family is uprooted from Washington DC to Orlando, Florida.  Suddenly, 'West of Weird' isn't such a hard sell conceptually.
BNH: What does it mean to you, either personally or career wise, to be included on the list?
Ridley Scott is one of the most influential filmmakers of our time. I've lost count of how many times I've seen Blade Runner and Alien and Legend.  When I entered this competition, I figured I'd be up against thousands of great writers in the entertainment industry, so to be selected to the Top 50 was amazing.
BNH: Don't you think the story makes a great movie or even a TV series?
I think so. I think West of Weird would make for a wonderful drama on the scale of a 'Stand by Me.' The grand prize for this Ridley Scott / Launch Pad is to have the book optioned by Ridley Scott's production company.  I tend to think of Ridley Scott films as giant special effects epics like The Martian or Prometheus with a very thought-provoking core.
BNH: What is your favorite Ridley-Scott-directed movie and why?
That's a tough one – I have so many favorites, but I'd have to stick with Blade Runner.  It was the first film noir I ever watched, and it was a vision of the future that I had never seen before.  Blade Runner clearly influenced every sci fi film that came after it.  And it's interesting to watch films like 'Ex Machina' and shows like Westworld and feel that Blade Runner had already explored that theme of when life – real or manufactured – becomes sentient.
BNH: What are some stories or themes missing from today's movies? Can you make any suggestions?
I'm personally a big fan of Masterpiece and period shows like Downton Abbey and now Netflix's The Crown, but it occurred to me that we're not exploring historic tales from other national/cultural narratives. Why are we so fixated on British history?
And before people complain about political correctness or commercial viability, look at Ang Lee's Crouching Tiger, Hidden Dragon or Mel Gibson's Apocalypto or even Disney's Moana.  Audiences want good story-telling, so it shouldn't matter where the story is set.
I would love to see a big screen adaption of The Last Empress which was a Korean stage play about the real life assassination of the last Empress of Korea, Queen Min, by Japanese agents in 1895. It's a shocking story, but a pivotal moment in history because it set in motion all the ingredients for the WW1 and WW2 theaters in Asia.
I'd also love to see the story of Pope Joan finally brought to the big screen.  I know there have been a couple scripts kicking around Hollywood for years, but it's the medieval story of a woman disguised as a man who rose through the ranks of the Catholic Church to eventually become Pope.  As legend has it, she was finally discovered after she became pregnant and she either died giving birth or was murdered, and supposedly, the records of her papal reign were wiped out/suppressed by the Church. Tilda Swinton anyone?
BNH: What is Inkshares and why the crowd-publishing route?
Part of the Ridley Scott / Launch Pad competition, Inkshares is an indie publisher who is working with all the finalists.  So separate from the contest itself, they want to see all the finalists publish, but they need to see at least 250 pre-orders before they greenlight the book.  It's an interesting way to publish – it's not self-publishing, but it's not traditional publishing either.  This is how Ridley Scott found and developed The Martian.
BNH: What's next for you?
I'm working on a YA/sci-fi novel about a teen who discovers that his next door neighbor is an alien trying to audition for a reality show TV series.
Want to support indie publishers? Click here, to help Harrison Cheung hit 250 pre-orders. Read the first chapter and pre-order West of Weird. The E-book is just $10, signed paperbacks are $20, and as a special promotion, Harrison is giving away a signed Christian Bale biography for every 50 pre-orders.