This week came the trailer for The Atoning, a new indie horror film, released by Gravitas Ventures. The film stars: Virginia Newcomb (soon to be seen in Jumanji ), Michael LaCour (Texas Heart), and Cannon Bosarge (Bonnie & Clyde, TV series), and it is written, and directed by Michael Williams (OzLand).
Don't be fooled by its relatively unknown cast and indie look and feel, because these elements might actually be the bait to an exciting, thrill-fest of a film. Thanks to its short-and-sweet, visually gripping trailer with lots of close ups, camera pushing in, on its main cast members, and all the trickery, hinting the evil that might be lurking under dark shadows or even in broad daylight. It all seems to unlock inside young Sam's family home.
What's The Atoning movie about?
Vera, Ray, and Sam, a seemingly normal family, are haunted by more than mere ghosts. The lingering horror of their past threatens their ability to function as a loving family until they become enlightened by a mystical encounter. From that moment on, they're thrust into a horror worse than anything they've ever experienced. Personal demons manifest and tear the family apart from the inside out as they come to terms with their past.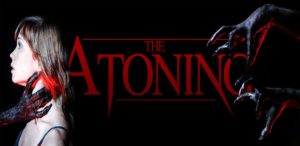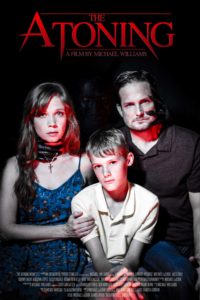 In the spirit of The Conjuring (2013), Lights Out (2016), film utilizes the problems, and the past in the lives of the grownups isolate its young, opening channels of communications between them and other worldly presence. Not an original idea, but why fix something that has a proven success record?  The visual effects in the trailer don't look cheap. In fact, they look convincing and seemingly smart and efficiently placed.
Production of the film took place in a 140 year old Victorian house in the director's hometown. Three days before production began, the production design team filled the entire home with furniture, decorations, and props generously donated or loaned to the film by the local community. With a cast and crew from Mississippi and the surrounding areas.
The Atoning (2017) horror film: While haunted by ghostly apparitions, two parents try to protect their young son from a dark secret that could destroy their family.
About the Filmmaker
Michael Williams began creating short films in 2004 while in high school. Since then, he has been consistently creating short films and screening them at film festivals and film screenings across North America. As a 2009 graduate of The University of Southern Mississippi with a Bachelor of Arts in Film, Williams was awarded the Top Film Student of 2009 Award.
Williams owns Shendopen Productions in West point, MS, as he continues to write and direct his own independent films, produce films by other regional filmmakers, and works regionally in the film industry primarily as a director of photography.
His feature length film debut came with the award-winning feature OzLand (2014, sci-fi, fantasy, drama). The film went on to premiere and screen theatrically in Hollywood, CA, and has gained worldwide distribution.
Williams' latest film, The Atoning, sticks with the filmmaker's philosophy of visual storytelling techniques.
The Atoning will be available on DVD, Blu-ray, and Digital HD, on all platforms, and REDBOX on September 5, 2017.
Genre: Horror, Thriller, Mystery, Drama
Watch the Trailer for The Atoning here.