Based on the novel by bestselling author, Vince Flynn American Assassin follows the dangerous mission of a civilian turned CIA killer. Under the supervision and hardcore training of a Cold War veteran Stan Hurley (actor, Michael Keaton), a young CIA black ops recruit, Mitch Rapp (Dylan O'Brien) is put on an assignment to chase leads and identify the source of random attacks on both military and civilian targets. Hurley and Rapp join forces with a lethal Turkish agent (actress, Shiva Negar) to stop a mysterious man who is aiding the wrong side and escalating situations towards a global war.  Watch a scene from American Assassin below.
American Assassin is full of chase scenes, shoot 'em ups, an overkill of action to keep fans entertained and satisfied in that department.
The film suffers from uneven performances, but they come from some of its older cast members. Luckily, the focus of the film remains on the young heroes, played by two up-and-comers, rising stars who save the day.
Dylan O'Brien whose acting choices so far (MTV's Teen Wolf, and The Maze Runner franchise) fit the recipe for making household names, signals his desire to show more muscle in his body of work.
In the action-packed American Assassin, young rising actors rise to the top.
Getting to play the CIA tough guy, Mitch Rapp, and the actual ability to convincingly portray and then carry the film might surprise most viewers who until now are unfamiliar with O'Brien's past film and TV work.
The pairing of O'Brien with newcomer Shiva Negar doubles the dose of danger and sex appeal. The two actors have great chemistry on screen and their team up is deliciously effective when it comes to covering multiple angles in this cat-and-mouse story. It's too bad that they were placed into this fast popping fizzler of a film.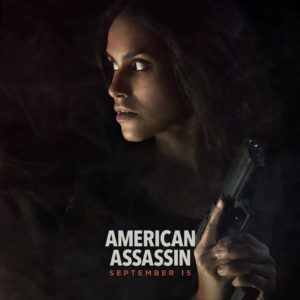 Negar, as Annika is a bad girl, political attaché, very dangerous with a gun. The Iranian/Canadian actress plays the role with all the sexual energy of a Bond girl, adding her own feminine allure, and perhaps less of a Lara Croft which is a good call. Negar convincingly displays her chops while her tongue twister of character (she speaks Turkish, Farsi and English in the film) keeps many men, good and bad, in check.
From the time the two characters meet, sexual tension has the potential for both success and disaster. Much to her credit, Negar packs lots of energy into her character in a cat-and-mouse spy-drama which seems to be checking the boxes on a formulaic list instead of utilizing its young cast in a more refreshing approach and storytelling.
Dylan O'Brien scratched a good spot in playing Mitch, He wins. The film, in general, is as formula as they come.  But we can't blame it on the actors.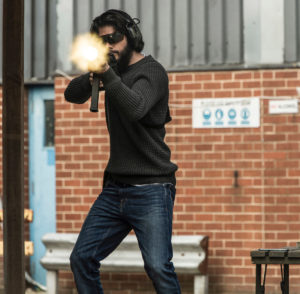 Let's remember Dylan O' Brien's impressive performance in a smaller role, as the oil rig roughneck, Caleb Holloway, in Peter Berg's Deepwater Horizon (2016).  The impression O'Brien left, portraying the real-life hero, did not fade when the big explosions took over the screen.
Here in Assassins, O'Brien is heavily embedded into almost all the rough scenes of the film and visible, on camera, as he takes on many bad guys of many shapes and sizes. This attempt was a big step for the actor too and cannot go unnoticed. O'Brien who just finished healing from a major injury on the set of his previous picture Maze Runner: The Death Cure could have easily walked away from this one and chosen a different project. As the result of the Maze Runner accident, the young star suffered a concussion and damage to his face. By seizing the opportunity to take on this film, he must have had his eye on the leading man status that may come from starring in a commercial action-thriller, based on a book written by a popular author. Think Jack Ryan or Jack Reacher! Starring opposite heavyweight Michael Keaton is also a challenge he must have welcomed, but saying "yes" to the grueling physicality of the role was quite a personal and risky decision. It's up to O'Brien now to answer whether this gamble paid off.  As a viewer, it is safe to say that he dove into this role and its requirements all the way. It is why he still wins if the movie still fails.
The filmmaker picked should be noticed as well. For his cutting-edge visual and timing of action scenes, director Michael Cuesta has a solid track record. He is quite capable of marrying tension and violence in espionage, suspense projects. His 2014 film, Kill the Messenger, and other directorial work such as Showtime TV series Homeland, and Dexter demonstrate his ability to hook and keep viewers glued to the screen. However, it is hard to comprehend why he did not manage to make a film that is more unique and structured carefully, with some originality.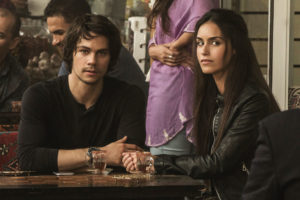 American Assassin is basically nothing we have not seen before. The characters are not unique. We have seen those so many times – Johnny Utah, in Point Break (1991), Jason Bourne, La Femme Nikita (1990).
A tightly packed can of whoop-ass does exist in this film. From its violent opening, down to other heart-pounding sequences, there are lots of car chases, flying fists, and bullets everywhere. But in the end, as viewers, we are fatigued and left with that question of "So, what?"
Assassin lacks originality in its story and its characters. Bad guys are very bad. Good guys are misfits, tortured souls, but end up being just as violent as the bad guys. But we are expected to be forgiving just because they are either from or doing it for the U.S. of A.
Watch a scene from American Assassin, titled "Never make it Personal," featuring Michael Keaton as Stan Hurley and Dylan O'Brien as Rapp.
[videos file="https://www.youtube.com/watch?v=0034YsqezP8″ width="560″ height="315″][/videos]