Anticipated is the word, around our Brave New Hollywood headquarters, aka: on our "must-see" list pinned to the foam board. It means we're serious about this film.
All The Wilderness, previously known as "The Wilderness of James" chronicles the journey of an awkward, out-of-place teenager searching for a sense of self while struggling with the absence of his late father.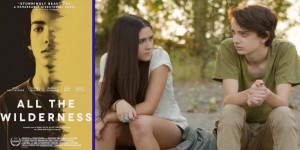 In the title role as James, is Kodi Smit-McPhee who has been making a point on the screen lately. Even in smaller roles in films like Dawn of the Planet of the Apes, and Young Ones, it's fair to say the future looks very promising of bigger turns, and meatier roles to see this young actor in. Wilderness may just be one of these solidifying opportunities, the type that establishes a young actor as a future force in cinema.
It was at the 2014 SXSW when Screen Media Films nabbed the North American right to this coming-of-age drama penned and directed by first-timer Michael Johnson.
The cast include: Kodi Smit-McPhee (as James), Isabelle Fuhrman (Orphan, The Hunger Games), Danny DeVito and Virginia Madsen.
Produced by Jonathan Schwartz and Andrea Sperling, for Super Crispy Entertainment, Audrey and Zygi Wilf, Nick Frenkel, and Glenn Howerton were the executive producers of the film.
All The Wilderness is slated for a February 20th release in the U.S.
CLICK HERE to watch the trailer.
CONNECT WITH THE FILM:
Website: http://www.thewildernessofjames.com/
Facebook: https://www.facebook.com/AllTheWilderness
Twitter: https://twitter.com/WildernessFilm