This month DARK NIGHT, an indie drama, by writer-director Tim Sutton (PAVILLION) looks into gun violence in America, isolation, and home grown terrorism, with a carefully executed shots and a distinctive style of filmmaking to tell its story as it plants and elevates the suspense.
Tim Sutton's third feature has been described as a haunting, understated critique of American gun culture, praised by the critics who have seen the film.
The indie drama is loosely based around the 2012 massacre in Aurora, Colorado that took place during a multiplex screening of "The Dark Knight Rises." Employing a documentary-style filmmaking, and a cast of non-professional actors, DARK NIGHT follows the activities of six strangers over the course of one day, from sunrise to midnight, the shooter among them. Shot in Sarasota, Florida and photographed by veteran French DP Hélène Louvart (PINA, THE BEACHES OF AGNES), the dream-like visuals articulate both Sutton's carefully crafted landscapes and the characters' sense of alienation and suburban malaise.
The official trailer for Tim Sutton's DARK NIGHT.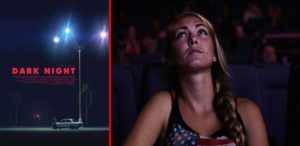 DARK NIGHT has won of the Lanterna Magica Award at the Venice Film Festival following its premiere at the Sundance Film Festival,
DARK NIGHT made it onto our radar thanks to good reviews and the suggestion of our Brave New Hollywood fans and followers. This film is essential viewing, not only for art-house filmgoers, but for anyone invested in the debate over gun violence in America as well.
In its handling of the subject, the film has been compared with the Paul Greengrass movie, UNITED 93, leaving the most of the violence to the viewers' minds.
At Brave New Hollywood, we have heard only strong reactions to this film and decided to put it on your list of films to check out.
Starring Anna Rose Hopkins, Robert Jumper, Karina Macias, DARK NIGHT will open in Los Angeles, on February 9, 2017 at The Steven Spielberg Theater at the Egyptian