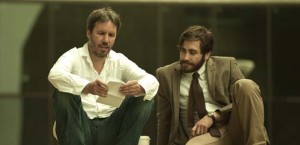 Recently, an entertainment magazine pointed out that many actresses who work with Woody Allen end up getting an Oscar nomination as well as numerous acting accolades.
Some director's have earned a reputation for being able to bring out the best from an actor.  Along with Allen, some famous actor/director combos include: Penélope Cruz/Pedro Almodóvar (Oscar nom), Christian Bale/David O'Russell (2 Oscar nominations), Johnny Depp/Tim Burton (numerous Oscar, Golden Globe and others!), Al Pacino/Francis Ford Coppola (Oscars, etc…). Whether it's the synergy, the mutual confidence, a friendship, some combinations have obviously been mutually artistically and/or commercially successful. Other partnerships less so – think Kevin Costner/Kevin Reynolds (WATERWORLD).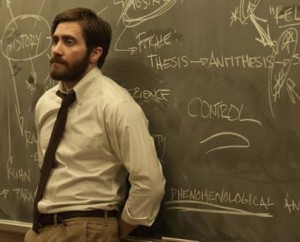 Jake Gyllenhaal, himself an Oscar nominated actor for BROKEBACK MOUNTAIN, stars this month in ENEMY, a thriller directed by Canadian Denis Villeneuve who also directed Gyllenhaal in last year's well-received thriller PRISONERS.  Though their partnership hasn't earned them an Oscar nomination yet, clearly they enjoy working together.  Villeneuve recently said, "When we met the first time, we realized we had a lot in common as artists and as men. We became close friends very quickly, and our relationship was born of the will to say the truth and be authentic. We are super-straightforward, like brothers."
Gyllenhaal agrees, "I consider him a brother… I love him. We are of like minds, true collaborators."  Gyllenhaal has delivered his best performances and earned his best reviews in indie roles like BROKEBACK MOUNTAIN, END OF WATCH as well as his memorable cult debut in DONNIE DARKO.  It looks as if Gyllenhaal is taking a break from big studio projects ever since his panned starring turn in Disney's PRINCE OF PERSIA in 2010.
ENEMY is a Hitchcockian whodunit about a disturbed man who hunts down his double. Based on a novel by acclaimed fantasy author, José Saramago (BLINDNESS, THE STONE RAFT), ENEMY promises to be even more of a mindfuck than PRISONER with an esthetic that is more Canadian/European than typical Hollywood fare. ENEMY has already earned 11 Genie Award nominations (Canada's equivalent of the Oscars), as well as a Silver Award at the prestigious Sitges Film Festival. The movie opens in the U.S. later in February but has already drawn reviews like: "a transfixing grand slam that certifies Villeneuve as the real deal and one of the most exciting new voices in cinema today (Playlist) and "Enemy might have the scariest ending of any film ever made" (Film.com).
Here's to the next Gyllenhaal/Villeneuve project!
Harrison Cheung is the award-winning author of the Christian Bale biography, THE INSIDE STORY OF THE DARKEST BATMAN. Learn more at bale-biography.com