An eerie, art house piece of British cinema made it onto our "watch this" list this week. It was a film we heard a few of our reviewers mention, one garnering fairly positive reactions by film buffs. We understood what they meant as we found ourselves silently still in front of the monitor after the end credits of this film rolled out.
The Ones Below is the debut feature from director David Farr (co-screenwriter of Hanna, and AMC's The Night Manager), starring the ensemble cast of Clémence Poésy (Birdsong, Harry Potter), David Morrissey (The Walking Dead, Red Riding) Stephen Campbell Moore (History Boys, Ashes to Ashes), and Laura Birn (The Purge, Heart of a Lion).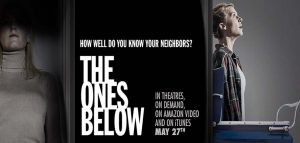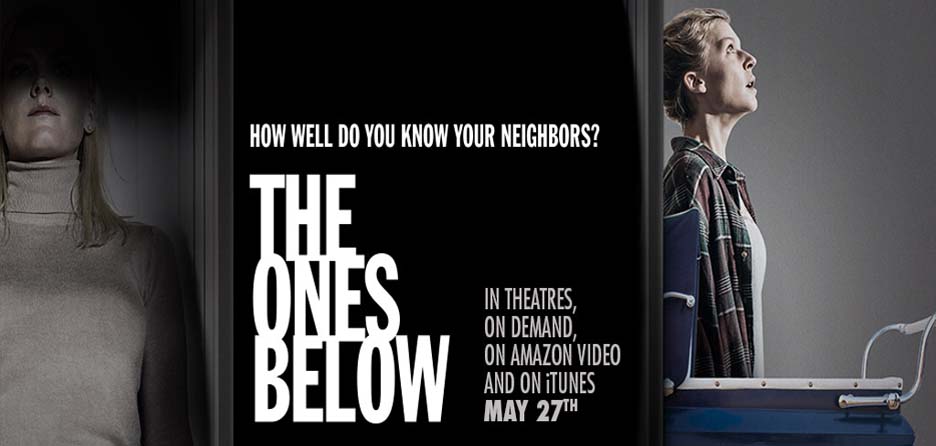 By the way, pregnant women may want to avoid watching this one.
The story follows Kate (Poésy) and Justin (Moore), a young couple in a tiny London suburb making preparations for the birth of their first child. But their happiness is soon overshadowed when the enigmatic Teresa (Bim) and Jon (Morrissey) move into the apartment downstairs, and stir things up. Justin is a graphic designer and Kate is on maternity leave from her research job. The two make a seemingly kind and relaxed couple, wishing for equally good neighbors in the unit below who may take better care of the lawn in their backyard. Both sides try to keep some sense of peace while the psychological push and pull raises the stakes resulting in a game of cat and mouse.
Luke Warm Smiles and Ill Wishes Collide in David Farr's Chilling Thriller
Except for the habit of leaving their shoes outside their front door, at first the new tenants seem to be a quiet, good-natured addition to the building. Teresa seems to be set in her ways as a pampered stay-at-home wife, swimming at a fancy athletic club, while her husband, Jon works to keep providing for them.
The film has been noted for its Roman-Polanski-like tone and tension, by critics. It has been compared to classic thrillers like Gaslight (1944), and modern psychological dramas like The Hand That Rocks the Cradle (1992).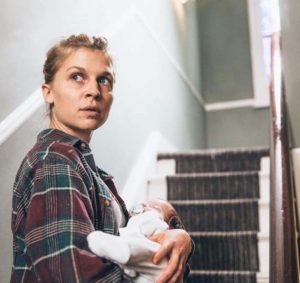 Though highly unlikely to interrupt the viewers' intrigue, the plot needs a little more explaining when it comes to the type of relationship Jon and his young wife hold. Perhaps a little more backstory required on Theresa (Birn's character). Why does the seemingly well-off couple live in a unit downstairs when Jon a banker should be able to afford a bigger, private residence?  Additionally, this suspense-drama is a bit low on emotional intensity. However, this very thing may be argued to be the appeal of the film and, at times, in line with the undercurrent of its subjects. The anticipation of bad things to come, thanks to the musical scores of Adem Ilhan should keep viewers biting their nails until the very end.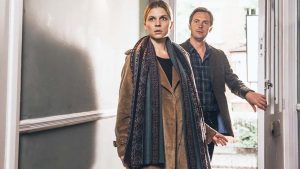 Writer-director David Farr has crafted a strong thriller with a talented cast, and gorgeous imagery aiding its creepy, spine-tingling plot.
Don't call it a horror Movie. The Ones Below is a red hot brewing Thriller. The four cast members are absolutely capable, engaging actors, successfully paired
The clean, crisp photography of this film (the daytime scenes especially) are a clever juxtaposition to the dark intentions of its characters.
The silent and quick peeping by Kate, from the vantage point, upstairs are very effective in switching the "blame game," and presenting characters that are not all that innocent. It's lifelike.
The Ones Below is a psychological thriller with a healthy dose of chills. It will keep viewers in front of the screen, anxiously waiting for the next move by its paranoid, frustrated players.
Magnet Releasing will be opening the film in U.S. theaters and On Demand on May 27, 2016.
Watch the Trailer for The Ones Below.
[videos file="https://www.youtube.com/watch?v=nnTfVYYAa8M" width="500″ height="300″][/videos]