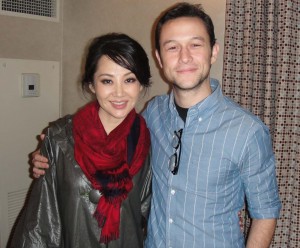 EXCLUSIVE: Internationally renowned Actress Summer Qing (aka: Qing Xu) is a native of Beijing (China), and a graduate of the Beijing Film Academy, performance division.
As the female lead in Chen Kaige's LIFE ON A STRING (1990) about a pair of blind musicians in a rural village, Summer gained the attention of Cannes Film Festival attendees where the film was competing.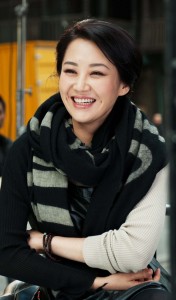 Soon after, she found herself starring in KUANG (CRAZY), by acclaimed director Lin Zifeng for which she was nominated for Best Actress at one of China's film awards, the Hundred Flowers Awards. But it was the popular TV series, "Close to Forbidden City", that made the actress into a household name across her country.
In 1996, she starred in the Chinese historical epic, THE EMPEROR'S SHADOW, which is a fictionalized account of China's first emperor and his relationship with a court musician.
In 2007, Summer was featured in the Hong Kong action movie FLASH POINT, a box-office hit across Asia. She followed that success with a bigger hit, the 2009 film THE FOUNDING OF A REPUBLIC. The film was made to commemorate the 60th anniversary of the People's Republic of China and produced by China Film Group and DMG Entertainment.
She also won another Hundred Flowers Award for Best Supporting Actress. She won the same prize at the Macau International Film Festival.
This year Summer landed a starring role in another action packed sci-fi movie, LOOPER, directed by Rian Johnson who has acclaimed her as the perfect figure for Chinese women. Summer stars as the wife of Bruce Willis, alongside Joseph Gordon-Levitt and Emily Blunt, marking this as her first Hollywood production.
In a Q&A with Brave New Hollywood the actress gave us the scoop on LOOPER, and herself.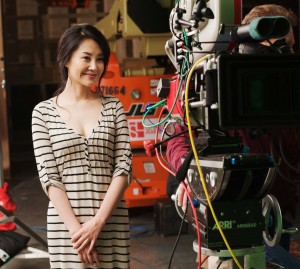 BNH: What were the challenges in making LOOPER?
SQ: There weren't any challenges during filming. I had thought there would be some cultural differences of sorts. Surprisingly, I blended in perfectly well and shared chemistry with everyone I worked with. The best thing about making Looper was to have worked with such an amazing crew, and the cast, director Rian Johnson, Bruce Willis and Joseph Gordon-Levitt, among others.
BNH: Tell us about your character and how you prepared for it.
SQ: I play Bruce Willis', Old Joe's wife. My character loves Old Joe very much, but has a strong power over him. Even though he is a tough guy, when he is with me, he is quite tender. I will play the one in charge in this relationship. However, the relationship was hopelessly romantic and tragic. We have such passion and love, but we always knew that his identity will separate us, but we still stuck together till the "end", which explains why Old Joe is so determined to travel back in time seeking for justice and revenge.
Since Bruce and I don't have much screen time, it is necessary for us to show a lot more intensity in our relationship to the audience. Some critics say that it seems that the subplot story of Old Joe and his wife deserve to be made into a whole other film.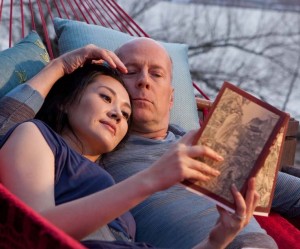 BNH: How was acting with Bruce Willis?
SQ: Working with Bruce Willis is one truly great experience. I will never forget the first day I arrived on the set. He came to me, pulled me into his arms, and gave me a big long hug. He didn't say a word but that said more than enough. We were like an old couple finally reunited, ready to take on another adventure in life. It was so romantic and emotionally intense. From that day on, I have only seen the loving and caring Bruce on set, for which I am very grateful.
BNH: Your director Rian Johnson called you "the perfect figure for Chinese women." What do you think he means by that?
SQ: When a girl is asked what her boyfriend likes about her, the girl probably doesn't know how to answer that question. That being said, if Rian thinks I am the perfect figure for Chinese women, I think you should ask him this question.
(The actress suggests with a slight giggle).
BNH: How do you see yourself as an actress and how would you like the film industry to accept you?
SQ: I would like the audience and the industry people to see me as an actress with a strong personality and a wide range for acting.
BNH: What type of films do you like to watch?
I love watching great stories well told, regardless of their types. It could be an animation, a film noir or a horror.
BNH: What can you tell us about your next project film or otherwise?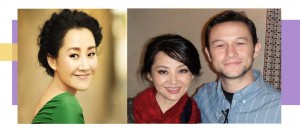 SQ: I will be working with the best Chinese playwright and theater director Stan Lai on an 8-hour-long play, which will be a groundbreaking cultural event in Asia. At the same time, there are a few international film projects under development and negotiation.
It looks like this actress is making her mark one film and one smart project at a time. Summer Qing's beauty, talent and wonderful energy need an international stage. We hope to see her in many new films and we encourage all our readers to hit Netflix and see the movies that brought Summer Qing this far in her career.
CLICK HERE for Summer Qing on IMDB.
CLICK HERE for LOOPER's official website.