EXCLUSIVE: Liam McIntyre, the incoming actor of  "Spartacus: Blood and Sand" on STARZ network has left a lead role in a feature film titled 'Frozen Moments' while the project was still in production.
McIntyre had committed to the film project prior to becoming the new face of Starz' swords-and-sandals cable series. But now No.8 Films, the producers of  "Frozen Moments" may find themselves, well, frozen.
Craig Newland the producer / director of the film is now considering 'all options' as a result of McIntyre's sudden exit.
"You certainly don't expect something like this to happen especially when part of the film has been shot and we were willing to work around the 'Spartacus' schedule and to be as accommodating as we could possibly be", Newland expressed to Brave New Hollywood.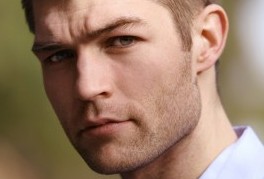 "There was an enormous amount of work that went into the scenes that were filmed last year especially the abduction scene the biggest scene of the movie which will now have to be re-shot. I'm now focused on finding a replacement to step into the lead role", added the filmmaker.
Do you know why Liam McIntyre walked away from this film, BNH asked Newland?
Newland replied: "No I don't know, you'd have to ask him why. His availability was in October when he would finish shooting the 2nd series of Spartacus. This was the window we had."
Asked by BNH: So, what does this mean for the future of 'Frozen Moments'?
"The project is very much alive and moving ahead. The cast and crew have been extremely supportive for both myself and 'Frozen Moments', at a time when they are feeling let down by Liam's decision to leave the project." Expressed Newland.
"Frozen Moments" would have given McIntyre his first leading role in a motion picture. The film was mostly shot in Sydney, doubling for San Francisco.
Frozen Moments – the plot: Josh Hodder (McIntyre), a successful San Francisco media man seems to live the American dream; a beautiful wife, two children, and the white picket fence, until he wakes up one morning finding himself in a foreign country, and his left leg amputated. With his perfect world turned into a nightmare, Hodder is left uncovering the big mysteries behind this newfound torturous life.
Newland who recently returned from this year's Cannes Film Festival was optimistic about the film since pre-sales for Frozen Moments were promising and offers had been made.
Newland explained: "Obviously we need to now look at where this leaves us for distribution which was looking strong in key markets. The film is a commercially driven one with the focus clearly on the North American market. I'm sure we will find the right replacement and move forward quickly, though at this stage it will be an early 2012 shoot," he concluded.
For more on Liam McIntyre on Brave New Hollywood, CLICK HERE.