Hapless Megan Fox isn't having a good week on the PR front. Word surfaced via the gossip grapevine that Steven Spielberg is the real reason she got the boot from the "Transformers" movie franchise.
This bit of news has received more coverage lately than any story not involving former politico Anthony Weiner's weiner.
Spielberg is "one of the nicest guys in Hollywood, with nothing but kind words to say about everyone, right? Except, apparently, Megan Fox," writes Moviefone.com. "The brunette bombshell didn't just piss off the entire crew on the first two 'Transformers' films, she drew Spielberg's wrath with her well-publicized comment comparing director Michael Bay to Hitler."
Bay gave up the anecdote during a profile for "GQ" magazine: "Steven said, 'Fire her right now.' "
Costar Shia LeBeouf went to bat for his director. "Criticism is one thing. Then there's public name-calling, which turns into high school bashing. Which you can't do. She started shit-talking our captain," he told the magazine.
Various versions of whether Fox left or was pushed have circulated for more than a year. In May, 2010  her publicist released this statement to Deadline.com: "It was her decision to not to return. She wishes the franchise the best." (Deadline's Nikke Finke responded thusly: "What a pantload.")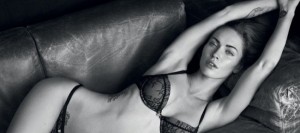 Fox made that comment during an interview with British magazine "Wonderland." Afterwards, as Eonline.com recalls, "crew members from the film released an open letter, in which they supported Bay and hammered Fox, calling her 'dumb as a rock,' among other things."
Lingerie model Rosie Huntington-Whitley replaced the starlet in "Transformers: Dark Side of the Moon," which hits theatres Wednesday, June 29. She has shrewdly kept her mouth shut.
Fox, for her part, doesn't appear too worried about the bad press. She photographed earlier this week showing off her bangin' bikini bod on the beaches of Hawaii with husband Brian Austin-Green.
CLICK HERE for the Moviefone.com story.