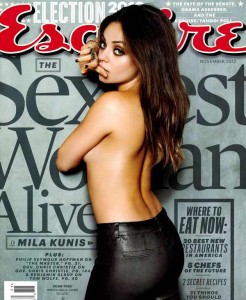 Mila Kunis is one dreamboat that gets heterosexuals guys' blood flowing (mostly in the groin area); as noted by Esquire Magazine citing her as the "Sexiest Woman Alive".
What will stand out as her Wikipedia page becomes as old as she is now (29), is the fact that Ms. Kunis is as real as her breasts—and seems like a throwback 1940's "real girl;" in a "Marlene Dietrich-ish" way.  Like Marlene, a German expatriate who had a price on her head from Hitler himself for daring to support wartime soldiers, Ms. Kunis similarly appreciates these men in green—who are sent to war by cowardly men in grey (i.e. politicians).
Name another actress who was escorted by a Marine (Sgt. Scott Moore) to a United States Marine Corps Ball in Greenville, NC (yeah, that's a rockin' town for a Hollywood A-lister!)?  None – unless you count Lindsay Lohan, who will no doubt one day work as an escort.
Kunis had accepted Moore's invitation after he posted it as a YouTube video while serving with the 3rd Battalion, 2nd Marine Regiment, in Afghanistan's Helman province.   These days, the only escort a top notch actress wants is a police escort, so they won't be late to their sleep-inducing award shows and give their "thank you thank for loving ME ME!!" speeches.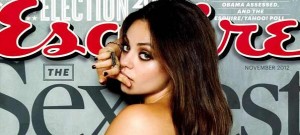 What also scores high on her "Cool-o-meter" is the fact that she is the voice of Meg Griffin on "Family Guy."  Certainly, she doesn't need the paycheck.  She is no doubt doing one of the funniest shows ever created because she enjoys and finds humor, in humor that some women would find offensive (i.e. showing an Ethiopian hoarder—which is a Ghandi-like guy with a lone box in a mud hut etc. etc.).
If only there were more real dames exactly like Ms. Kunis, then Esquire would certainly have a tough time choosing between Ms. Kunis, or Ms. Kunis #2, Ms. Kunis #3…
CLICK HERE
for ESQUIRE Magazine's Sexiest Woman Alive 2012 video with Mila Kunis
CLICK HERE
to see Sgt. Scott Moore's video asking Mila Kunis out.