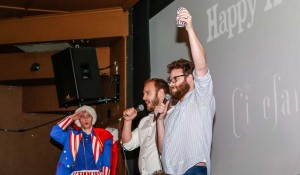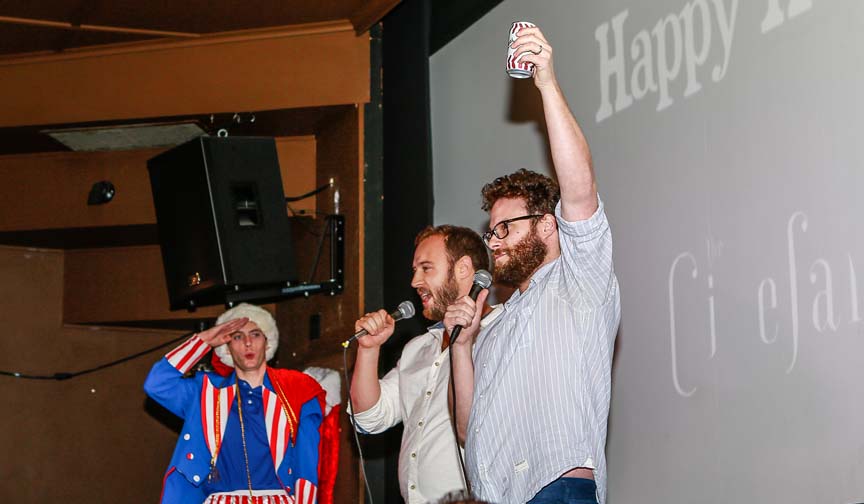 Let freedom ring. 'The Interview' Co-Director & Co-Star Seth Rogen and his Co-Director Evan Goldberg surprised moviegoers last night at a sold-out midnight screening at The Cinefamily in Los Angeles, introducing the film and thanking the audience who showed up for the first public theatrical screening of the film.
"You are the best, we thought this might not happen at all," Rogen said. "The fact that it's showing here and you guys all came out is super fucking exciting!" said Goldberg.  Rogen added "If it wasn't for theaters like this, and people like you guys, this literally would not be…happening."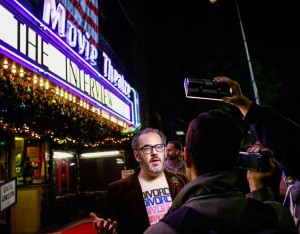 Said Cinefamily Executive Director Hadrian Belove, "It was already a special event–a wonderful celebration of movie love, freedom of speech, community, and the holiday spirit. Seth and Evan's arrival was the star upon our Christmas tree, and it really lit up the night. I'm so glad they were able to join us and feel the magic."
The Cinefamily, LA's premiere independent film theatre, is playing 'The Interview' December 25 – 31. Tickets have been selling quickly, with some shows almost sold out.
Screening details and ticket info: CLICK HERE.
Actor and co-director, Seth Rogen discusses making 'The Interview,' and working with cast members, James Franco and Diana Bang – CLICK HERE.