Matinee idol Ryan Phillippe takes on the real-life role of a Pulitzer Prize-winning combat photographer in his new movie opening Friday. He plays Greg Marinovich, who chronicled the societal unrest and violence that erupted in South Africa following the release from prison of Nelson Mandela in 1990.
The script was adapted by director Steven Silver from the nonfiction book, "The Bang Bang Club: Snapshots from a Hidden War," co-authored by Marinovich, with Joao Silva.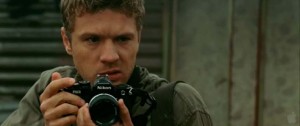 Marinovich recently told the "Morning Joe" crew on MSNBC that he'd been "a neophyte photographer covering social and documentary events" when violence began to spread following Mandela's release. "I decided I couldn't really cover the effects of apartheid if I didn't cover the violence," he said.
He was awarded the Pulitzer Prize in 1991 for his efforts, among other citations.
Phillippe described his preference for films based on books and real-life events. "The material is so authentic and rich," he said. "I also love that experience of being educated as I make a movie. There was so much for me to learn… Not only about the history of South Africa, but what combat photographers do. I was fascinated by the adrenaline junkie aspect of that medium."
Real-life events this week have given the film's subject matter additional poignance. Prominent photojournalists Tim Hetherington and Chris Hondros were killed, and several others wounded, in Misrata, Libya as they chronicled that country's violent social upheaval. Hetherington shared an Academy Awards nomination this year for the war documentary "Restrepo."
MSNBC's Joe Scarborough referred to the content of the book and film, as well as a recent Robert Redford film exploring the assassination of Abraham Lincoln, as "an unknown part of one of the best-known stories in America."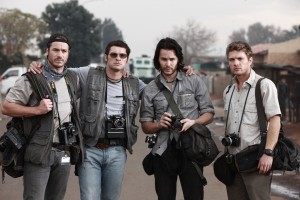 "It's a small film, but it doesn't seem that way when you see it. The story is so huge," Philippe said. "I think there's something incredibly universal about it. I also, personally, love historical films. I love films that give you a window into a time and a period that you may not have a full understanding of."
"The Bang Bang Club" costars Malin Ackerman ("Watchmen," "Couples Retreat"), Frank Rautenbach, Taylor Kitsch ("Friday Night Lights," "X-Men Origins: Wolverine") and Neels Van Jaarsveld.
The movie premiered at the Toronto International Film Festival last summer and screens tonight at the Tribeca Film Festival. The festival's Tribeca Film distribution arm opens the movie in limited theatrical release on Friday.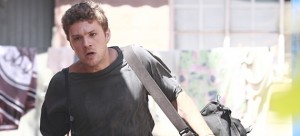 "Bang Bang Club" is also available through video-on-demand through Thursday, June 23.
Trivia: During their interview, Scarborough joked that the studio "could have got a better-looking guy" for their leading man, adding the famously handsome actor doesn't possess his real-life counterpart's "savage beauty." Marinovich took the jabs with good humor, while Phillippe notes he worked hard to convey the man's "inner beauty."
CLICK HERE for the full interview at MSNBC.com.
CLICK HERE for the movie's official website.