The new issue of Vanity Fair, features a brave and trendy Robert Pattinson holding an alligator over his shoulders. The 'Twilight' hunk talks about watching TV in his trailer when on a movie set, and offers up some straightforward opinion about the troubled TV star Charlie Sheen.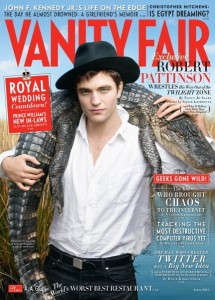 "I like crazy people who don't give a f–k," Pattinson said about Sheen in the latest issue of the magazine. Pattinson is one of the millions of viewers of "Two and a Half Men," even in syndication. "I never change the channel in my trailer. I just watch reruns of 'House of Payne' and 'Two and a Half Men," explaining that while he enjoys the show it may not be his TV pick.
"I love 'Cops' — I think it's my favorite TV show," he then laughed adding "God, I sound like such a loser."
Speaking of losers – pahleeze! The most wanted vampire in the whole world talks about the most wanted vampiress, Kristen Stewart.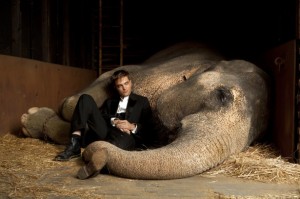 "She's cool. Even before I knew her I thought she was a really good actress. Like, I saw 'Into the Wild,' and I thought she was really good in that," Pattinson admitted about his lady love. "I still think there are very few girls in her class that are as good as she is."
The actor does however talk about conducting some sort of a normal love life in the Hollywood spotlight.
"It's just very traumatic," Pattinson told VF about the stress of a relationship that unfolds or continues under public eye. "When this is over, the media will lose interest. There'll be nothing to say. It won't fit into a headline anymore. It won't fit into a template.
About the superstardom him and Kristen were thrown into, the actor responds:
"This thing with everyone knowing you, it's weird, because people have this one-sided relationship where they look at your picture and feel they know you more than someone they actually know," he concluded. "I don't really know myself that well."
Robert Pattinson will be seen next in "Water For Elephants" alongside Reese Whiterspoon, coming to theatres in April 2011
For more on R-Patz's chat with Vanity Fair CLICK HERE.
For info on  "Water For Elephants" CLICK HERE