This week, the brand new trailer for World War II thriller, RECON made its debut, featuring a group of Canadian, British, and American rising stars and an Italian screen icon. Watch the official trailer for RECON (2019) movie at the bottom of this post.
Starring Alexander Ludwig (BAD BOYS FOR LIFE, THE HUNGER GAMES, "Vikings"), Sam Keeley (BURNT, "68 Whiskey"), Chris Brochu (DYNASTY, "Shameless"), and Italian acting legend Franco Nero (DJANGO UNCHAINED, JOHN WICK: CHAPTER 2), RECON centers around the true story of four young men stationed in Italy in the midst of war. The action occurs over the course of one long day as they debate both their fates and that of life itself. As they struggle to make it off the mountain alive guided by an Italian stranger these American soldiers face the worst that war can offer, and through what they have witnessed and the PTSD already plaguing their body and minds, each man must find some kind of peace and stability.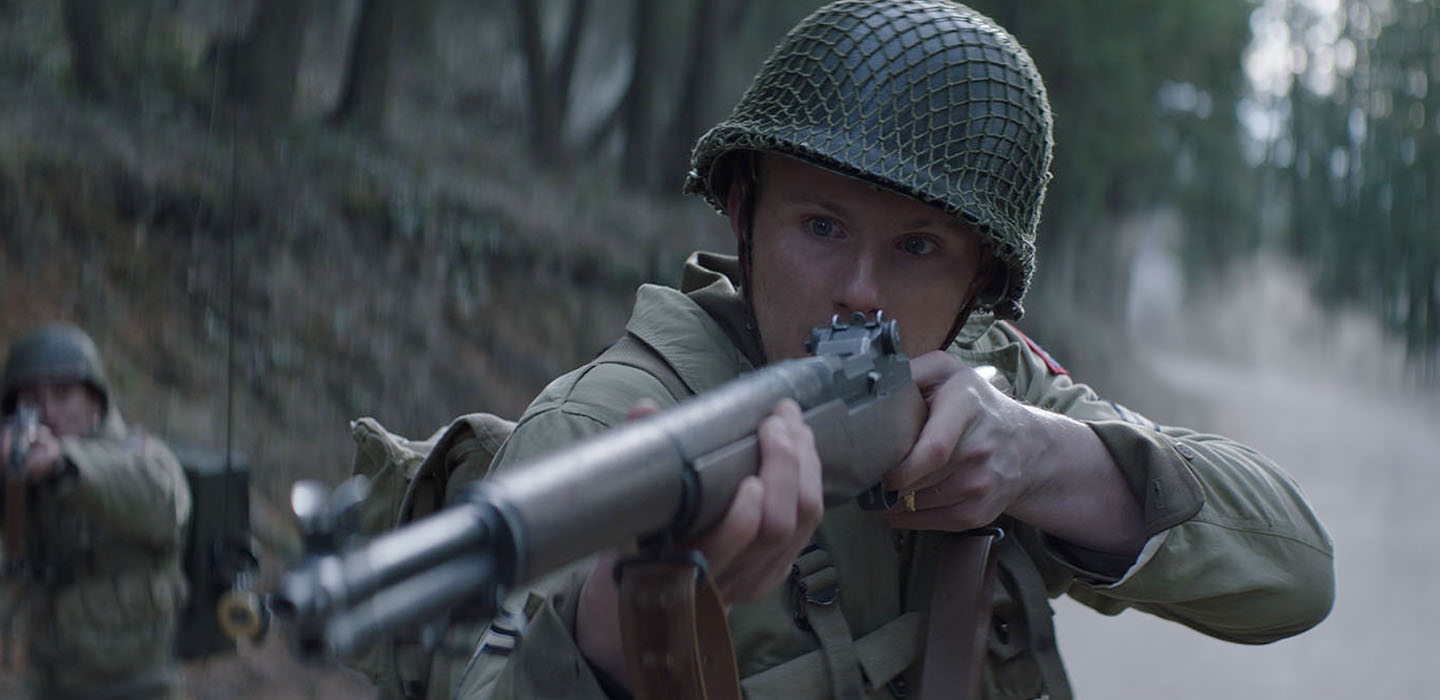 Alexander Ludwig stars in the new World War II thriller, RECON, based on a novel inspired by true events.
The film is written and directed by Academy Award-winner, Robert Port (TWIN TOWERS, AGENT X), and adapted from the critically acclaimed New York Times bestseller "Peace."
The novel, based on a true military event, was written by Air Force veteran Richard Bausch; it was awarded the 2010 Dayton International Literary Peace Prize. "Peace" will be re-published by Penguin Random House as an e-book in October.
RECON, 2019 film features rising stars, Alexander Ludwig, Sam Keeley, Chris Brochu, and RJ Fetherstonhaugh.

Writer/director Robert Port won an Academy Award for his film TWIN TOWERS, a documentary short about Detective Joe Vigiano, an elite New York City policeman who was killed during the tragic events of 9/11. RECON is Port's feature debut.
Released by Brainstorm Media, RECON is set to open as a Fathom event on the night before Veterans Day, November 10th (this year is the 75th anniversary of the end of World War II).
RECON (2019) Official Trailer feat. Alexander Ludwig, Sam Keeley - WWII Drama