A lovingly made postcard to "comic book shop" culture, MY COMIC SHOP COUNTRY documentary (distributed by First Run Features) looks briefly at the history of these fiercely independent bookstores – beginning from their origins in California in the late 60s to their zenith numbering over 12,000 in the 90s and now shrinking to where there are fewer than 3,000 establishments in the U.S.
Filmmaker Anthony Desiato visited 20 shops across nine states to see how each store is surviving.  All of the owners are passionate about comics and graphic novels. An 80-100 hour workweek is not unusual. But many of the owners have differing opinions about marketing, where some stores have expanded their inventory to include t-shirts, collectibles, while purists stick with comics.
MY COMIC SHOP COUNTRY is a lovingly made postcard to "comic book shop" culture.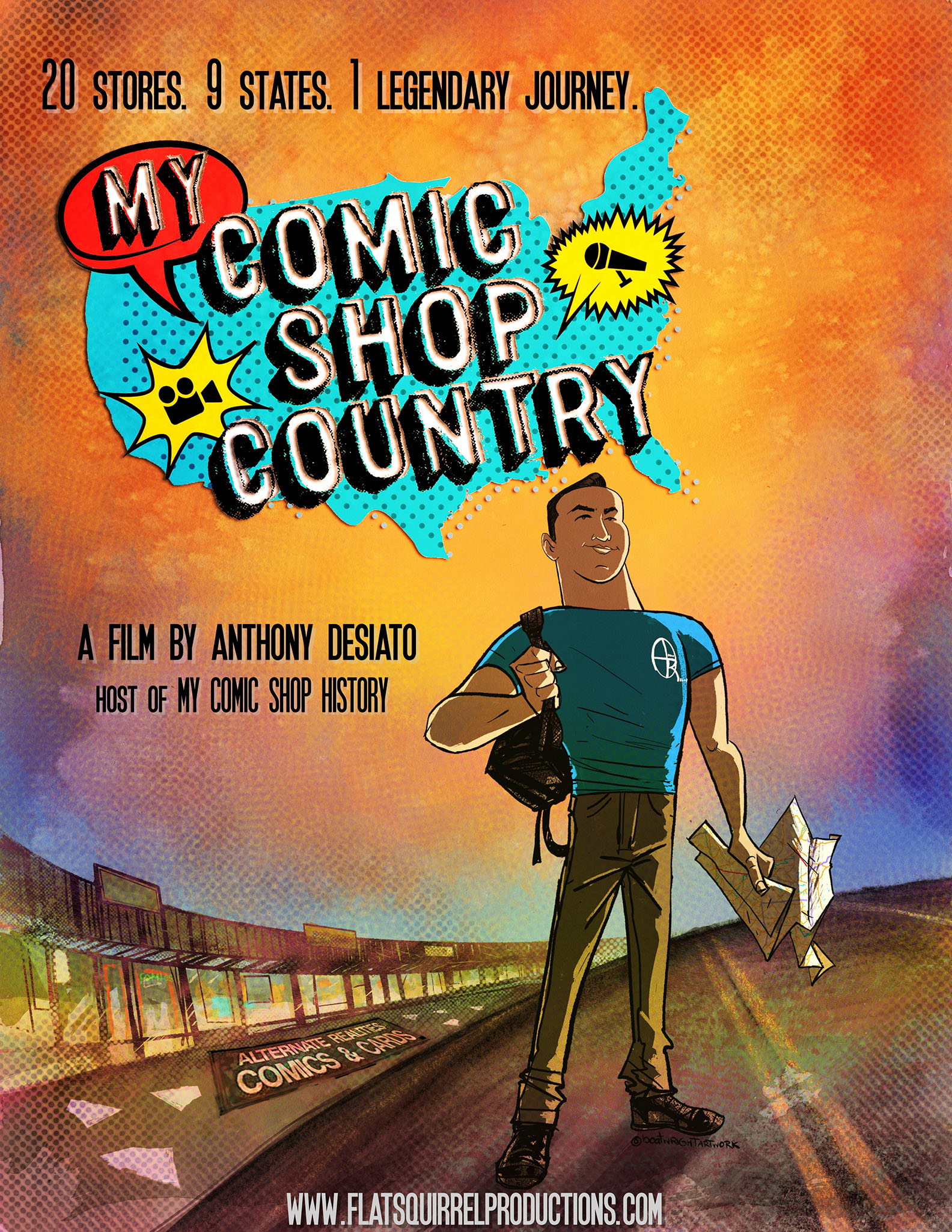 It's a fascinating look at comic book culture beyond the stereotype – think "Comic Book Guy" from THE SIMPSONS or Kevin Smith. Some of the stores in the documentary have an elitist attitude while others work hard to bring in new customers.  As one owner said, "Comics get the customers in. But it's the retailer who gets the customers back."
The comic book industry parallels the decline of independent bookstores and mom/pop video stores as content creators (like DC and Marvel) experiment with different methods of distribution like Amazon or Walmart. But the documentary focuses on the passionate efforts of these stores to promote new titles, back catalog and cross-marketing with gaming culture as well. It's definitely a sense of community a customer isn't going to get online or at a big box store.
Desiato lightly explores the blatant disconnect between Hollywood feasting on comic book content for mega-franchises like DC and Marvel while offering little to no help to the retailers.  Unlike regular bookstores, comic book stores cannot return merchandise, so each store has to guess how many books they need to order – critical for a customer base that is all about new releases. With hundreds of new titles a week, comic book stores are literally betting their dollars on inventory.  Quipped one owner, "How do you get a $1 million comic book store? Start with $2 million."
MY COMIC BOOK SHOP COUNTRY is fascinating though uneven at times. Desiato tries to build his narrative around the demise of a store called "Alternate Realities" which happened to be the store he worked at in his youth. But the documentary rambles with compliments and disses from other storeowners and customers that you get an idea as to where "Comic Book Guy" came from.
Nevertheless, Desiato's passion for comic book shops shows (don't call them "stores!"). It's definitely a documentary that will make you want to visit a comic book shop near you!
Watch the film on iTunes or Amazon Prime now.
Watch the trailer for My Comic Book Shop Country, below.