There's a new power couple in Hollywood. You can't miss them as they make their rounds, promoting their respective new projects, happy and giggling in newfound love.  Megan Fox of TRANSFORMERS and JENNIFER'S BODY fame and Colson Baker – better known as rapper, Machine Gun Kelly – have been a couple since they met on the set of their upcoming film project, a murder mystery starring Bruce Willis, MIDNIGHT IN THE SWITCHGRASS.
In a way, the two of them are meeting at similar points in their respective careers. Machine Gun Kelly releases a new record in August, TICKETS TO MY DOWNFALL, a pop-punk album in the style of Blink-182.  No surprise as the record is produced by Travis Barker.  The lead single, "My Bloody Valentine" hit No. 1 with a very sexy video (27 million views!) starring a bound and gagged, mostly naked MGK with a femme fatale Megan Fox. This record marks a major genre departure for MGK as he pushes boundaries.  On the movie side of his career, Colson Baker has been learning with small supporting roles in BIRD BOX, THE DIRT, and most recently, THE KING OF STATEN ISLAND.  He has skillfully navigated his career and as a savvy millennial, he has been hyper-aware of his brand.
Megan Fox has suffered the highs and lows of Hollywood politics, her beauty having been both an asset and a burden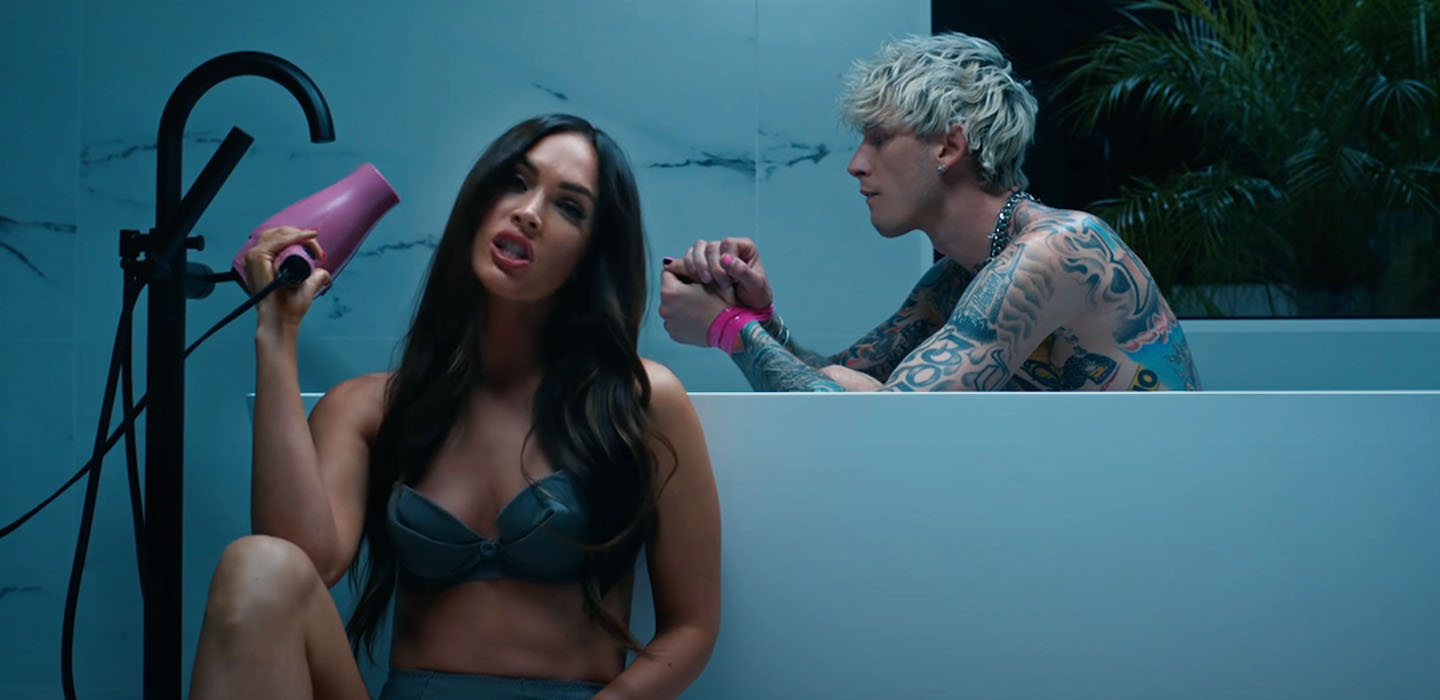 Four years Baker's senior, Megan Fox has already suffered the highs and lows of Hollywood politics. She became a star at the age of 21, starring in the hit TRANSFORMERS. Often compared to Angelina Jolie, Fox's beauty was both asset and burden.  Sadly, in Fox's case, her trials and tribulations came a few years before the #MeToo movement.  Ask a fanboy, and they will say Megan Fox's career was killed when she infamously dissed her TRANSFORMER's director, Michael Bay, and consequently fired from the franchise.
Back in 2009, Fox talked to Wonderland Magazine about Bay, "He's like Napoleon and he wants to create this insane, infamous mad-man reputation. He wants to be like Hitler on his sets, and he is."
Guess what happened? In an interview with GQ Magazine, Bay said, "You know the Hitler thing. Steven (Spielberg) said, fire her right now."
Backing Bay, big surprise, three TRANSFORMER crew members anonymously posted a nasty, lengthy attack on Fox which ended with, "Megan really is a thankless, classless, graceless, and shall we say unfriendly bitch. It's sad how fame can twist people, and even sadder that young girls look up to her. If only they knew who they're really looking up to."
Wow.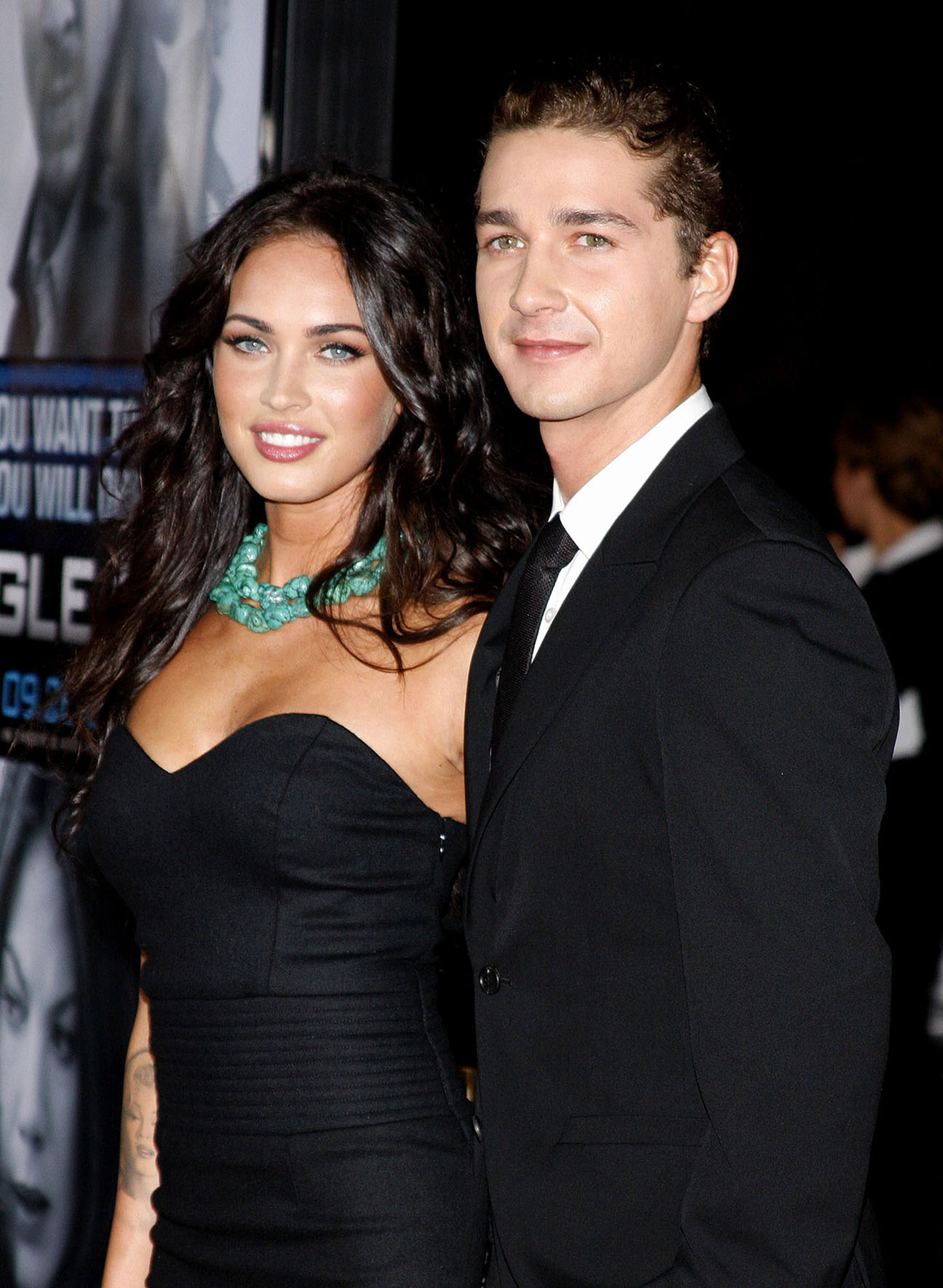 The only one who came to Fox's defense was her TRANSFORMER's co-star, Shia LaBeouf (who would also face the wrath of Spielberg after he dissed their INDIANA JONES movie). In retrospect, we can read more than a hint of the kind of on-set abuse that later #MeToo campaigns would rally against. LaBeouf told the LA Times, "Megan developed this Spice Girl strength, this woman-empowerment [stuff] that made her feel awkward about her involvement with Michael, who some people think is a very lascivious filmmaker, the way he films women. This is a girl who was taken from complete obscurity and placed in a sex-driven role in front of the whole world and told she was the sexiest woman in America. And she had a hard time accepting it. When Mike would ask her to do specific things, there was no time for fluffy talk."
Clearly, there's some friction in Bay's and Fox's past! On Jimmy Kimmel, Fox reminded him that she first worked with Bay as an extra on BAD BOYS II, dancing in a club, wearing a bikini and heels. When Bay was told she was only 15 and not allowed to be filmed drinking, Bay's solution was "to then have me dancing underneath a waterfall getting soaking wet. And that's at 15. I was in tenth grade. So that's sort of a microcosm of how Bay's mind works."
And Fox's audition for the lead role in TRANSFORMERS? According to The Observer, "She went over to Bay's house and washed his Ferrari while he filmed her."
What a difference a few years make. Her Michael Bay stories alone should have made Megan Fox a spokesperson for the #MeToo movement, but she was effectively blacklisted, relegating the last 10 years of her career to supporting roles, painting her as box office poison, until she reunited with Bay for the TEENAGE MUTANT NINJA TURTLES movies. Is it any surprise she's been beaten back into silence?
Fox has said she has "quite a few stories" about abuse and sexism in Hollywood, but not today. She told Vanity Fair, "My words were taken and used against me in a way that was—at that time in my life, at that age and dealing with that level of fame—really painful."
Earlier this year, Fox ended her marriage to Brian Austin Green after meeting Colson Baker on the set of MIDNIGHT IN THE SWITCHGRASS. The response to her appearance on the "Bloody Valentine" video has been overwhelmingly positive as MGK fans post reactions to the return of their favorite TRANSFORMERS star.
Megan Fox's appearance in Machine Gun Kelly's "Bloody Valentine" music video has been met with an overwhelmingly positive response
Just as the #MeToo movement began, The Mary Sue published an article, "So… When Are We All Going to Apologize to Megan Fox for What We Let Hollywood Do to Her?"
All these stories, her experiences, I hope she will share one day to warn off predators and remind young girls what the path was like through Hollywood.  That might not be anytime soon.  When her 2009 interviews resurfaced this year, Fox responded on Instagram in June that she wasn't naming names in this "ruthlessly misogynistic industry," and that "there are many names that deserve to be going viral in cancel culture right now, but they are safely stored in the fragmented recesses of my heart."
BLOODY VALENTINE Music Video by Machine Gun Kelly, feat. Megan Fox