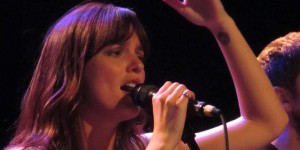 If Leighton Meester decided to duck out of the public eye right now, only someone with a heart of stone would fault her: the actress and "Gossip Girl" ingenue has spent the summer trading lawsuits with her litigious mother. But instead she's keeping busy with a variety of projects.
Meester had been sending a monthly paycheck to her mother that was intended, in part, to provide for her younger brother, who had been suffering from a variety of health problems. A lawsuit filed by the actress-singer claims that money has been misappropriated. Her mother, Constance, counter-sued and has alleged physical attacks by her daughter.
In the meantime, season four of "Gossip Girl" is filming in the Big Apple. And Meester, 25, is currently onscreen stealing scenes from Selena Gomez in "Monte Carlo," which follows the hit cheesy thriller "The Roommate" and a  juicy supporting role in last year's "Country Strong."
In the latter film she played a songbird working her way up the charts, which allowed Meester to showcase her considerable pipes. She signed with the Universal Republic label two years ago and has released a few singles, most recently 2010's "Your Love's a Drug."
Her debut CD is in the works and Meester whet the appetite of her fans with an appearance on an episode of the online web series "Summer Sessions with HTC," which provided a peek into her creative process as she worked on her album.
"This music is a turning point for me," she said. "Every time I play it, it means more and more to me."
Although she enjoys creative collaboration, it's the experience of performing live that Meester treasures. "Writing with the guys and doing all that [has] been beautiful and fun and so fulfilling, but when you're on stage, though, that's the best. You just have to let it go and there's nothing you can do. Any sort of self-doubt just has to disappear. It really is the finale to the feeling of creating something."
CLICK HERE for a YouTube clip of Meester's episode of "HTC Sessions."
CLICK HERE for Leighton's music video: "somebody to love" (feat. Robin Thicke)
CLICK HERE for HTC on Facebook