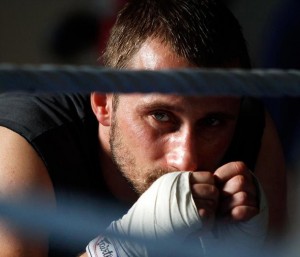 Hollywood's newest leading men aren't homegrown anymore. While Australia has provided a steady crop—Joel Edgerton, Ryan Kwanten, Sam Worthington, various Hemsworths—a newcomer from Belgium is on everyone's shortlist: Matthias Schoenaerts. The rising star parlayed his splashy role in the Oscar-nominated Bullhead into a juicy part opposite Marion Cotillard in the buzzy drama Rust and Bone, due out in November.
The New York Times said Schoenaerts "has the physique of an action hero and a tendency to look for the dark side of masculinity." In Bullhead, "he dominates the movie as a hulking cattle farmer with a steroid addiction that is inextricably linked to a childhood castration."
Schoenaerts first turned heads several years ago in A Prophet from French director Jacques Audiard, who then cast him for Rust and Bone. The Times calls it "an unorthodox romantic lead role… [Audiard] makes another persuasive case for the strapping, sad-eyed Mr. Schoenaerts as the most versatile beefcake actor of our time."
CLICK HERE for Brave New Hollywood's coverage of Schoenaerts' costar from A Prophet, Tahar Rahim.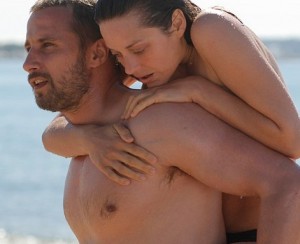 Bullhead wasn't actually his first trip to the Oscar rodeo. He is now 34, but as a teenager Schoenaerts was among the cast of the nominated film Daens. His career kicked into overdrive in 2008 with a role in the Flemish crime thriller Loft. It was so successful, in fact, that director Erik Van Looy was tapped for a remake with James Marsden, Rhona Mitra, Wentworth Miller, Eric Stonestreet and Karl Urban; Schoenaerts is the only original cast member to reprise his role from the original. Look for it in early 2013.
Also on tap for next year is another crime thriller, Blood Ties. He stars opposite Billy Crudup, Mila Kunis, Clive Owen and Cotillard for French director Guillaume Canet.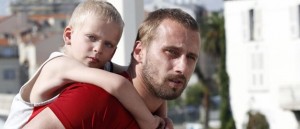 In the meantime, Rust and Bone has already been shortlisted for best-of lists. HitFlix was deeply impressed with his work, noting he "communicates volumes of soul with gestures. There is tenderness in [his character], and he's able to express it in small bursts, but there is also bottomless anger and need, and he finds himself overwhelmed by it at times."
Following a well-received debut at this year's Cannes Film Festival, industry trade publication The Hollywood Reporter confidently predicted "the Belgian is poised for stardom" and dubbed him "this year's Jean Dujardin," the Oscar-winning star of The Artist who became the toast of Tinseltown.
Schoenaerts is well-poised for what Hollywood might have offer—he speaks perfect English, and he is repped by mega-talent agency CAA—but he's in no hurry to capitalize on his career heat.
"I love being the underdog. I don't like it when people expect too much, because then I'll only be disappointed if things don't work out," he says. "I don't like to think about it. I'll let life take me where it will."
Talented, gorgeous and humble—that's our kind of movie star.
CLICK HERE for HitFix's review of Rust and Bone.