Already Tomorrow in Hong Kong – Film Review
The challenge of romantic comedies is telling a relatable story between believable characters, in misunderstood, awkward set ups which, hopefully, translate to comedy. Add to that the must-have chemistry of its actors in the lead roles, and as a filmmaker, you are facing a mountain. It's more than enough reason for such films to fail. This brings us to a film that overcomes these obstacles.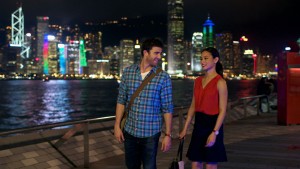 Emily Ting's Already Tomorrow in Hong Kong is a shining gem with charming characters, against a colorful canvas.
The indie romantic comedy tells the story of a U.S. expatriate, Josh (played by Bryan Greenberg) and a Chinese-American woman, Ruby (Jamie Chung) who is visiting Hong Kong for a business trip. When they come across eachother, they take a chance on the night, the city, and where it takes them.
We saw this film during the L.A. Film Festival 2015, and quickly realized what a smart, delightful "date movie" it was. Likable, smart characters set to the energetic backdrop of one of the world's most active cities.
Sure the film's 24-hour, city-crawling approach is reminiscent of Richard Linklater's Before Sunrise (starring Ethan Hawke and Julie Delpy), but just like the 1995 indie favorite, it achieves the success most films of the genre have difficulties delivering. ATIHK does so by rooting its foundation with two people in front of the camera, Ruby and Josh. That onscreen pairing must work for all other elements to fall in place to support the journey.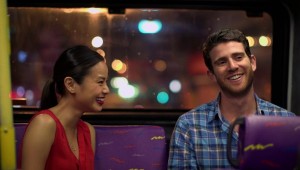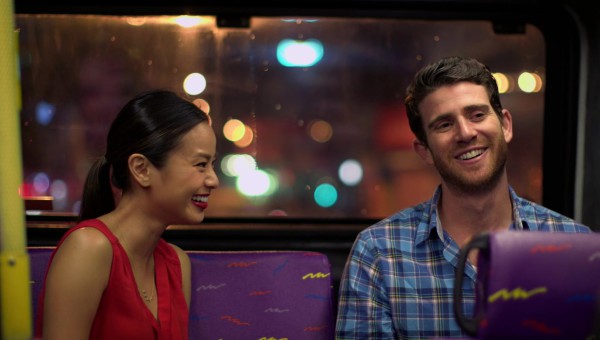 The chemistry between lead actors Bryan Greenberg and Jamie Chung is undeniable, especially when each one knows how not to overpower the other's screen presence.
It's hard to imagine how the two (a real life couple) were able to tap into the excitement, the tension, the playfulness found in that boy-meets-girl stage, and do it with such timing and realness.  Recreating that newness for the film while knowing eachother intimately off-screen, is a remarkable job by both actors.  Shooting in the busy streets of a foreign country, indie style (so, you know they were no Star Trailers to rush back to between takes), Chung and Greenberg keep it all together in an environment that could break most professionals' concentration.
In an interview with US Weekly, Greenberg (37) expressed the difficulty of reducing the natural chemistry between himself and Chung (32), then his fiancé, when she suggested staying in different hotel rooms to channel the experience of living apart on camera.
Ting has put together a refreshing exploration of love and the unknown places in the human heart, inviting the lively Hong Kong as a not-so-silent supporting character, adding to the drama and intrigue of her story. By leaning its voice in Ruby, the film benefits from a unique and auteurial feminine touch.
The tasteful cinematography by Josh Silfen truly serves this film, and chronicles the walk-and-talk romance like pages in a beautifully illustrated book.
The last scene shot through the windows of the cab is priceless, probably one of our favorite movie scenes of 2015. It is voyeuristically non-intrusive, while honest, full of anticipation, and even frustrating, exploring the unpredictability off first dates. The filmmaker doesn't fall into the cliché of wrapping up the night with an optimistic bow, deep kisses and smiles.
So, what does director Ting do instead?
Why don't you watch the film to find out?
Already Tomorrow in Hong Kong is in select theaters now, and opening wider and On Demand on February 12.
Photo credit: Gravitas Ventures