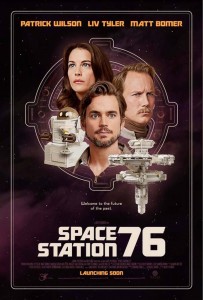 It looks like 2014 will go down as the year for impressive Science Fiction films that made their way into theaters the indie route. Under the Skin, Snowpiercer and The Zero Theorem were films that caught some buzz aside from the anticipations of the fans. Add to this the big budget arrival of Guardians of the Galaxy, and its massive success and there is the making of a very fruitful year for such films.
Next comes actor-turned-director Jack Plotnick's comedy, Space Station 76, starring Patrick Wilson, Matt Bomer, Liv Tyler (to name a few), in a retro-cool setting, way out in the galaxy where nerves, and sexual tensions run high, in a time when mustaches and cigarettes were cool, and there was no such a thing as being PC.
"Welcome to the future of the past," seen on the earlier posters, for the film, online and at events such as SXSW gave us, the viewers, a little glimpse into the wacky world we are to encounter – the 1970s version of the future, where personalities and asteroids collide.
So far, the trailer does not look like the usual cookie-cutter attack on the eyes and the ears dictated by a big studio's marketing team, every step of the way. On this trailer, it looks like the editors had some fun putting these clips together, along with the choice in music and the voiceover, all an indication of the filmmaker's style and tone.
In short, we are looking forward to this film. Hope you indie, Sci-Fi lovers will enjoy the trailer, and of course the film.
CLICK HERE to watch director Jack Plotnick reveal his unorthodox ways of casting the actors in Space Station 76, and his big love for Star Wars: The Empire Strikes Back.
Below, watch the official film trailer for SPACE STATION 76.
SPACE STATION 76 Official Trailer: Liv Tyler, Matt Bomer