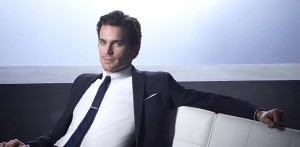 For all of its PC-flag waving and pat-itself-on-the-back-inclusiveness, it's pretty much still an unspoken rule around Hollywood that handsome leading men should stay firmly entrenched in that proverbial closet. Fortunately, actors like Neil Patrick Harris, Zachary Quinto, and Jim Parsons seem to have ignored the memo, establishing A-list careers and all but shattering the myth that audiences don't want to see gay leading men onscreen. Yet it's Parson's The Normal Heart Costar, Matt Bomer who seems to really be flouting that archaic convention as of late.
The devastatingly dashing White Collar star with the dangerous baby blues is having quite the year, delivering a flat out incredible performance among a cast of standouts in the Ryan Murphy directed remake of the Larry Kramer play.  As Felix Turner, the vibrant New York Times writer  – and lover of Mark Ruffalo's Ned Weeks – whose body is ravaged by the disease, he is equal parts sexy, vulnerable, and ultimately devastating, giving what many call the performance of the film.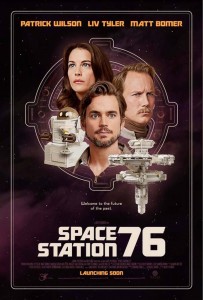 It's quite the departure from his day job on White Collar, or his high profile gig as one of the pumped up exotic dancers in Steven Soderbergh's and Channing Tatum's 2011 hit, Magic Mike (of which a sequel, Magic Mike XXL, rumored to feature all the guys from the original, is now in post-production.) But despite In fact, despite his matinee idol looks this Carnegie Mellon trained thespian is determined to switch things up.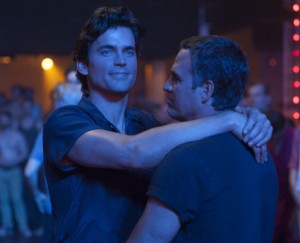 And you can't get any further away from the early AIDS epidemic in NY than a 70's era dramedy set on board a space station. Yes you heard us right, Bomer's latest, Space Station 76 – also featuring Patrick Wilson and Liv Tyler – presents a version of the future as we saw it back in the decade of disco and pet rocks with each of the actors playing heightened versions of 70' ideals (think Burt Reynolds and Farrah Fawcett). It sounds a bit crazy, but the film, written and directed by actor cum filmmaker Jack Plotnick (along with Jennifer Elise Cox, Sam Pancake, Kali Rocha, and Michael Stoyanov) was quite the toast of this year's SXSW. Set to open Outfest this month in LA, it looks like Bomer has another buzzy hit on his hands, or at least an endearing cult favorite.
Too bad the all American actor from Webster Groves, Missouri barely has the time to enjoy any of this… In addition to his rumored role in the Magic Mike Sequel, he's also set to play none other than Montgomery Cliff in Larry Moss's much-anticipated biopic of the dashing, closeted star. It's a part that he seems destined to play; a psyche that few but Mr. Bomer could ever fully understand. After all, the rarified world of the movie star is something few of us will ever experience. But rather than begrudge the talented star, we're just happy he gets to do so on his own terms. Somewhere Monty Cliff is smiling.