A few years ago, Comedy Central struck gold with their "Drunken History" series – historical legends retold by their inebriated participants. There's just something hilarious about seeing historical figures speaking in anachronistic speech. Before that, think about Keanu Reeves' BILL AND TED'S EXCELLENT ADVENTURES flick with Abe Lincoln telling everyone to "party on, dude!"
And so it is with the clever THE GREAT, the Hulu mini-series "loosely" based on the rise of Catherine The Great of Russia, who ruled from 1762 to 1796 after she deposed her husband, Peter. Starring (and executive produced by) Elle Fanning, it's a wicked romp about girl power and how a German noblewoman could eventually stage a coup against her inept husband, Peter, the Tsar of Russia (played as a hearty frat boy by Nicholas Hoult).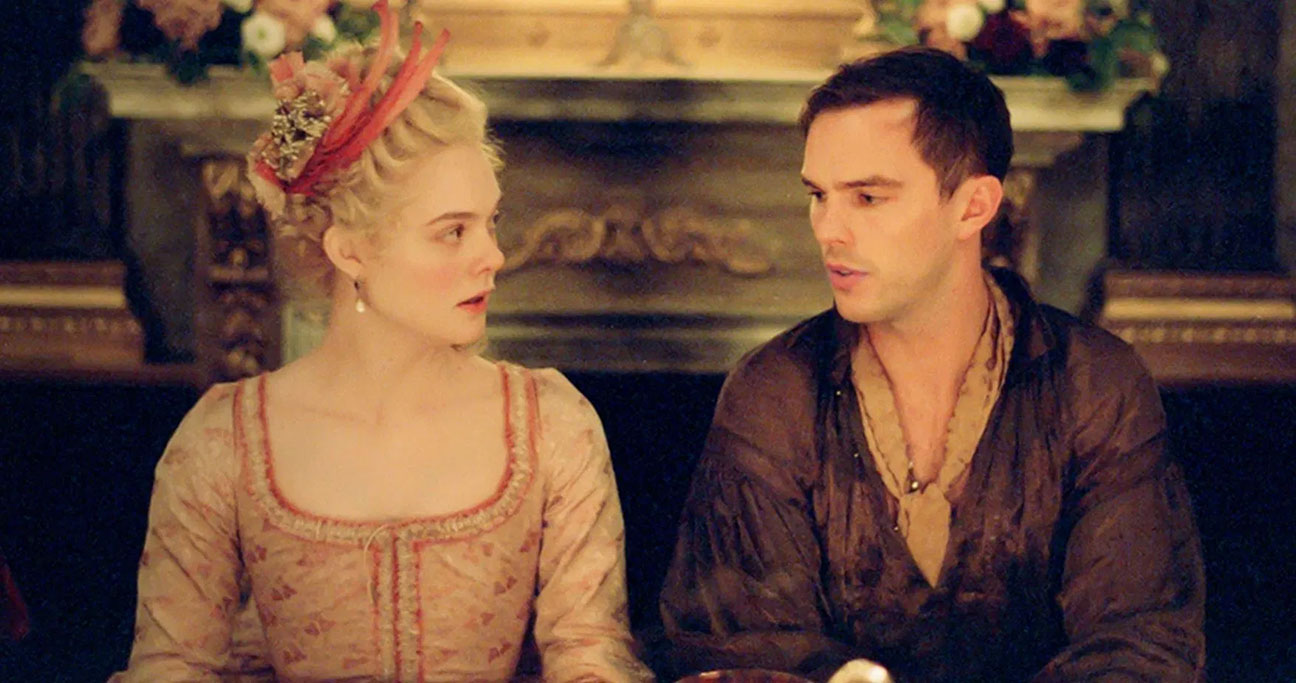 THE GREAT is quite a serious drama of palace intrigue, but with its sharp dialogue that mixes period phrasing with contemporary vocabulary, you end up with plenty of WTF moments.
American Elle Fanning has put her British accent skills to good use since MALEFICENT. And here in THE GREATEST, she quickly transforms herself from idealistic young bride to a woman on a mission determined to raise Russia from its medieval depths. It's quite a transformation to see Fanning evolve as naive foreign princess to slowly seethe as a victim of abuse that begins with her wedding night.  As she sees her ineffective husband act unnecessarily cruelly to her and others, she decides (and this is historically accurate) only a coup will do.
It's great to see British actor Nicholas Hoult in a bigger than life starring role. He's recently been content with small indie films playing quiet, studious characters, but here in THE GREAT, he's a tall, flamboyant character, a narcissistic enfant terrible who is overconfident as absolute ruler of Russia. Every other line out of Hoult's mouth could be on a t-shirt. He plays Peter as a needy sovereign, cruel, shallow and with a zest for life.  He yells "Huzzah!" as often as a present-day college freshman would yell "Dude!"  Seeing off his troops from the palace balcony to fight Sweden, Hoult as Peter cheers them on with a hearty, "Fuck them up!"
Written by Oscar-nominated Tony McNamara who also wrote the similarly toned THE FAVOURITE, THE GREAT drops f-bombs left and right and yet still maintains its period era quite seriously. Fanning and Hoult at court are as tense as any scene from GAME OF THRONES and yet it seems that the dialogue with its anachronistic punctuation works cleverly as short-hand to the inner workings and politics of the time. To quote George R.R. Martin, "when you play a game of thrones, you win or you die." The stakes could not be higher as young Catherine figures out how to gather allies to take the throne. Daenerys would approve.
Perhaps it's Fanning's crisp British accent, that old Hollywood conceit that period films need to use a British accent to convey royalty, but there's great chemistry between Hoult and Fanning.  You can see her heartbreak in the early episodes when she realizes her predicament in a court full of sycophants. And yet as the series progresses and her plot takes shape, Catherine still has to resist Peter's occasional charms.  He may act like a douchebag, but as she understands his complicated relationship with his father, Peter the Great, and his mother (he keeps her corpse on display), it's tough for her not to feel sorry for him.
Absolutely a must-see. Huzzah!
——–
About the contributing writer: Harrison Cheung is the award-winning author of the Christian Bale biography, THE INSIDE STORY OF THE DARKEST BATMAN. He is also a contributing writer to TV Ratings Guide and a recent winner of the Ridley Scott Launch Pad Manuscript Competition.