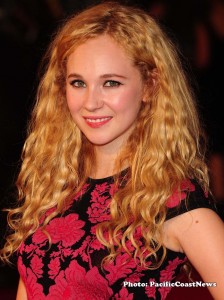 For perhaps the fourth year in a row, buzz is flying out of Sundance about hot actress, Juno Temple. Everybody keeps talking about this young Brit who seems to switch between diverse indie projects and large studio fare with the ease of actors twice her age. Yet until this year's festival, I didn't fully understand why.
Well, now I do! After seeing a little film that was generating buzz for it's wide release despite an NC-17 rating, last summer, I completely understand.  Killer Joe is the story of a Texas family at the lower end of the 99% who make the mistake of hiring  the wrong badass hit man to take care of good ole mom. Think that sounds dark?  Well it is, and so much more twisted than you can imagine. But it also features Temple in one of the best breakthrough performances of the last few years.
Of course, you might have heard that it stars a seriously against-type Matthew McConaughey, in one of his four brilliant performances of 2012, not to mention hot actor, and my personal fave ever since Into The Wild, Emile Hirsch. Thomas Haden Church and a welcome Gina Gershon round out the cast.  But for me, it was all about Juno.
As Dottie Smith, a Texas trailer park ingénue, in her early teens, she is at first timid and shy, ever loyal to her misguided dad (Church) and brother (Hirsch), and simultaneously terrified of and intrigued by McConaughey's Killer Joe.  Though giving a virginal yet still carnal performance that brings to mind Juliette Lewis's own Oscar Nominated breakthrough in Scorsese's Cape Fear, Temple lets us know that  there's much more to Dottie than meets the eye.
Limited by her lack of education and trapped by the dead-end life she has been born into, Dottie is forced to use what little power she does have, and this is where the rising star shines brightest.  Her scenes with McConaughey burn as intensely as any between Lewis and her costar, Robert DeNiro, as we learn that Dottie isn't nearly as innocent or as simple as she first appears.  The fact that Temple is able to slowly reveal this deeper characterization in such a finely calibrated, delicate performance not only leads to a greater payoff in the end, but also only hints at her own maturity and skill at her craft.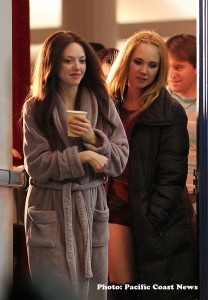 To be honest, an actress's breakthrough role hasn't excited me this much since I saw Ellen Page in Hard Candy. Similar to Temple in Killer Joe, Page ably occupied the uncomfortable space between innocent victim and curious, ripening woman, aware of her power over the opposite sex.  Though clearly Page's character was just a tad more sadistic.
Changing from naïve schoolgirl to experienced sociopath, often in the same scene, Page rightly broke out with this homerun of a performance.  Plus, her scenes with Patrick Wilson are totally squirm inducing and electric.  I was reminded of them while watching Temple spar with a scary good Matthew MConaughey. Possessing a beauty that like Page's is both girlishly nubile and approachably versatile without the common fashion magazine prettiness that seems to be required for most actresses today, Temple's unique look only deepens her skill at characterization. A Greta Garbo for the Harry Potter set, she takes everything in with those large green eyes, yet doesn't reveal a thing. Unless of course, she wants you to know.
But speaking of foreign born actresses, I won't waste the time to praise her for her accent work, except to say that while watching the film, I did not recognize the young actress and simply assumed she was from the Southern US– such was the ease and supinity of her delivery.  What was more impressive to me however was her patience and natural assuredness allowing her to coax out every nuance of both character and plot in every one of her scenes.  Of course she holds her own with the seasoned vets, but like I said before, watch her tangle with McConaughey, bringing out some of the actor's best work in years, in delicate scenes that crackle with suspense and sexuality.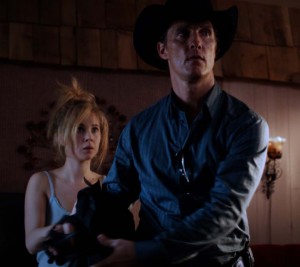 Now, don't get me wrong, I wouldn't exactly say that I loved Killer Joe. The film, directed by The Exorcist's William Friedkin, is at times incredibly uncomfortable—let's just say that it is responsible for forever changing my image of chicken wings.  Gina Gershon, I thought I'd seen it all from you in Showgirls and Bound, but boy was I wrong!  This is not a film for the faint of heart, exploring murder and betrayal, and bad parenting in a way that might make Harmony Korrine cringe.
I won't divulge anything about the film, other than to say that McConaughey should have gotten more praise for this creepy and charismatic role, but man is it hard to watch.  Needless to say, I think it might have actually earned its NC-17 rating.
I digress however, because for all of the film's shock value, the thing that stayed with me the most in the ensuing weeks was Temple's blistering performance.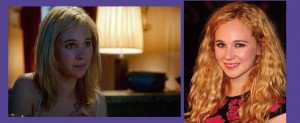 First seen as Cate Blanchett's teenage daughter in the amazing Notes on a Scandal— a film that in the hands of lesser actors could have played like a Tori Spelling movie for Lifetime– Temple has worked steadily in big budget pics like Atonement and The Other Boleyn Girl, as well as in indie's like Little Birds and Noah Baumbach's Greenberg.  She even has a small part as Anne Hathaway friend/accomplice in the The Dark Night Rises.  Yet none of these roles did anything to prepare me for her astonishing performance in Killer Joe.
I certainly can't say that this movie won't put you off with its disturbing imagery, but there is no way to watch it and not be transfixed by Juno Temple's performance.  Look for her to steal scenes in upcoming indies, Lovelace, The Brass Teapot, and Magic Magic with Michael Cera. Just like Juliette Lewis and Ellen Page before her, this girl is carving a nice path between indies and studio blockbusters.  Hopefully her career will be half as interesting as her predecessors', though Killer Joe certainly makes that seem pretty inevitable.