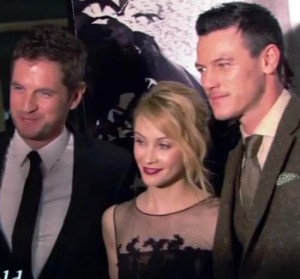 Actors Luke Evans, Sarah Gadon, and Zach McGowan step out for a special screening of of DRACULA UNTOLD, in New York city.
The actors discuss their roles and anticipating to see the reaction of a live audience during the IMAX presentation of the film at AMC Lowes theater.
DRACULA UNTOLD (2014) movie is a fantasy-action-horror and an origin story of Count Dracula, focusing on how Vlad the Impaler turns to the dark powers to protect his family and kingdom. Vlad makes a deal with dangerous supernatural forces – whilst trying to avoid succumbing to the darkness himself.