This week we managed to squeeze in one more film to watch and we chose Detour due to its cleverly pieced together trailer and the rising stars featured as its trio of lead actors. Written and directed by British filmmaker Christopher Smith, Detour is a visually engaging thriller with plenty of twists and clever techniques, pushing and pulling viewers in every direction. It's young cast, though a tad uneven in energy at times, are impressive in their roles and deliver the goods in keeping the audience guessing. In this twisted tale of drunken promises made to dangerous people who are quite eager in delivering them.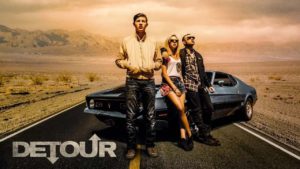 Detour Movie Director on Working with Tye Sheridan, & Shooting an L.A. to Vegas Crime Thriller in South Africa.
Harper (Tye Sheridan), a seemingly naive law student, obsesses over the idea that his shifty stepfather was involved in the devastating car crash that left his mother hospitalized and comatose. He drowns his suspicions in whiskey until he finds himself suddenly engrossed in conversation with volatile grafter,  Johnny (Emory Cohen), and his stripper companion, Cherry (Bel Powley). As daylight breaks and the haziness of promises made become clearer, Harper must handle the repercussions, not to mention the violent duo-on his doorstep.
During the week leading to Detour movie releasing, we had the chance to sit down for a Q & A with its writer and director Christopher Smith. The filmmaker's efforts in putting his own visual stamp and exploring the darker nature of the characters he presents can be as attractive to today's actors as it is to audiences welcoming new, exciting voices in noir-style thrillers. So, we decided to ask him about both.
Tye Sheridan, Emory Cohen, & Bel Powley Rev Up the Tension in the Twisted New Thriller by Filmmaker Christopher Smith.
BNH: How did you assemble your cast for Detour?
CS: I was always a fan of Tye Sheridan's. I thought his performance in Joe was comparable to Leonardo Di Caprio's in What's Eating Gilbert Grape (1993).  I thought they [Joe production] found him in a trailer park, but then I searched to see who he was, and I realized that his first film was with Terrence Malick. I think he is an amazing actor and has a deep, old soul. So, we got him, and he was the first we got. And when you go through financing a film, the investors want to put the biggest stars in and around everybody. And these guys are all big up and coming actors. We then searched for an actress with more profile as Cherry, and an actor with more profile to play Johnny Ray. The casting director suggested Bel Powley whom I had not seen in anything. Nobody had seen The Diary of a Teenage Girl (2015) yet, because this was all before Sundance.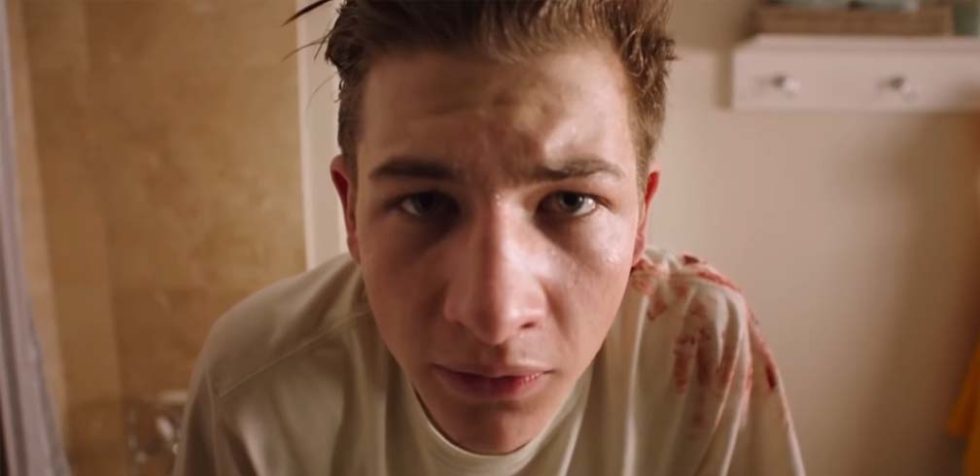 In casting the third role in the film, director Smith asked if the production can land Emory Cohen (Brooklyn).
CS: I asked what if we get Emory Cohen, because I wanted a bad guy with sensitivity. By the end of this movie Emory's character is not exactly a bad guy. You see that when you put him opposite John Lynch's character, Frank, and how tough he is or not. I had not seen Emory in Brooklyn, but saw him in A Place Beyond the Pines (2012), playing Bradley Cooper's son, and I liked what he did. There was this sexualized menace in the way he played that role and that was really scary. So, I saw that he can be two things at once.  That's what we needed, not just a "bad guy." Emory even said that there is something odd about the relationship, almost as if John Lynch's Frank was his character's father (in Emory's mind, not narratively). There was something strange about how Frank is with Ray, and then with Ray's girlfriend. It was something incestual and bizarre. So, we played that, to get something scary and sinister.
BNH: Since Tye Sheridan and Emory Cohen are two different types of actors, did you direct each one of them differently?
CS: Well, structurally we were fortunate because the very first week of the production we shot all the scenes where Tye was in the house, on his own. At the end of the week was when Bel and Emory arrived. Emory had very much prepped to arrive "in the zone." But nobody wants to be menacing all the time. Emory is a very lovely guy in real life. But there are traces of playfulness and naughtiness in him that I thought we should help and bring out. The same goes for Bel. She is the femme fatale. The things Bel does best are those moments, like the scene where the cop pulls them over and she puts on that Marilyn Monroe voice. Each of them are such good actors, they come to work with their own set of questions for you. I heard Woody Allen once say that if you cast the film right, and the script is right, there is not much to do other than telling the actor to be a bit more angry, or be quicker, and we have great, talented  actors who brought all that.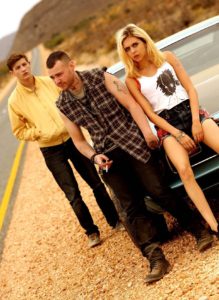 BNH: What are some of the things in today's young actors that get your attention as a director, or when casting them?
CS: Well, here's the thing about all three in Detour. Interesting actors are interesting people. You are intrigued by them, on and off screen. Tye, Emory, Bel are three are interesting people, individually and together, on screen. Tye was only eighteen when we shot this film, but again, he has a very old soul. He doesn't see age, and he doesn't care about it. I can sit down with Tye and forget that I'm old enough to be his dad. He is also passionate about every aspect of filmmaking, and I think the only actors I am drawn to are the ones who are really into the filmmaking process, and into cinema. I find it really odd when I meet an actor who is not into watching loads of movies. I just find that baffling. Because what is your purpose of being in the movies if you are not obsessed about them? All three of our leads in Detour are passionate about cinema.
BNH: Let's talk about the house. A lot happens inside Harper's home. Was it tough to find the right house, since so much happens in it?
CS: It was really, really hard. For an English guy when you watch American movies, whether it is E.T. back in the 80s, or Gone Girl or even in the Terrence Malick film with Ben Affleck, To the Wonder (2012), these houses are huge. Obviously, if you have a house that big in L.A., chances are you mom was one of the producers on Seinfeld, or something. Bizarrely, when I watch American movies, I don't think about that. I wanted to find a house that has that space, but didn't make you think that this kid, Harper, is a multi-millionaire.
BNH: Did you really shoot Detour, a crime thriller stretching from Los Angeles to Las Vegas, in South Africa?
CS: Yes, a large chunk of the film was shot in South Africa. There are houses there, by the seas that look like houses in Malibu, or houses in Hollywood hills. The aim with the choice of homes was that it's okay to be middle class, but we don't want Harper look like he is super-rich. So, yes, we shot a week in Los Angeles and then in Vegas, and the rest in South Africa for economic reasons.
BNH: Wow, how did you pull that off, because we were convinced that all of it was shot here in Los Angeles?
CS: It makes me happy to hear that. We kept dropping things in. Say, nine out of ten shots will be in South Africa, and then suddenly you'd see them drive by the unmistakable Joshua Tree. It was these little things that we did.
BNH: what would you say was the most challenging thing about making this film?
CS: It's really hard to say. Because I write and direct, for me, the most challenging thing is always writing the story. And then it is the process of casting, because usually that is tied in with financing. So, by the time we got to make the film, and because there are no huge battle scenes, or complicated action sequences, the schedule of shooting it went smoothly. It gave us the time to do the job properly, and not be rushing the whole time. There were challenges in editing, because we didn't want to get too far ahead, of the audience watching it, or fall behind the pace they might expect.
BNH: Since you write your own films, how do you find the discipline and the time to sit down, and keep writing?
CS: I was listening to Aaron Sorkin being asked how long it takes him to write a script, and he said 'usually about a year, but all that year, if you watched me, a good part of what I am doing, it's not what your average man-on-street would call writing. It's mostly looking at ESPN, or looking things up on Google, go out to coffee shops.' It is the hardest thing in the world to sit yourself down, but you have to do it. 'Writing is awful, but not writing is worse,' I heard someone say. If you spend the whole day writing, and you are quite exhausted by the end, you are exhausted in a strange way. I'm a very social person. I like making movies, and I love being on the set. So, what I don't like about writing is that I get depressed with all this inward exploring and looking deep into the depth of the soul. It sounds terrible, but it's not terrible. It's not a proper job. It is not like waking up at 5:00 A.M. in the morning to do a real day's work, but it does have its strange drag on you. I am not a person that likes sitting in a chair. But I know that I like to make a movie per year.
BNH: So, you must keep writing new material and just do it?
CS: Yes, (nods).
BNH: Judging from your films and your approach, is it safe to say that noir is a favorite genre, correct?
CS: Yes, I am drawn to the underbelly movies whether it is horror, or thrillers. I grew up loving thrillers, and when I started film school, one of the first films shown to us was Fritz Lang's Woman in the Window (1944), which is a big influence on Detour. It's not just film noirs. I love road movies. I love the idea of travelling through the desert. I wrote this film not because I wanted to make a little thriller but also a road movie. Bizarrely we ended up shooting most of it in South Africa. I still had the pleasure of driving all the way from L.A. to Vegas and shooting parts of it in those places. We romanticize the American West, in England, and I too am drawn to it.
BNH: On that note, what is your favorite Road movie?
CS: There are so many I love. I'm gonna go with a few weird choices like, Two-Lane Blacktop (1971). I think Wild at Heart (1990) is a road movie. It really changed me, and Straight Story (1999), by David Lynch.
BNH: How did you decided and go about the treatment of the split-screens in your film?
CS:  I took out more than I originally put in. The split screens you see in the movie are very close to the way they were suggested in the script. We spent a lot of time on the ending of the film, during the editing process. Only one of the split screens of Tye, in the house was the one we came up with during editing which ended up as a beautiful one. There are tricks in this film. Without giving things away, this film is not Sliding Doors (1998). We can make you think that you are watching something. That is, I can trick you but I can't lie to you. There is a difference, and too much split-screen can distract and that's a problem. In this type of movie, for w while, you are not sure which story you should be engaging in. It's very difficult for me to keep you engaged in both stories, but we do that successfully. That too is credit to Tye Sheridan and all the things he does on screen, on his own, in the scenes where he is at home. What we have is a stay-at-home kid, and a road-movie, and you realize at some point that they become the same, that it all comes together as one story.
Distributed by Magnet Releasing, Detour arrives to the big screen, at Music Hall, in Los Angeles. It is also available on Amazon Video, OnDemand and itunes. Watch the official trailer featuring Tye Sheridan, Emory Cohen and Bel Powley below.
[videos file="https://www.youtube.com/watch?v=4f-YpqWaBww" width="500″ height="300″][/videos]