Holy Air is a crafty and funny contemporary comedy that transcends barriers of religion, gender, and culture, showing a unique look at modern life in Nazareth. The latest offering by writer/director Shady Srour (2005 movie Sense of Need), who also stars alongside French actress Laëtitia Eïdo focuses on the life of Adam (Srour) and Lamia (Eïdo), a Christian Arab couple from Nazareth – members of a vanishing minority in the Holy Land. When Lamia gets pregnant, Adam decides it's time to hustle and provide the financial security his needs family by entering the biggest local business – religion. He plans to bottle and sell Holy Air.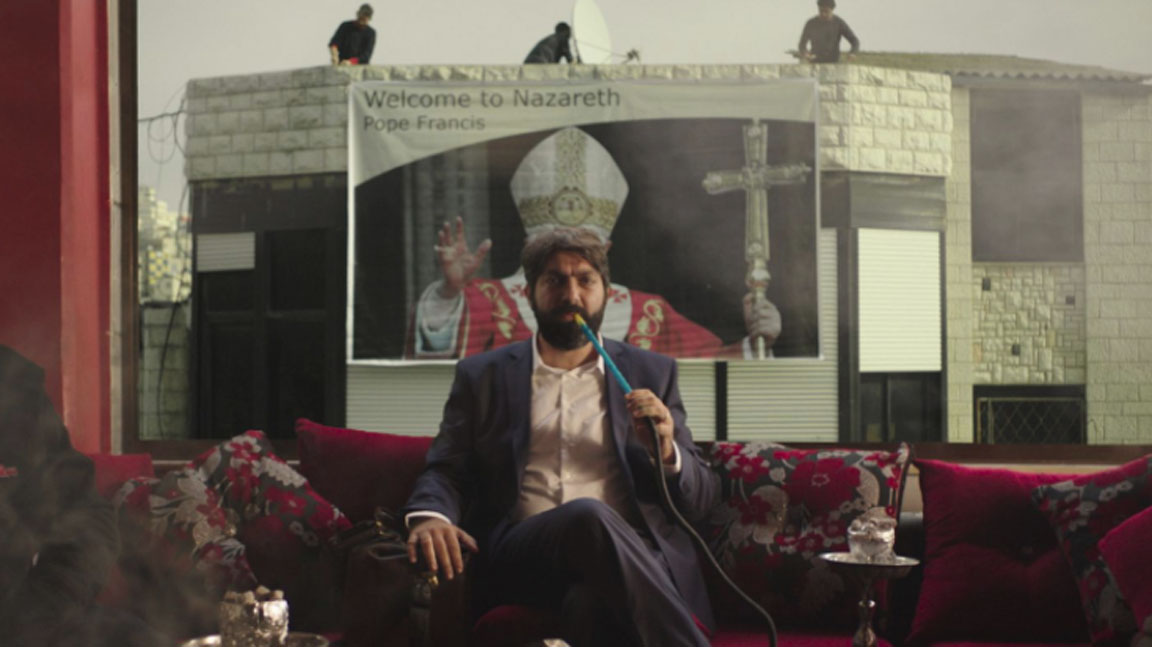 Having had his business ventures fail in the past, Adam decided to take a "leap of faith" so to speak,  and bottle the most valuable asset, the very air that Virgin Mary breathed during her annunciation!? But in order to, as one priest tells Adam during confession, bring such product into the market he needs to find allies from the three cultures ruling over Nazareth – the Jewish politicians, the Muslim mafia boss, and the Catholic Church officials. In a politically unstable world where religion is just another merchandise, can the Holy Air be Adam's salvation or is it just an illusion?
Holy Air is a crafty and funny contemporary comedy proving that every business venture requires imagination, hard work, and the right connections.
Certified 100% Fresh by Rotten Tomatoes, Holy Air has been the darling of the critics and festival audiences. Now, indie film and comedy fans in the United States will get a chance to see the film as it makes its wider release in home theater.  The film is not only a commentary on religious tourism but also a comedic way of viewing the complex lives of Christians living in the West Bank where modern life in an ancient land proves to be a calculated dance. It is a small, witty film with all indie-charm, with winning actors and an entertaining plot.
Distributed by Samuel Goldwyn Films and Orion Pictures, Holy Air is available now, on VOD and digital platforms.