Rising star, Pedro Correa writes, acts, and produces what he wants in the way he wants. There is an audience for his film and TV creations, and he finds them.  His new film MY DEAD DAD (now on HBO MAX) is a testament to his drive, vision, and desire to tell realistic stories about real-life situations. As a multi-faceted creator, he is involved in different areas of the process, and that's the way he has been doing it for years. Correa has written, produced, and directed numerous videos, TV and film projects, most of them shorts, and almost all of them putting his acting talent on display.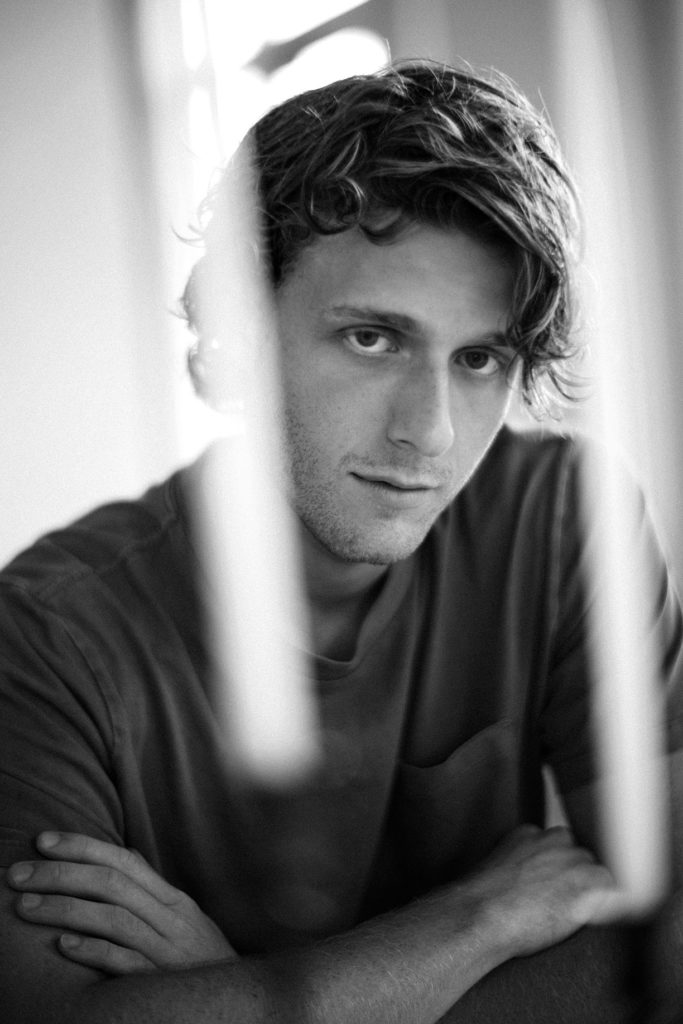 He looks like the all-American boy – appealing when it comes to casting for the Young Adult (YA), or supernatural, sci-fi, franchise, and CW shows. Yet, under the locks of good hair, the charm and the humor, are other elements that often make a person interesting to others. Correa is observant, curious and motivated with the intelligence and the desire to make things, personal, relatable, and therefore believable. As a young artist, what he sends out to the world happens to come in the powerful form of sight, sound, and moving pictures.
MY DEAD DAD is Correa's venture into feature films. He has co-written the screenplay with friend and collaborator Fabio Frey and cast himself in the lead role, playing Lucas Varela, a young burnout who inherits a mid-city apartment complex from his estranged, late father and is forced to deal with new challenges and responsibilities.
We sat down with this energetic go-getter for an exclusive Q&A and learned more than a few things thanks to his warm, relaxed demeanor and the convincing ability to look inward, and the world around him.
If it weren't for filmmaking, I'd probably have been locked up somewhere. – Pedro Correa
BNH: Who is Pedro Correa? How would you describe yourself and what you do, and where are you from?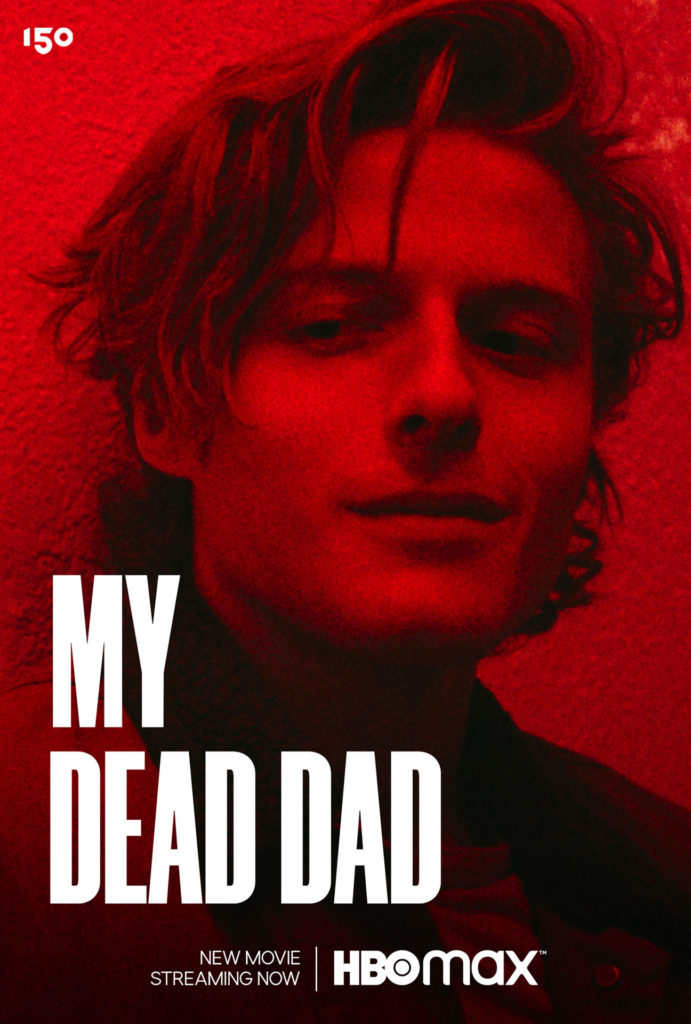 PC: A goofball, obsessive. I make movies, and most of my movie-related disciplines have been nearly all things that happen on, and off, a film set; minus makeup, hair, and wardrobe. That being said, my current focus is writing and acting, but directing full-length features will be the next chapter for me.
I grew up between Seattle and Perú, although I spent some of my high school years in Qatar, about an hour's drive from Saudi Arabia.
BNH: How did you end up in these places? What were the experiences growing up in Peru, Qatar?
PC: My mom is a school teacher and geographically ADD. You mix those together, and you get an adventurous childhood I suppose. She would teach at international schools around the world, and I'd follow. Qatar is every partying high schooler's nightmare, and Perú is every partying high schooler's dream. So, the contrast between those two places gave me a very mixed bag of high school experiences; surrounded by the local's pet cheetahs in Qatar, and taking field trips to the Amazon rainforest in Perú.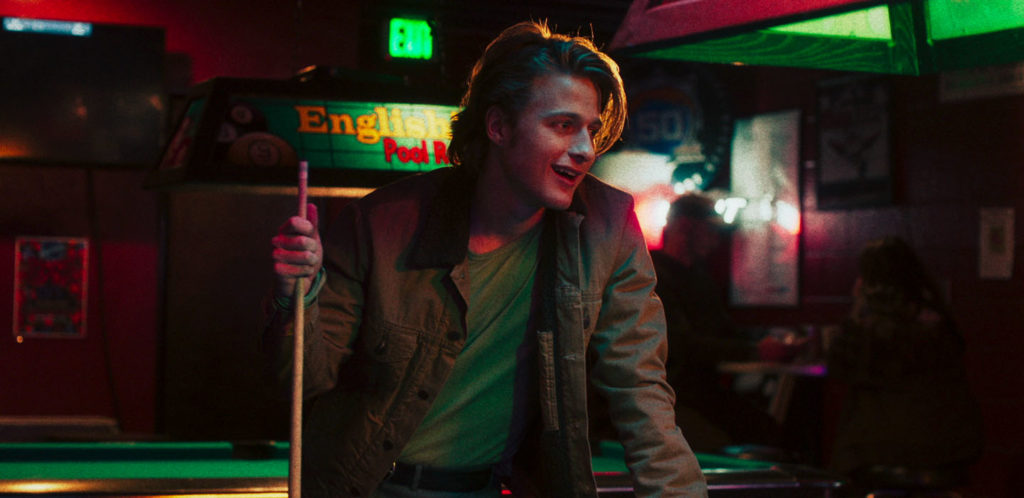 BNH: What drew you to acting?
PC: Getting to experience emotions that I may never have the opportunity to feel in my own life. Acting is a time-traveling adventure that forces you to another planet between "action" and "cut", but also, if you're emotionally disciplined enough, allows you to climb back into your own shoes that same day.
BNH: What is it about acting that keeps you interested, keeps you excited about it?
PC: I'm really into learning new details about specific animals that I can embody when I approach a character. For Lucas, in MY DEAD DAD, I felt he was a lone mutt whose owner had just passed.
BNH: Why a Mutt?
PC: Lucas is a mutt because he feels as if he is a man with no nation. He's half-Peruvian and half-American but doesn't feel like he's either because of how his parent's cultures fit into his identity or didn't fit, in his father's case.
BNH: Do you also have a power animal you think of or one that you think protects you in life?
PC: A Guinea pig! It reminds me of my childhood; my mom and I had them as pets when I was a kid. Some Peruvians eat them. I'm sure you could find some sort of symbolism for my parent's divorce layered deep in that one.
BNH: In the process, you have become a writer, producer, and filmmaker. Was that out of necessity or something you have always been doing?
PC: When I was 11 years old, my parents were either hard at work, or hard at work on their divorce. Being at home alone a lot, I had to find a hobby that wouldn't get me arrested (graffiti nearly accomplished that one too many times). So, it became making YouTube videos. Through using a shitty Logitech webcam connected to my HP desktop computer, I discovered, that acting for "film" was a thrilling way to express yourself; so I kept at it, saving up for better and cooler camera gear over time. At a certain point, I attempted to audition for TV and movies when I got a little older at 17 and was only able to book roles that weren't 'it'.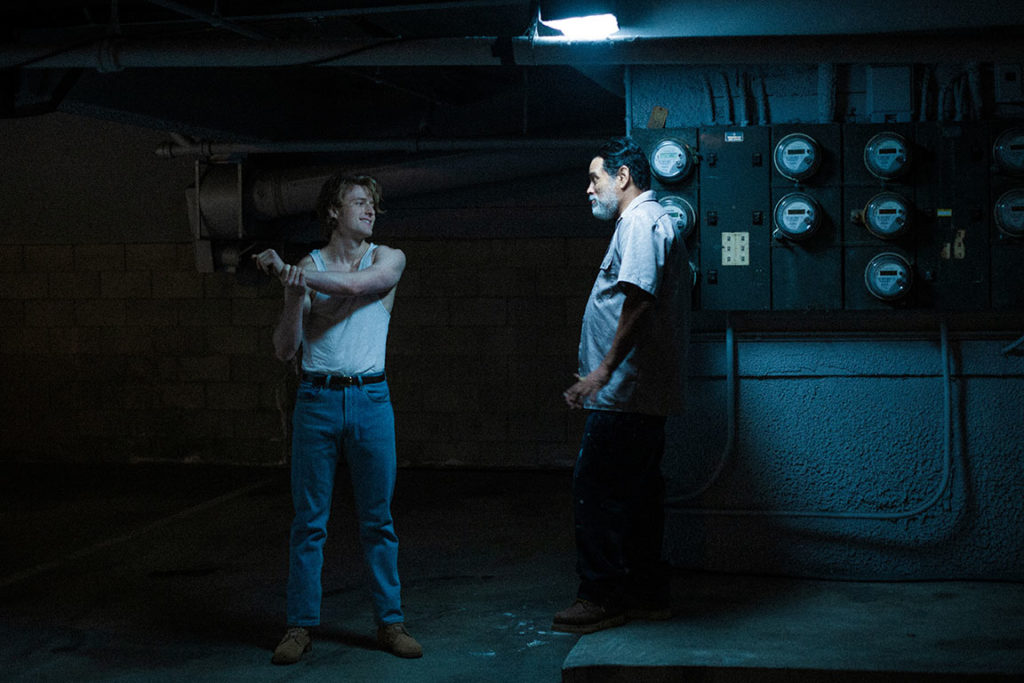 I went back to writing and directing elaborate, artsy-fartsy short films that I would star in, filming everywhere between the desert of Joshua Tree and the streets of Dongguan, China. Though years of that process, I really fell in love with the craft of filmmaking, and that completely took over, eventually materializing into writing full-length feature films.
I feel like MY DEAD DAD is the film that took my cinematic virginity. – Pedro Correa
BNH: So, can we say that the arts, filmmaking saved you from trouble and gave you direction?
PC: 100%. If it weren't for filmmaking, I'd probably have been locked up somewhere. I like the feeling of adrenaline, and luckily for me, making movies is an outlet for that in strange ways.
BNH: How would you rate your own sensibilities and intuitions? How do you identify a good story when you hear or see one?
PC: It's a feeling in my gut. Butterflies in my stomach. Feels a lot like a middle-school crush to me. Whenever I have that feeling, I know I need to chase it. I've been 'excited' about ideas that ultimately weren't the ones, but that special feeling? That's one worth destroying yourself over. I had that feeling with MY DEAD DAD, and I'm now having that feeling with my next project.
BNH: Tell us about how you decided to make MY DEAD DAD? How did it happen?
It was inspired by a near-death experience my estranged dad had when I was 14. He had lung cancer, and called me out of nowhere, telling me I was about to be the landlord of his apartment in Perú (where he was living at the time). That seed idea was blended with some fictional characters Fabio Frey (director of MY DEAD DAD) and I came up with, along with some real-life landlords and neighbors we came across living in the shittiest parts of LA at the time. We then co-wrote the screenplay for the full-length feature.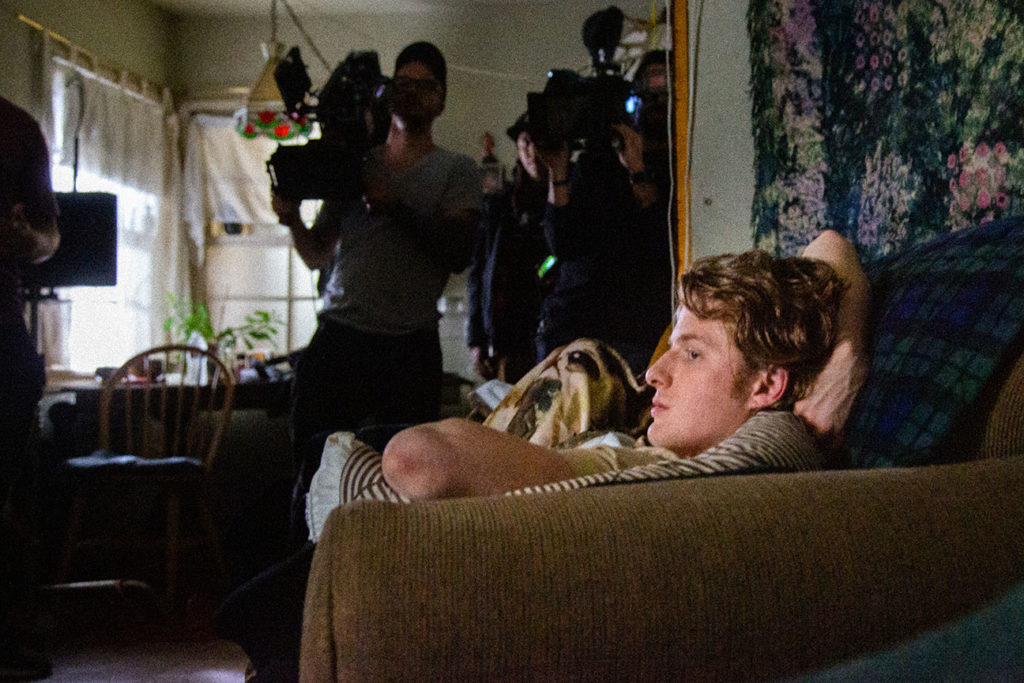 BNH: How did you come up with the title of the film?
PC: I originally titled the movie "My Dead Dad and His Six Stupid Apartments", but then the movie became a little more grown-up, as we began writing it, and realized that a title with like 900 words in it was not the move for this one. Most everyone tried to get me to change it along the way, but I stuck to my guns. It's not perfect, but it's memorable. And it illustrates where our main character is at, emotionally, in our story; Lucas is dealing with a lot, but he also can be a bit of a sarcastic dick sometimes. "Room to grow", as they say.
BNH: Why did you want to tell this story?
PC: Daddy issues.
BNH: Daddy issues seem to fuel ambition and make for expressive adults and storytellers out of many artists? Do you agree?
PC: I can agree. Daddy issues are certainly what fueled MY DEAD DAD. I think the most tragic experiences in life, make up who you are; the good and the bad. For me, rather than dwelling on the gunk of the past, I'd rather use it to create something, if I can. It's my way of flipping the shitty into pretty.
BNH: Is it safe to say that your new film, MY DEAD DAD is your official step into movies and leading roles?
PC: I feel like MY DEAD DAD is the film that took my cinematic virginity. Anything before this movie was an over-the-pants handy. I'm happy that this was a story that has been the one to really catch fire because it's so personal to me. I wrote this film for me to star in because all of my acting prep was in my writing; and for the producing, every scene I had written, I was already noting down potential locations for, and then rewriting based on what was available. To me those three disciplines, when done right, function like a vital organ inside of a living, breathing, mammal.
BNH: Your partnership with director Fabio Frey – how did you two team up and what is it that you understand about each other and your tastes in film and video content creation?
PC: We collaborated on a viral video titled "Drive 2: The Uber Years" that exploded a couple of years prior (starring a friend of ours who looks freakishly similar to the bootleg Ryan Gosling). After that, we stayed friends and realized we have a lot of similarities in our dark humor, our emo boy ponderings of life, and certain old-school films.
We both were a little depressed; Fabio was working a security job at an annoying Hollywood club, and I was listening to self-help audiobooks delivering for Postmates. We're different in a lot of ways, but in the ways in which we are similar, we found to be quite unique. Fabio and I both grew up around the world, so neither of us felt like we had much of a 'home' no matter where went. So really leaning into those feelings is what helped us shape the character of Lucas in the beginning of "My Dead Dad".
BNH: Because you and Fabio work so closely, how does he direct you? How do you collaborate when on the set?
PC: We usually cuss at each other, with very objective tweaks. He'll say something like "less sad boy shit on this take", or I'll say "this scene ain't it", and then we'll huddle up on our own and argue about it. We treat each other like brothers sometimes, so it cuts through a lot of the formalities. It's also why we can both appreciate intimate days on set when there aren't like a hundred people huddling behind the camera because we can be more cut-throat with each other, and also joke around a bit more.
BNH: How did you pepper the film with such an interesting cast?
PC: After cold-calling almost everyone in Hollywood I respect in the casting world, I caught the man, the myth, the legend, Rick Montgomery ("Green Book") on the phone. He was gracious enough to listen to me mumble through an elevator pitch of the movie as quick as I could. I sent him our no-budget concept trailer that Fabio and I made in an email, and for some reason, he gave us a shot. Rick brought on Thomas Sullivan as well to complete our casting department, one of the hardest working people I know, and together they were responsible for nailing down the faces you recognize in the movie. Aside from that, a handful of the other day-player roles in the film I convinced to show up. I would chase them down on the sidewalk in Hollywood on rogue street-casting missions I would go on in pre-production of the film. Sometimes it worked amazingly. Other times it would lead to a near fistfight in a grocery store parking lot because SAG sent a check later than expected to a couple of our non-actors. Street casting can be difficult is what I learned.
BNH: How did Simon Rex join the film?
Our casting department suggested Simon. And although we were huge Dirt Nasty fans (from Simon's rapping days), we didn't think he had any interest in the film… Until he read the script… until he Facetimed us… until he personally offered to audition… and then until he absolutely killed it. Simon was just so professional and hilarious along the way, we couldn't say no. He's the man.
BNH: What does Simon bring to the project?
The character Simon played, Gavin, is just so nuanced; and Simon was really the only one who deeply understood the tight rope that Gavin walks in his scenes. Gavin is an ass, but he's got a sense of humor, but he's loving, but he also might snap. He's a character you love to hate. Though Simon pulled it off flawlessly and brought so many hilariously improvised moments to set with him that ultimately elevated the scenes.
BNH: What is the most important thing you want the films you make to deliver or achieve?
PC: I want the films I make to force you to think, not about 'society' as a whole, but about your own life — Your family, your friends, your place in the world, and where you belong. I am out to make loud movies set in quiet spaces. That all sounds corny, but whatever, I stand by it.
BNH: What do you want the audience to take away after watching MY DEAD DAD?
PC: Nobody's perfect. It's never 'all or nothing, with your family or friends. Someone wronging you in one moment in the entirety of a beautiful life doesn't mean you need to burn the ship. Give forgiveness a chance.
BNH: What have you learned about yourself by making this film?
PC: That I'll always be a work in progress, and that's okay.
BNH: What do you do to relax?
PC: Skate, play guitar, daydream.
MY DEAD DAD starring Pablo Correa is available now on HBO MAX.
Watch the film's official trailer below.
MY DEAD DAD - Official Film Trailer feat. Pedro Correa, Simon Rex