This month, writer-director, Annie Silverstein's BULL, a small indie film with brilliant casting and chemistry between its leading castmembers not only captured our hearts and souls but its lingering effect garnered the spotlight feature on Brave New Hollywood as one of our favorite 2020 films. Starring Rob Morgan (Last Black Man in San Francisco), and one of Variety's Top 10 Actors to Watch in 2020, and newcomer Amber Havard, this intimate, soulful film deserves your attention.
See the official trailer for the BULL movie, below.
In an almost abandoned part of West Huston, 14-year-old Kris (Amber Havard), in an act of youthful defiance, trashes the house of her neighbor positioning her as the next member of her family to find herself in the state penitentiary if she continues on such a destructive path. As restitution, she is given an opportunity to help Abe Turner (Rob Morgan), an ex-bull rider who has seen better days and nowadays is scraping by on the Texas rodeo circuit, The young Kris must help the aging man with various daily tasks at home and at work. As she starts assisting Abe, the troubled teenager discovers a passion for bull riding. But her newfound interest in this dangerous sport is interrupted by past, bad influencers that pull her back into trouble and mischief. As her mentor, Abe struggles with the pains and problems of age and coping with a challenging life, there might still be hope for these two unlikely partners to carve a brighter future before it is too late.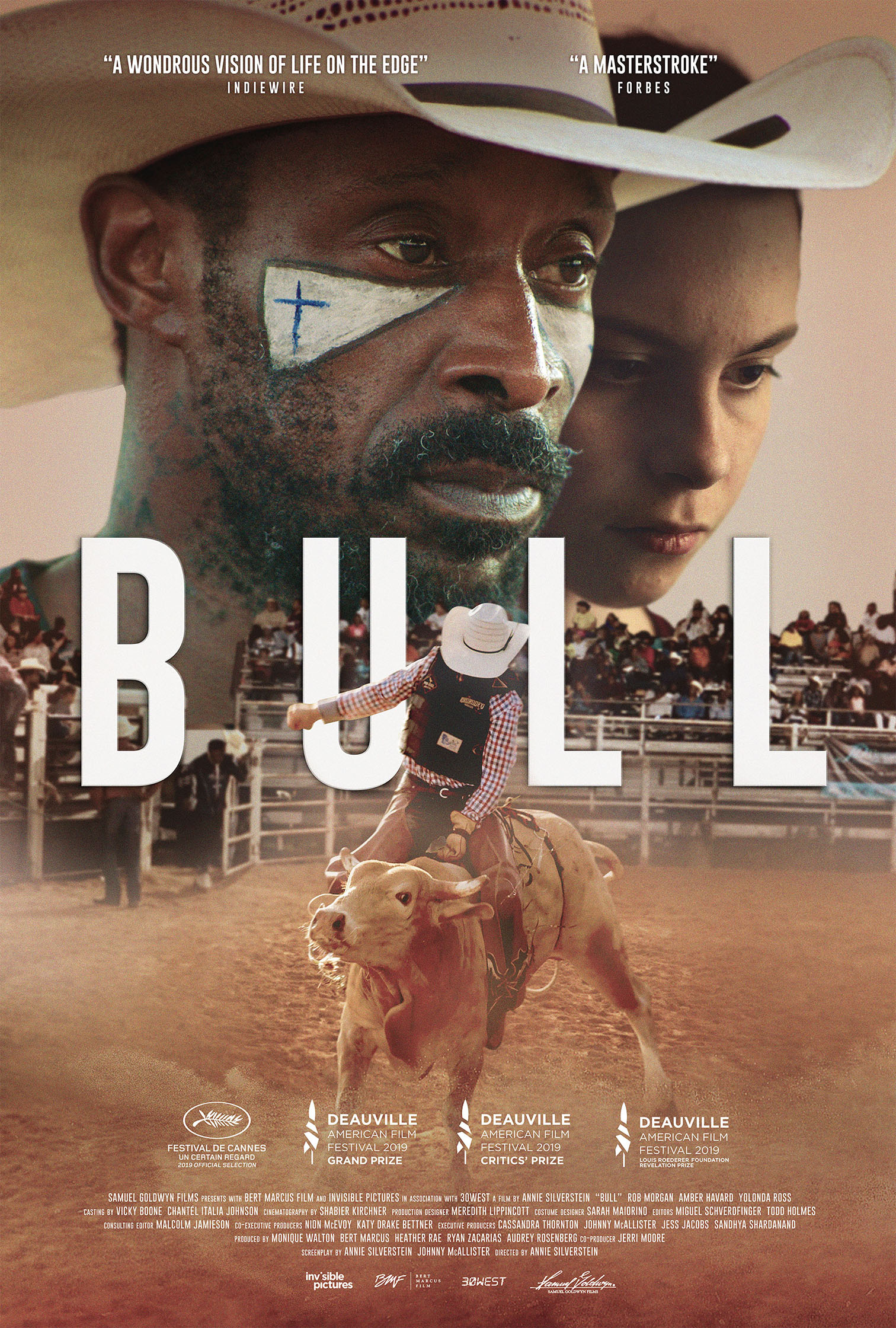 BULL (movie) is an effective tale of lost youth, economic disparity, and the ties that bind.
This very American tale of a forgotten people facing an uncertain future and economic disparity resonates.
BULL is the feature film directorial debut of writer-director, Annie Silverstein's who has produced and shot numerous short films, documentaries, and video projects. Silverstein has paired her two leading stars, Morgan and Havard, and the supporting cast members with great precision. The yin and yang of the two personalities, among other things, keep the audience engaged, and the filmmaker's skills in crafting a story with unique and very human individuals will pierce hearts and stay with viewers.
BULL, a very American tale about the forgotten segment of the population facing uncertainty and economic disparity resonates.
Silverstein is a filmmaker to watch and one with a great eye for casting. There is undeniable synergy in the way she brings together the elements that create drama and present believable, lifelike characters with an overall sense or presence of magnetism.
We must also bring attention to actress Yolonda Ross (Showtime's THE CHI) for her portrayal of Shela in this award-winning film.
Distributed by Samuel Goldwyn Films, BULL will be released on May 1, 2020, on VOD and digital platforms.
Below, see the official trailer for BULL (2019) featuring Rob Morgan, and Amber Havard.