"Any progress?"
"Not really."
And with that exchange between husband and wife 20 minutes into THE ATONING, we're off to a slow start for something to happen.
Writer/Director Michael Williams clearly made this flick in the mode of THE SHINING.  A good looking film set in the most perfectly decorated isolated farmhouse this side of a Crate and Barrel catalog (Williams is also the cinematographer), we watch a family of three wait and wait and wait for something to happen.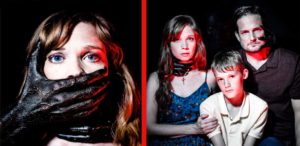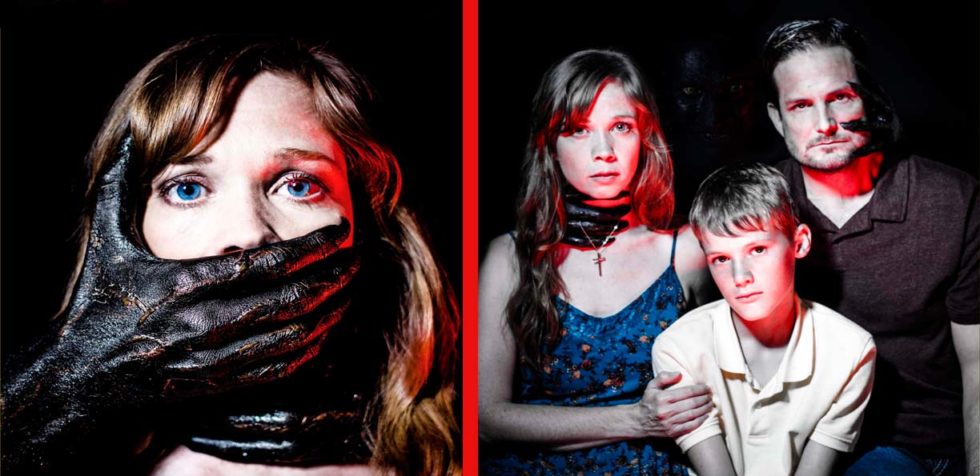 There are hints of problems.  The mother and father are tense and sleep in separate beds. The son, with Opie's striped shirt wardrobe, is a little too fresh-faced earnest, like a kid who wanted to be cast in a 1980s Spielberg movie.
As none of the family members seem to be able to walk outside the house, keen horror genre watchers will have figured out the intersection between this family and the supernatural when apparitions begin showing up with increasing frequency and intensity.  But this family has more to worry about than souls trapped in purgatory.
Virginia Newcomb delivers a frazzled performance reminiscent of a young Shelley Duvall in THE SHINING.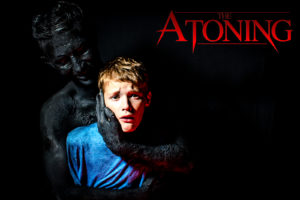 Aside from the slow pacing, THE ATONING suffers from uneven performances and low rent special effects that look no more like crew members throwing objects into frame or voguing with arm-length black gloves. Virginia Newcomb delivers a frazzled performance reminiscent of a young Shelley Duvall in THE SHINING.  Michael LaCour works as the sexually frustrated husband. And then there's a jarringly bad performance by Dorothy Weems as the psychic – she's seen POLTERGEIST one too many times. But unfortunately everything rests on young Cannon Bosarge as the son but he can't really do much more than mug for the camera. The film is a little too ambitious and beyond Williams' ability, but it's a stylish worthwhile rental for someone's second full-length film.
Give Williams credit for not re-treading son-of-SAW horror porn or Japanese-Grudgesque camera work or James Wan CONJURING jump scares.  THE ATONING echoes an early style of horror where all sins need to be addressed and there's asymmetry to crime and punishment.
The Atoning with be released on September 5, 2017, on DVD, Blu-Ray, and Digital HD.
About the contributing writer: Harrison Cheung is the award-winning author of the Christian Bale biography, THE INSIDE STORY OF THE DARKEST BATMAN.