Coming off the Special Jury Prize from Sundance, AS YOU ARE is an intriguing drama that bends troubled family film cliches with an unusual plot device.
Told in flashback through police interrogations, we learn how three teenagers become friends in the 90s. Obviously, the audience waits for a crime to reveal itself as the interrogations progress.
Scroll down to watch the trailer for the film.
The film doesn't begin with much promise – we tread ABC Family / Lifetime TV movie territory at first watching Jack (Owen Campbell), a sulky wall-eyed teen who listlessly skateboards around school.
Jack's single mom, a weathered Mary Stuart Masteron, is eager to introduce her son to her new boyfriend (Scott) who also has a teenage son, Mark (Charlie Heaton) who introduces Jack to pot.
Indie mystery-drama 'As You Are' stars Charlie Heaton from Netflix's Stranger Things.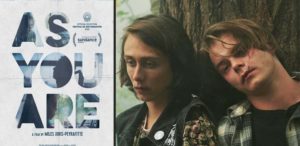 The two youths become best pothead buds and soon meet a supportive new friend at school, Sarah (Amandla Stenberg).  She's an honors student, and in her first police interview, she's asked why she hangs out with those two boys.  As the cop noted, "You don't fit their profile."
Jack and Mark's families soon move in with each other, and their relationships become increasingly intense and complex. The two boys spur each other into a downward spiral of bad behavior, smoking, drinking, blowing off school, shooting off guns in the woods, and swimming at the local swimming hole.
By the time Kurt Cobain's death is reported in the news, the story is at a steady gallop toward tragedy.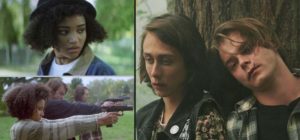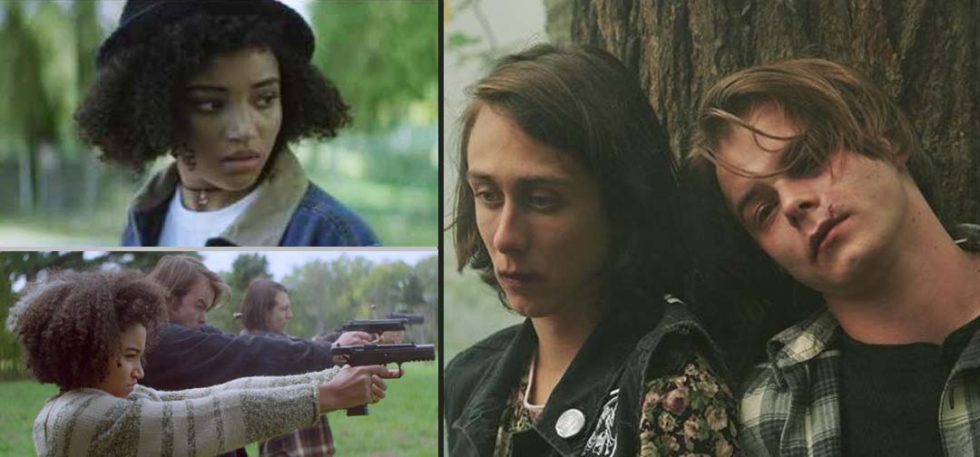 Beautifully shot where even small town America and a double-wide trailer can be a loving home, the film has a great cast. Charlie Heaton seethes like a young Ray Liotta – you wonder what's he on.  Stringy haired Owen Campbell nails grungy proto-slacker listlessness that would have been played by Ethan Hawke in a previous generation.  Amandla Stenberg is perky and wide-eyed – you might remember her from THE HUNGER GAMES as the tragic Rue.  She serves a pivotal and literal role hanging out between the boys keeping them "straight" but unwitting playing their hag.
The only weak note here is the cartoonish, underdeveloped relationship between Jack's mom and Mark's dad. That's the only place where the film stays stuck on the Lifetime Channel portraying abusive single parents who don't understand their teens. Oi, one even wants to send a son off to military school!
Nevertheless, AS YOU ARE is a moving and touching story and portrayal of an unusual trio of friends and their evolving relationships and attractions. Co-writer/director Miles Joris-Peyrafitte has made his own MAURICE and BROKEBACK MOUNTAIN for the grunge age.
As You Are will open in theaters, on February 24, 2017 at the Village East Cinema (in NYC), and on March 3, 2017, at the Laemmle Noho (in L.A.), with more cities to follow.
Spoiler Alert: parts of AS YOU ARE film trailer gives away points that maybe argued as too revealing or spoil the full experience of watching the film. Otherwise, watch the official trailer below.
[videos file="https://www.youtube.com/watch?v=tu4DKKrpyJI" width="560″ height="315″][/videos]
About the contributing writer: Harrison Cheung is the award-winning author of the Christian Bale biography, THE INSIDE STORY OF THE DARKEST BATMAN.