Almost Holy, a new documentary by Steve Hoover (Blood Brother) follows vigilante Pastor Gennadiy Mokhnenko as he takes homeless, drug-addicted children off the streets of Mariupol, Ukraine and rehabilitates them through "tough love" methods while many forces push back against him.
As a self-appointed savior in poverty stricken Ukraine, after the collapse of the Soviet Union, Gennadiy goes after dope dealers of all kinds, and after capturing them, he drops them off at police stations, basically doing the jobs city officials will not do. In the process, he meets the opposition of government-like figures who are not amused with his unorthodox techniques, but are no part of a solution themselves.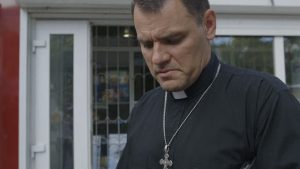 Frail, ghostly looking teens are seen walking the streets of their city either trying to score a batch of codeine ("krokodi") pills or find someone who is in possession of them. The epidemic has led to the use of harder drugs, and ultimately death.
The film also comes in collision with history as it bears witness to Putin's invasion of Crimea, in February 2014. And as rebel forces start inching closer to Mariupol, the embattled priest faces yet another fight.
Steve Hoover's Almost Holy is a tour-de-force packed with haunting images of an anguished society and a man's friendless fight to save his community despite the odds and the violence of the oncoming storm.
Shot with tilt shift lenses, with cinematic flair, the filmmaker pairs the reality of today with nostalgia (Lenin statues, clips of an old Soviet cartoon) creating a foggy trap his subjects will hopefully crawl out of. It is a technique that sucks the viewer in and connects them with the people front and center.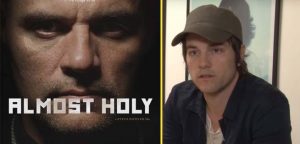 The forgotten subjects of this film, mostly young and impressionable, are normally considered the bright future in most modern societies, and the film effectively presents them as voiceless prisoners. The viewer will encounter numerous faces and gain awareness about their pain but the filmmaker does not achieve this point by exploiting these children.
Another advantage to the film is Gennadiy's bi-lingual abilities which should help reach those Americans who are often resistant to watching "foreign films."
Executive produced by Terrence Malick and Nicholas Gonda alongside Animal Media Group executives Jim Kreitzburg, Kathy Dziubek and Michael Killen, the Almost Holy was acquired by The Orchard for its North American distribution.
Almost Holy opens theatrically in Los Angeles and New York on May 20th and going wider in weeks to follow.
Watch our exclusive interview with director Steve Hoover as we ask about the challenges of following the uncontainable pastor, stepping into daily conflict, and the aftermath of detaching from such emotionally charged filmmaking experience.