The 2022 Oscars will go down as the "One Where Will Smith Slapped Chris Rock" but the evening was full of cringeworthy gaffes. Watch the clip from the 94th Annual Academy Awards, below. 
The oddities began with social media abuzz about the odd walk-out song choices that started with Toto's Africa played while British actor Daniel Kaluuya and American singer H.E.R. walked out to present the award for Best Supporting Actress.
Will Smith Slapped a troubled Academy Awards telecast to its lowest point.
Then singer Stephanie Beatriz walked out to Madonna's "La Isla Bonita."
Odd song choices continued with "Vivir Mi Vida" by Puerto Rican Marc Anthony played when "Encanto", a celebration of Colombian culture, won for best-animated feature film.
"Oye Cómo Va" by Santana, a Mexican musician, was heard as John Leguizamo, a Colombian actor, walked out on stage.
And then when Rachel Zegler took the stage, "Beggin'" by Måneskin played, a not-so-subtle dig at the actress who had complained she wasn't invited to the Oscars even though WEST SIDE STORY had seven nominations.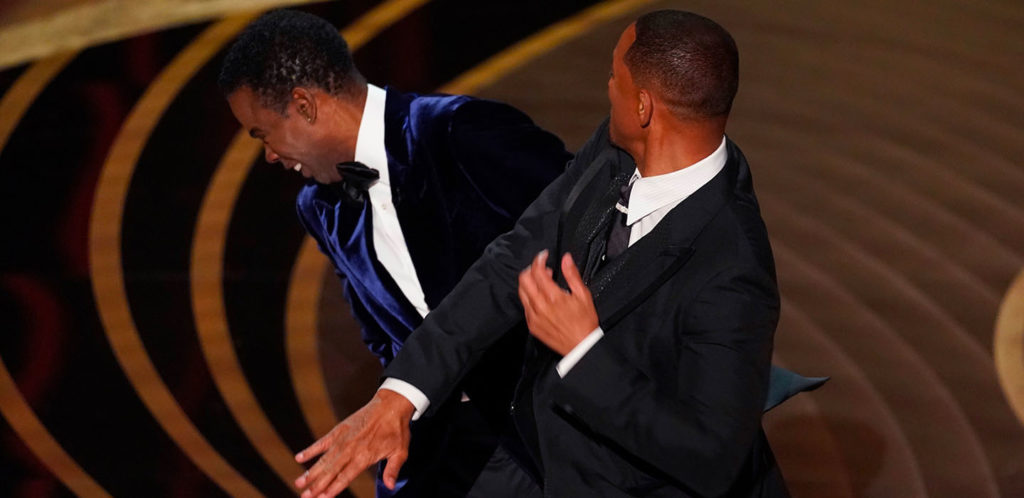 But forget the fail of the Oscars Diversity playlist. In recent years, the job of hosting and presenting at award shows has given comedians free rein to roast the Hollywood elite. Perhaps no one has wholeheartedly taken to this role as Ricky Gervais when he hosted the Golden Globe Awards with zest as he took every A-lister down a notch or two.
Chris Rock, a comedian with a sharp-tongued reputation, made a joke about Will Smith's wife, Jada Pinkett Smith and her alopecia-caused buzz cut. "Can't wait for G.I. Jane 2," Rock said. (Does anyone remember G.I. JANE? A 1997 flick starring Demi Moore?) The Smiths did not like the joke. And rather than boo or hiss as audiences have done for thousands of years to bad jokes or jokes in poor taste, Will Smith marched up on stage, slapped Chris Rock on international TV, and returned to his seat cursing, "Keep my wife's name out of your fucking mouth!"
While some audience members laughed, wondering if the slap was a gag, Smith's f-bomb confirmed it was no joke. But before the Academy could reportedly bounce Smith out, he had won the Best Actor statuette where he blubbered an apology to the Academy, and notably not to Rock.
Social media is, not surprisingly, split between those who want to cancel Smith and those who applaud how he defended his wife.
If you look at Oscar ceremonies from years past, it's interesting how comedians have risen to host duties.  The first Oscars took place in 1929 at the Roosevelt Hotel taking just 15 minutes to hand out the statuettes.
The Oscars have grown to three-hour shows, struggling to find their relevance in an award-heavy industry and their audience with a steadily declining viewership. So sharp-tongued comedians have valiantly tried to inject life in the proceedings, turning the Oscars into a celebrity roast.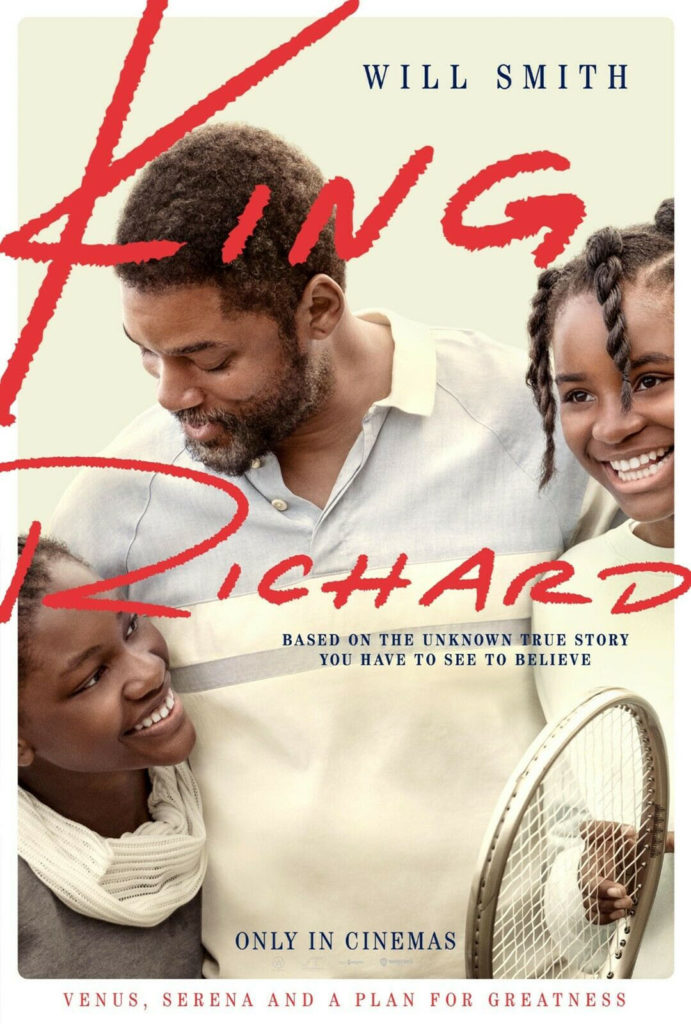 Was the Chris Rock joke in bad taste? I don't know much about alopecia, but I suppose a joke about anyone's medical condition is in poor taste. Was it worse than Amy Schumer's incest joke about Jake and Maggie Gyllenhaal?
There are plenty of comedians who have disappeared over the years because they've been canceled or their humor just fell out of fashion – no slugging required. Lisa Lampanelli? Andrew Dice Clay?
But Will Smith's choice to do violence on a family program is inexcusable. Ironically, when Sean Penn demanded to feature an interview on the Oscars with Ukraine's president to highlight the plight of the Ukrainian people, how can Hollywood be taken seriously when an A-list actor chooses violence over words?
If Will Smith didn't like the joke, BOO, HISS, or flip him the bird, thumbs down. That's the audience response. The Academy needs to send a signal that the Oscars is not the place for fighting nor for the chilling effect this has on comedians and their freedom of speech. Don't like Chris Rock? Complain to the Academy – they can choose not to hire any of those comedians again if the ratings are bad and the audience reactions are poor.  But letting Will Smith – or any A-lister – beat up on a host/presenter sends the message to the world that a star is untouchable and that might is right. Is that the message we want to send right now?
Uncensored: Will Smith slaps Chris Rock on stage at the Oscars.