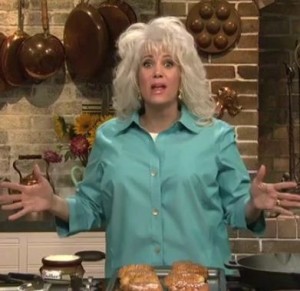 The time has unfortunately come for Kristen Wiig, who plays hilarious one-upper 'Penelope' and chronically misbehaved student 'Gilly' (among others) on Saturday Night Live, to say farewell.  Her impersonations of Drew Barrymore and Kathy Lee Gifford have entertained us for seven years, earning her multiple Emmy nominations and a huge fan base.
Wiig honed her sketch comedy skills and improvisational genius at the Groundlings School, where many SNL alumni (actors and writers alike) have begun.  The New York native was promoted in only one year of attendance and if her SNL skits haven't proven why since midseason 2006, "Bridesmaids", which Wiig wrote and starred in, may have proven a thing or two grossing over 287 million dollars.
So what's next for Wiig? While it seems her departure has saddened not only her fans but herself as well, we are all certain Wiig will go on to bigger and better things. With six pictures combined in pre and post production, including a voice over in How to Train Your Dragon 2, it looks like Kristen Wiig has only just begun. 
The better question may really be, what's next for Saturday Night Live?  Losing Wiig, Jason Sudeikis and Andy Samberg, it seems we should be a little more concerned about the future of our Saturday nights.