British matinee idol Robert Pattinson leaves behind a craving for blood, teenage passion and werewolf rivalries for Depression-era carny life in "Water for Elephants," a romantic drama set for release next month via 20th Century Fox. Producers no doubt hope Pattinson's "Twilight" groupies are already marking April 22 on their calendars.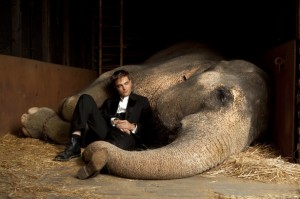 The film is based on author Sara Gruen's novel exploring the intertwining lives of a group of circus workers that was first published in 2006 by Algonquin Books/Workman Publishing. Screenwriter Richard LaGravenese adapted the book for director Francis Lawrence.
Costars include a pair of recent Oscar winners: Reese Witherspoon plays an equestrian whose passion for Pattinson's character is complicated, to say the least, by her marriage to the villainous circus boss (Christoph Waltz, the memorable Nazi from "Inglourious Basterds"). And that is the least of their troubles…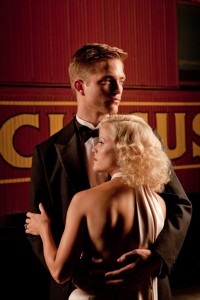 But don't get too excited about "Twihard" ardor for Pattinson, as their glee appears to be confined only to online gossip and the "Twilight" franchise itself. Although legions of overheated girls (and their moms) devote themselves to chronicling on the internet Pattinson's every move, they have not turned up to support their idol in other roles.
In the wake of the first "Twilight" film, "Little Ashes" was released in May 2009—on a scant handful of screens, granted—and grossed less than $500,000 total in the U.S. and Canada. Last year's "Remember Me" had a splashy ad campaign and a nationwide release, but took in just $19 million and change domestically (it performed slightly better overseas).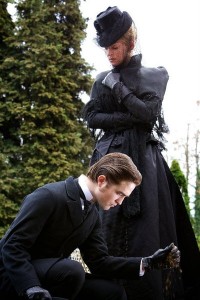 Will the Twihards find "Water for Elephants" more to their liking? We'll know soon enough. Whatever their reaction to this film, they'll soon have another shot at Pattinson when the remake of "Bel Ami" hits the silver screen. In this period romantic drama, he takes on the role of a ruthless playboy who seduces a variety of women in order to secure his fortune and move up the social ladder.
Trivia note: Pattinson played Witherspoon's son in a scene that was ultimately cut from the 2004 film "Vanity Fair." It was included with the film's DVD release.
CLICK HERE for the official "Water for Elephants" website.