Let's talk Irish hand dancing. Oh yeah! We're gonna go there!
Sure those Irish Riverdancers are light on their feet and 'til this day pranced and skipped their way to the top, but can they do what Suzanne Cleary & Peter Harding can do? The clever, creative duo of Up and Over It has caused a web sensation suddenly known as "hand dancing" and they've done it all without getting off their buns.
The two dance champions met on the Irish Dance competition circuit, and at age 17 where both were hand-picked by Riverdance to not only perform with the company but to quickly become the youngest understudies of the show. Peter and Suzanne went on to become the most exciting stars of the world famous production.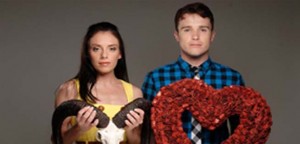 They have performed on Broadway, Hammersmith Apollo, London, Radio City Music Hall. Basically, they're well traveled and have taught master-classes throughout Europe. So, good luck impressing these two on a date.
However, somewhere between the globe bouncing, receiving high praise and the next top gig, these two have been rebelling as "L'enfant terrible" (that's French, y'all), of Irish dancing in a deliciously entertaining, humorous way.
With the help of their friend, director Jonny Reed, the Up and Over It video clip "We No Speak Americano" on YouTube, has been a runaway hit, featuring Suzanne and Peter in a tightly choreographed number performed entirely with their hands and arms, while keeping a straight face.  The video has received over 1,781,287 hits to date and growing as you read this.
At Brave New Hollywood we caught up with these bad-ass folks and quickly realized that they had us at "hello."
How did you two meet?
Suzanne: We met when we were 15 on the competition circuit, we then joined Riverdance together, were understudies to the principle dancers together and then left and did various other shows together. We seem to be joined at the hip!
How did you come up with the idea?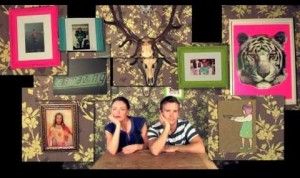 Peter: We were putting together a show for the Edinburgh Fringe, which presented Irish Dance in a more contemporary context, using electro pop, video etc.
Suzanne: Jonny Reed wanted to make a film with us hand dancing for a promo. He came up with an idea, which saw us sitting opposite each other having a domestic argument, but just through rhythms. People loved it and we started performing it live.
Peter: We heard the music for our latest video on the radio before it was released and knew we had to do something crazy to it.
Since "Hand Dancing" is not exactly RIVERDANCE, please tell us in your own words about this genre you have created.Suzanne: Irish Dancers usually practice their steps on their hands and we used to sit for hours making up routines just on our hands. It was fun to do steps that you couldn't do standing on your feet.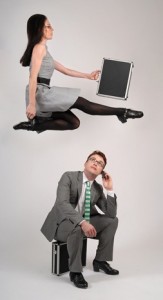 Peter: We've always been fascinated with synchronicity and how far we can push each other – hand dancing was the perfect way to explore this. Also, it's great for those times when you can't get a rehearsal space.
What do your friends and family think about your work? Suzanne: They love it. Professional Irish Dancing's been around for just over 15 years, but it hasn't changed in all that time. Our friends and family have seen us dance in the same type of show our whole lives, so this is so different for them.Peter: Suzanne once played the personification of the famine! Our friends actually enjoy coming to see us perform now because our show is aimed at them.
What is it about your "We No Speak Americano" number that has sparked such a big interest?
Peter: I think the setting, the blank expressions, the music, the direction, they all play a part. It's odd and quirky and people like that.
Suzanne: I think when people see us doing this relentless dance, to this relentless song, they kind of get sucked in. It's funny and silly but they can also see the effort that has gone into it.
What kind of children were you and did your surrounding shape what you do now?
Peter: My parents weren't into dance but I begged from the age of 3 to go to dance classes, eventually they let me. I took a lot of flack for it at school which made me work even harder.
Suzanne: My mother was a dancer so I was made to practice everyday – I suppose I'm the task master in the team! Peter and myself have always tried to push what we do, in competition, in work. That comes from our parents.
How much of your personality goes into your performances? Is that important?
Suzanne: All of it. What we do on stage and on film is basically a reflection of our lives.
Peter: We've filmed most of our films in our apartment or around east London where we live. We spent so many years touring and dancing as part of a troupe, it's really important to us that people hear our voice and see who we really are.
In what way does it "liberate" the Irish dance as the world may know it?Peter: For the past 15 years professional Irish Dance shows have been stuck in the past. Telling stories about the famine, about emigration. Lines of velvet clad dancers with tiaras. The form has been homogenized with the mass production of these kind of shows. We're trying to open a dialogue about what is Irish Dance? What happens when you drop it into different contexts – like just hands, or barefoot or dressed as trailer trash and dancing to Lady Gaga. It's looking at the cultures we live in for inspiration rather than the past.
How long did it take to get the whole routine down?
Suzanne: About two weeks of evening rehearsals. We're always rehearsing – on the bus, on the tube – everywhere.
Should people try this at home?
Peter: NO!!! You may get hurt. Only joking – you can try it – but it may not look pretty.
Any news on taking your act to the States, maybe appear on Broadway?
Suzanne: We'd love to. We're talking to a few people so fingers crossed.
Ideally speaking, how about an appearance on the hit American TV show "Glee?" How would you react to this imaginary offer?
Peter: That would be fantastic! Maybe a St. Paddy's Day special with electro-pop in jig shoes.
Who are your favorite famous personalities and what makes them, successful?
Peter: You have to admire Gaga. The work she puts into her videos and shows is amazing.
Suzanne: Her work ethic is incredible. We also love Angela Landsbury – Murder She Wrote is the best thing on TV. Gaga can be quite polarizing. You love her or hate her. She takes inspiration from other artists, but she is still very original and talented. You can't beat good ole fashioned talent.
How has your online sensation changed you?
Peter: It hasn't really changed much. We've been interviewed on ABC GMA and Justin Beiber tweeted about us, but apart from that, we're just getting on with our normal lives.
Irish hand dancing duo Up and Over It, from Edinburgh Fringe to Viral Sensation
What's next?
Suzanne: We're getting offers to do some events and live shows which is great. We're also working on our next video, which will feature hands and feet!!
Peter: We're going to ride the wave as long as we can and keep creating work that is fun, entertaining while bending the all rules.
Jonny Reed: Kickin' it up a notch
Since 2005 Jonny Reed has been somewhat of a visual collaborator, and the third partner in this finger tapping, hand slapping phenomenon. Having worked with Suzanne and Peter on their "traditional" Irish Dance show, Jonny has become the "eyes" in this creative process using his passion for vidoegraphy to capture the new routines on camera and giving the otherwise conventional Irish Dance a funky visual kick. Two years ago they started these live projects, creating the online videos and taking it to the masses.
Are these the type of clips you are normally interested in directing?
I love doing this type of work.  I work a lot with theatre companies on trailers and behind the scenes films but working closely with other artists who have something to say, are open to suggestions and are good at what they do, is really exciting. I'm very interested in installation work, and create films to feature as part of live productions. I hope next year to create a large scale installation with Cleary & Harding that can tour and play in a more gallery setting.
Who chose the music and why?
Myself and Peter heard it on the radio before it was released in the UK and just knew we had to do something with it. I'd wanted to film a more up-beat hand dance with them for a while and this song was perfect. It blended the old with the new, which is what Up & Over it all about.
Suzanne and Peter keep a straight face throughout the entire routine. Did they ever crack up laughing?
Yes, they did a lot – usually when one of them accidentally slapped the other, or knocked something off the wall.
What kind of personalities are they on and off stage?
They're both fantastic to work with on or off stage. They've been doing this for such a long time, it's second nature to them. It's great to see them perform and work with them. They can get a bit moody sometimes when they don't think a show went well or one person didn't clap as hard as the rest – but that's normal for performers.
How many takes were necessary to get everything you needed?
Not that many really. They really rehearse a lot and I watch nearly every rehearsal, planning every shot I wanted.
What are some of your favorite films, TV shows or other visual arts?
I love Wes Anderson films, anything by Jonas Akerlund. True Blood is the best thing on TV at the moment. I love the OK GO music videos, Trish Sie's work is really inspiring, and starting off as a video artist I was inspired hugely by Maya Deren and Kenneth Anger.
How do you like the sudden web sensation and what would you like to get out of it?
It's great, watching the hits rise and to find out who's discussing your film. It would be great to work with other artists and just to keep on doing more of what I'm doing.
At BNH, we can't wait for Up and Over It to bring their exciting new act to the U.S. But until then we suggest keeping up with them at
The song "We No Speak Americano" is performed by the Australian duo Yolanda Be Cool and producer DCUP.
More info: http://www.upandoverit.com/home.html