The 1982 horror classic POLTERGEIST has been updated for a new generation of movie goers. Back in the 80s, director Tobe Hooper steered the Spielberg-penned ghost story into a hit franchise that spawned a number of sequels. Spielberg then was very much in his suburbia phase, setting tales of aliens (E.T., CLOSE ENCOUNTERS) in non-descript subdivisions because that's where Spielberg himself grew up, and nothing made these stories more monstrous then for them to take place in home turf.
For anyone out there who hasn't seen the original POLTERGEIST, the story is now a classic.  A family moves into a suburban house, only to find that the home was built on a graveyard. The angry spirits decide to abduct the youngest child, so the family desperately tries paranormal investigators and a medium to rescue her. Property values soon collapse.  Classic Spielberg!  And like many Spielberg productions, the casting of child actors have always been bang on.
In this 2015 update, disappointingly the family's names have changed – from the Freelings to the Bowens (perhaps a nod to MODERN FAMILY's Julie Bowen?).  Sam Rockwell and Rosemarie DeWitt plays parents dealing with economic downsizing.  The father drinks heavily because he just got laid off.  The mother struggles to manage the kids' whining about their turn of fortunes. The little girl's name has changed from Carol Anne to "Madison."  And like the 1982 movie, this reboot depends on the kids' strong performances.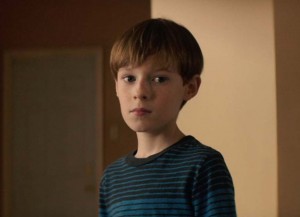 Key to the POLTERGEIST story is Kennedi Clements who plays youngest daughter, Madison. She bears a striking resemblance to the cherubic Heather O'Rourke from the 1982 movie.  And it's Kennedi who delivers the classic line, "They're here."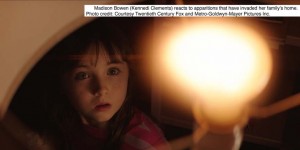 The under-utilized Saxon Sharbino nails the surly, disgruntled teen daughter role who bitterly resents the move to the bland new neighborhood.
But it's Kyle Catlett who steals the movie as the oft-ignored middle child relegated to the world's creepiest attic bedroom, complete with clown dolls and tree branches scraping at the window. As the initial family witness of all things paranormal, Kyle plays perfectly the classic Spielberg theme of the frustrated child being ignored or unappreciated by his parents.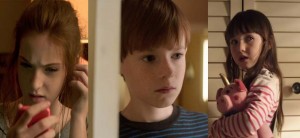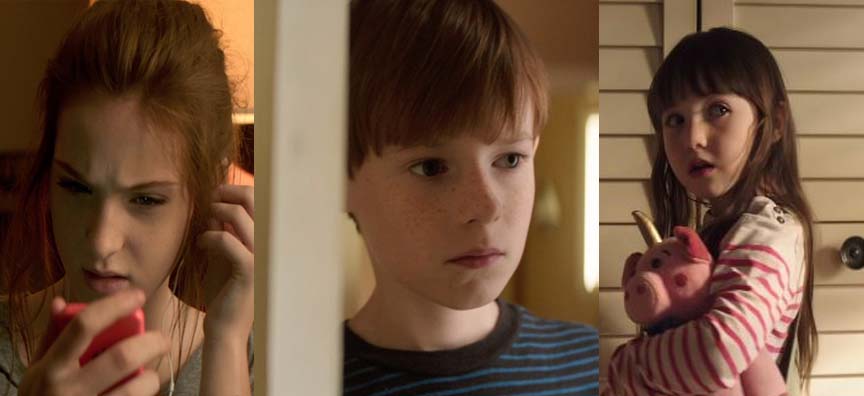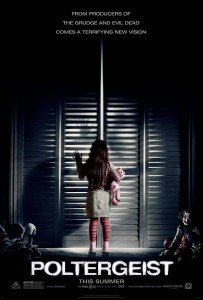 Great child cast! Well done remake. It's to Spielberg's credit and insight about middle class life that 33 years later, the story that it takes a supernatural threat to bring a family closer together still resonates.
Poltergeist is in theaters now.
CLICK HERE for the films' official website.
—-
About the writer of this post: Harrison Cheung is the award-winning author of the Christian Bale biography, THE INSIDE STORY OF THE DARKEST BATMAN. Learn more at bale-biography.com