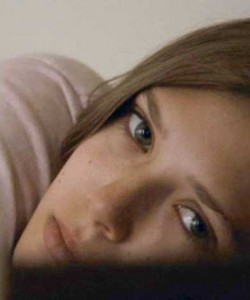 FINALLY, It is a pleasure to report that a sister of a famous celebrity family (see "Olsens") is making news for her drive and/or talent; not who she dates and/or marries (see "Kardashians").
Because Elizabeth Olsen received raves for her starring role in "Silent House" (let's not forget her in "Martha, Marcy, May, Marlene" either), Hollywood decided that one good acting job deserves another.  She, along with Sigourney Weaver and Robert DeNiro, are appearing in a thriller called "Red Lights," which will premiere at Sundance on January 20th.  Later, she co-stars with director Josh Radnor in "Liberal Arts."  She plays the "May" in this "May-December" cinematic romance with Mr. Radnor.
And, to further keep her pleasing presence in the public's eye, she'll co-star with Glenn Close in a ghost story called, "Therese Raquin." This will be released next year; a time where no doubt, Ms. Olsen's star will rise to an unseen height. 

This just proves that sometimes, the good girl wins.  And, sometimes…, or this time, the sister of a more famous sibling is encouraging fodder for the film world; not embarrassing tabloid fodder.  Hopefully, (and let's pray that) Lindsay Lohan's younger sister, Aliana, will follow down the same smooth road as Ms. Olsen chosen.
=======
MORE:
"Red Lights": U.S.A./ Spain (by Director and screenwriter: Rodrigo Cortés) — Plot: Psychologist Margaret Matheson and her assistant study a paranormal activity, leading to the investigation of a world-renowned psychic – Cast: Cillian Murphy, Sigourney Weaver, Robert De Niro, Elizabeth Olsen, Toby Jones. SEE TEASER TRAILER for "Red Lights" HERE
"Silent House": U.S.A.  (directed by: Chris Kentis, Laura Lau) Starring Elizabeth Olsen – plot: a young woman finds herself trapped inside her family's secluded lake house, as strange noises and occurrences start happening all around her – Genres: Thriller and Remake,  Release Date: March 9th, 2012 (wide). Distributed by: Open Road Films. See Trailer for "Silent House" HERE.
Both Olsen starers "Silent House" and "Red Lights"  will be screened at The Sundance Film Festival: January 19-29, 2012 in Park City, Salt Lake City, Ogden and Sundance, Utah.