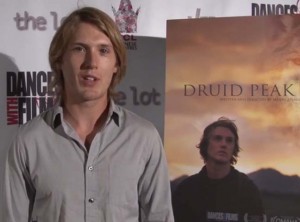 Our exclusive interview with actor Spencer Treat Clark, at Dances With Films Festival 2014, discussing his new indie film, "Druid Peak," written and directed by Marni Zelnick. The young actor talks about working with real wolves, his co-star Andrew Wilson.
Spencer Treat Clark has been seen in movies such as: Gladiator (2000), Mystic River (2003), The Last House on the Left (2009), and Joss Whedon's Much Ado About Nothing (2012), to name a few. His 2014 resume is full of new film projects.
Dances With Films Festival website: DancesWithFilms.com

DRUID PEAK official film website: DruidPeak.com

CLICK HERE for more of our interview with Spencer Treat Clark.