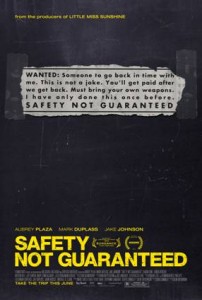 Can you say movie buzz?
Here comes the poster for the highly anticipated "Safety Not Guaranteed" (by the producers of Little Miss Sunshine). Plot: When an unusual classified ad inspires three cynical Seattle magazine employees to look for the story behind it, they discover a mysteriously likable yet paranoid supermarket clerk, who believes he has unlocked the secret of time traveling and now wants to travel to where it may take him.  Together, they embark on a hilarious journey that challenges all logic and is perhaps a testament to how far believing can take you.
"Safety Not Guaranteed was inspired by a real classified ad written back in 1997. It compelled thousands of people to respond with letters and postcards, hoping the mysterious time traveler was real. We believe he is."
Colin Trevorrow, Director of Safety Not Guaranteed 
CLICK HERE for Safety Not Guaranteed movie trailer.