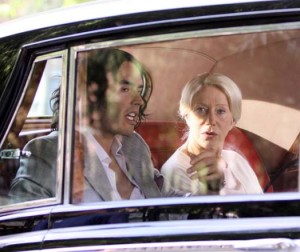 We love Russell Brand who was all stylin' in New York, filming 'Arthur.' In the title role, the actor is working with that lovely Dame Hellen Mirren (as the valet Hobson) who needs to keep the young millionaire in line.
In the 1981 film version of 'Arthur,' the late Dudley Moore played the role of the drunk playboy who is told to choose between his inheritance or love. Sir John Gielgud portrayed Hobson. In the remake, newcomer Greta Gerwig will play poor shoplifter Linda, played in the first film by Liza Minnelli. Jennifer Garner will play the trophy wife Arthur's family want him to marry.
Nick Nolte will also appear in the movie as the deeply religious father of Garner's character.
It was during the making of The Tempest earlier this year, when Mirren and Brand became friends. The energy of the two in the new 'Arthur' must be lots of fun to watch.
-H. Vartanian