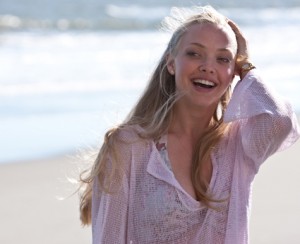 Will the release of the film, Lovelace, finally give Amanda Seyfried the star-making vehicle that everyone's been waiting for since her breakout in 2008's Mamma Mia? Despite some serious acting chops as well as a unique feline beauty, calling to mind a young Michelle Pfeiffer, this perpetual rising star just can't seem to have her moment.
Bursting onto the scene with a small but crucial and memorable role as one of "The Plastics" in the teen comedy classic, Mean Girls, Seyfried went on to surprise everyone who pegged at first, Lindsay Lohan, and then, Rachel McAdams, as the film's true breakout star.  In fact, aside from it's creator, Tina Fey, one could argue that Seyfried has gone on to have the most successful post Mean Girls career—the jury's still out on McAdams, certainly beautiful and talented herself, but who needs to make more films like The Lucky Ones and Red Eye and less crap like The Vow.  However, To The Wonder looks promising!
While certainly a high profile, pop-culture-defining film, Mean Girls did not garner Seyfried attention for her craft as much it did for her sex appeal.  Ironically, it would be a television show that would make everyone forget about her first film role and focus instead on her talent.  As the dutiful yet conflicted eldest daughter, Sarah, on Big Love, Amanda proved she was more than just a pretty face and earned a spot as one to watch in new Hollywood.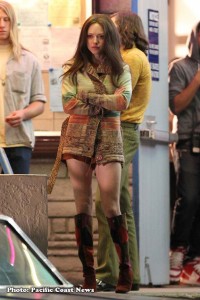 One of the most criminally under-appreciated shows in Emmy history, the original Sister Wives examined familial connections with a sensitivity and subtly that hadn't been observed since Six Feet Under.  Naturally, HBO was responsible for both shows, yet Big Love seems to have been somewhat neglected, because it featured just as high caliber acting and writing (particularly in the first 3 seasons).
In Seyfried's able hands, what began as merely a "tv teen" role quickly became a layered and emotional exploration of growing up in this particular lifestyle.  Of course she never received an Emmy nomination—especially glaring after Season 3, in which she brilliantly portrayed her character's unexpected pregnancy and devastating miscarriage– but hey, she's in good company because none of the show's brilliant lead actors, Bill Paxton, Jeanne Tripplehorn, or Chloe Sevigny were ever nominated.
While her part on Big Love certainly had bit, it was her role as Meryl Streep's vivacious daughter in the surprise 2008 hit, Momma Mia that was the big hit.  Ok, I agree that few of the actors could actually sing– Seyfried of course was one of them with her beautiful pop soprano– but who cares?  Every once in a while it's nice to see actors just having fun doing their job. Not in the gratuitous, rub-our-faces-in-it way that say a Charlie Angles: Full Throttle did, but rather in an infectious, life-isn't-all-that-bad sorta way.
Needless to say, this effervescent musical showcased all of Seyfried's dewy, wide-eyed charm.  Not only was her voice perfect for showcasing Abba's brilliant pop melodies, but she also more than held her own with screen vets like Streep and Colin Firth.  After Mamma Mia achieved summer blockbuster status in 08, Seyfried was officially dubbed a rising star to watch, and fans were ready for her to break out like say Jennifer Lawrence did in 2012.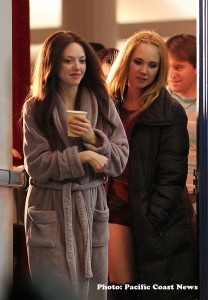 Unfortunately, for her next role, she didn't choose a Hunger Games/Twilight-style already-built- in–YA- audience, blockbuster.  Nor did she pick a sensitive, indie but still A-list family drama along the lines of Silver Linings Playbook.  Instead, she made Jennifer's Body.
You can't blame her for wanting to work with the talented and one-of-a-kind Diablo Cody. Fresh off her Oscar win for writing Juno, Cody was the most in-demand female screenwriter in Hollywood. Enlisting Girlfight's Karan Kusama to direct the satirical horror film, and casting Seyfried as one of the leads, Jennifer's Body seemed like a great choice. Unfortunately, despite the charms of Seyfried and Megan Fox (screw you haters) the film's subject matter and Diablo-isms—aka. teen girls speaking like jaded hipster 30-something divorcee's– already starting to wear thin by the end of the Juno phenomenon, kept audiences away.
A great part on paper is also how I would describe her role in the misfire that was the 2009 indie, Chloe.  Who wouldn't want to act alongside Julianne Moore and Liam Neeson for esteemed Canadian auteur, Atom Egoyan? I still can make myself cry just thinking of scenes from The Sweet Hereafter! Unfortunately, his psychosexual tale of obsession and deceit was more Showgirls than Exotica.  But hey Amanda, you got your requisite hooker role out of the way!
Speaking of requisite roles, like McAdams before her, in 2010, Seyfried starred in her first film based on a Nicolas Sparks "novel"– in which someone must die or go off to war, a girl will usually find a letter, and Channing Tatum will eventually take his shirt off.  I'll be nice and say that she did have chemistry with Tatum, and maybe she thought she was making Chocolate 2 with Lasse Holstrom, but clearly this wasn't my favorite.  Alas though, I'm in the minority, because until Les Mis, this film was her biggest post- Mamma Mia hit.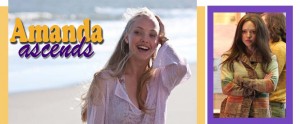 Though in fairness, that's because movies like Catherine Hardwicke's Twlight-ian Red Riding Hood, and The Timberlake-As-Action-Star vehicle, In Time, as well as the who-forced-you-to-do-this, indie, Gone, all failed to connect with audiences.
Luckily, her gorgeous soprano once again came to the rescue as she sang her way to the part of Cosette, in the film version of Les Miserables.  Though while certainly a coveted role, and a beautiful showcase for her singing voice, the part is clearly not the play's juicy female one.  Without a signature song like Fantine's heartbreaking  "I Dreamed a Dream", or Eponine's lovelorn "On My Own" it doesn't have that star making JHUD sing-acting moment that has garnered the other actresses such acclaim.
Alas, perhaps I'm being harsh and there is someone out there who considers "A Heart Full of Love" his or her jam.  Not that it would have mattered anyway though once Anne Hathaway signed up and stole all the female buzz for that movie along with the Best Supporting actress Oscar.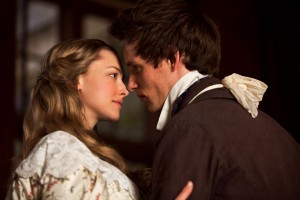 It is at this intersection that I pause to acknowledge another sad fact in all of this. Anne Hathaway, while no doubt a talented actress, is also a fashion icon who, working with stylist Rachel Zoe, has created many signature red carpet looks.  In this TMZ high fashion-obsessed day and age, an A-list celebrity must have these style moments along with great celluloid performance to remain relevant. While Seyfried is certainly gorgeous and a designer's dream, she doesn't seem to revel in this aspect of the business as much as her peers like Hathaway or Jessica Chastain.  Hell, even KStew's kicked off the converse and hired an A-list stylist as of late.
Instead, Amanda projects much more of a down home, California-girl image, appearing to enjoy hanging with her dog, and God forbid, working on her craft more than sitting front row at Paris Fashion Houses.  Personally, this is my favorite thing about the actress, and while I would hate to tell anyone to be someone they are not, perhaps it's time she enlisted the help of an uber-stylist like Zoe to ensure she reaches that next level, if in fact that is what she wants.
I'm careful to note however, that good fashion can't save a career if an actress keeps choosing films that don't click with audiences. It really is a shame, because Seyfried has continued to turn in solid performances and work with interesting directors,  it's just that the projects have largely been considered critical and commercial misfires.
Hopefully, the buzz that her new indie film, Lovelace, is getting out of Sundance will help rectify all of this.  Both the film and star's performance were well received by audiences and critics, with the latter praising Seyfried's commitment to and understanding of the troubled "porn star" she plays.
The film was acquired by The Weinstein Company, which means that the Harvey publicity machine might be able to succeed where others have failed.  Hey Mr. Weinstein, it's time to do the same for Amanda Seyfried as you did for Gwyneth, and most recently, Lawrence. Even if you can't get this actress all the way to the Oscar ballot, at least make her the star we all know she is!