Here is a look at the new poster and the trailer for the very buzzy film Tower, a documentary directed by Keith Maitland, and released by Kino Lorber. The film was the SXSW 2016 Grand Jury Prize & Audience Award Winner and has been called "Tense, reflective and uniquely cinematic…a gripping dramatic reconstruction, a tribute to the heroes and the fallen" by Justin Chang at VARIETY.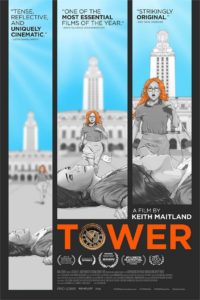 What is it about: August 1st 1966 was the day when innocence was shattered. A sniper rode the elevator to the top floor of the iconic University of Texas Tower and opened fire, holding the campus hostage for 96 minutes in what was a previously unimaginable event. Tower combines archival footage with rotoscopic animation of the dramatic day, based entirely on first person testimonies from witnesses, heroes and survivors, in a seamless and suspenseful retelling of the unfolding tragedy.  The film highlights the fear, confusion, and visceral realities that changed the lives of those present, and the rest of us, forever – a day when the worst in one man brought out the best in so many others.
New documentary film Tower chronicles the historic 1966 terror caused by a gunman at the University of Texas.
The film is based on a 2006 Texas Monthly article by Pamela Colloff, titled "96 Minutes."
Maitland (born in Austin, Texas), attended UT Austin. After reading the article in 2006, he and asked Colloff to have lunch with him, and proposed it as a potential idea for a film about the life-changing incident. As the wheels started rolling, Colloff became an executive producer on the film.  The film was financed on Indiegogo, where it collected almost $70,000 from over 330 people in six weeks.
The film includes interviews, with over 100 people, conducted by one of the producers on the film, Susan Thomson. Subjects interviewed were members of the media members, police, students, and faculty, and other eye-witnesses who were there on that day. In addition, University of Texas students worked on the film as interns.
A cast of young actors were added to portray people present during the historical events. Rotoscopic animation and archival footage are used to help tell the story and from what is seen in the trailer, give it a unique intensity and drama.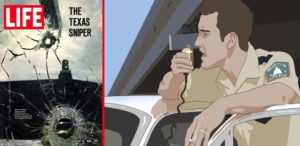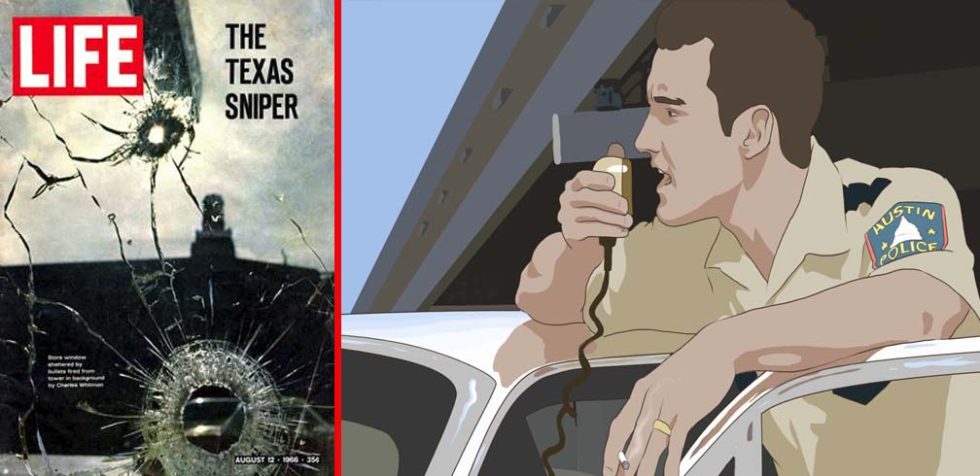 Some of the involved persons, such as Houston McCoy, a police officer who killed Whitman, died before the film was made. McCoy's daughter Monika is interviewed as part of the film.
Tower (documentary film) will be opening in New York, on October 12th at Film Forum and in Los Angeles, on October 14th at Laemmle Royal.
Watch the trailer for Tower below.
[videos file="https://www.youtube.com/watch?v=GTzNkfgM1vE" width="500″ height="300″][/videos]