Movie Review: Kill Me Three Times Starring Simon Pegg, Teresa Palmer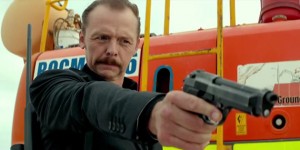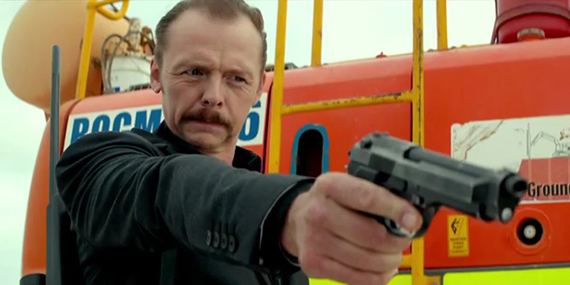 Simon Pegg (STAR TREK) stars as hitman Charlie Wolfe in the highly enjoyable Aussie black-comedy, KILL ME THREE TIMES, that crosses Coen Bros cool with Tarantino comic violence.
Pegg, best known to sci-fi geeks as Scotty, and to comedy fans as the star of SHAUN OF THE DEAD and WORLD'S END, plays against type as voyeuristic handlebar mustachioed killer.  The film is structured in three parts – where we watch a murder, double-crossing and plotting come together from three points of view in what must be the crookedest little beach town ever.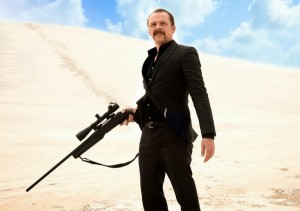 A tiresome sixties beach music soundtrack annoyingly forces retro cool, but the gorgeous Australian beach coast scenery and the Coen-esque love of primary colors more than make up for the distraction.  The fast-paced, zesty film never takes itself overly seriously even when the bullets are flying and the blood is spurting.
KILL ME THREE TIMES has a great Australian cast. Aside from Brit Pegg, Teresa Palmer of WARM BODIES fame co-stars as murderous sister-in-law.  Sullivan Stapleton is unrecognizable as a nerdy, cowardly dentist – you will have remembered his abs from his starring turn in 300: RISE OF AN EMPIRE.
And there's Bryan Brown, who used to be on track for bigger things in Hollywood when he starred in F/X and COCKTAIL with Tom Cruise back in the day.
Fans of Hemsworth bros, Liam and Chris, will also find this flick a curiosity to see less famous third brother Luke in a supporting role.
KILL ME THREE TIMES is a fun bloody romp from director, Kriv Stenders, and an impressive debut from first time screenwriter James McFarland.
The film is now on iTunes/On Demand, and in theaters April 10, 2015
—
About the reviewer: Harrison Cheung is the award-winning author of the Christian Bale biography, THE INSIDE STORY OF THE DARKEST BATMAN. Learn more at bale-biography.com