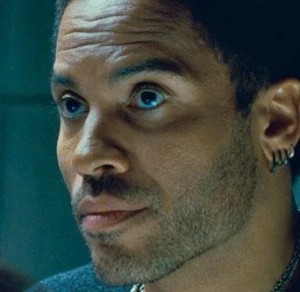 As the countdown to the release of "The Hunger Games" continues, teaser photos and clips are flying fast and furious to whet the appetites of legions of anxious fans. A crazy-successful series of adventure novels form the basis for what studio execs hope will become the next mega-franchise to pick up where Harry Potter and Edward Cullen have left off.
CLICK HERE for Brave New Hollywood's prior "Hunger Games" coverage.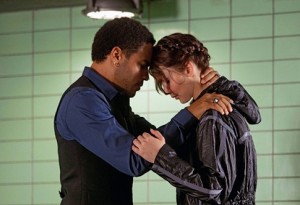 This week, the blogosphere is abuzz over a new snippet featuring Lenny Kravitz, who plays Cinna. "The clip shows Katniss (Jennifer Lawrence) and Cinna's first meeting in which he describes what he can and will do for her," says HollywoodReporter.com.
"In the novel, she was struck by how normal he was compared to the more flashy citizens of the Capitol. Katniss must find a way to trust Cinna if she wants to win the Games. And clearly, from the preview, Kravitz delivers the role very seriously."
Elsewhere, Kravitz talks to Raphael Saadiq for "Interview" magazine as he makes the promotional rounds. The profile is accompanied by a handsome series of photos that display the 47-year-old's impressively buff physique.
Saadiq and Kravitz ponder whether a real-life "Hunger Games" could ever occur.
"You know what's funny? A lot of reality television started in Europe—things like 'Big Brother,' where you had random people living in a house together and all this stuff started happening," Kravitz says.  
"And then you had all the gladiator stuff and the competitions. I remember saying, 'One day we're going to watch people fight to the death, like Roman times. Instead of it being in a coliseum, we're going to watch it on TV.' It sounds like a really far-fetched and politically incorrect statement at this point, but who knows how twisted we're going to get? Hopefully we'll go somewhere smarter and more beautiful and more peaceful, but that's not where we're headed at the moment."
"Hunger Games" debuts March 23. Costars include Elizabeth Banks, Woody Harrelson, Liam Hemsworth, Josh Hutcherson, Donald Sutherland and Stanley Tucci.
CLICK HERE for the Kravitz clip at HollywoodReporter.com.