On Friday, August 13, 2010, Jules Verne Festival founders Jean-Christophe Jeauffre and Frédéric Dieudonné honored legendary film and TV star Larry Hagman, as they announced the first open- air JULES VERNE NATURE DAY in Los Angeles, CA.
During the ceremony, the Jules Verne 'Nature' Award 2010 was presented to actor and environmentalist Larry Hagman ('Dallas,' 'I Dream of Jeannie') for his Outstanding Contribution to Environmental Education and the Promotion of Solar Energy.  On hand in presenting the award to the legendary actor were Los Angeles City Councilwoman Jan Perry and 'Heroes' actor Jimmy Jean-Louis. Past recipients have been Harrison Ford, James Cameron, and Jane Goodall.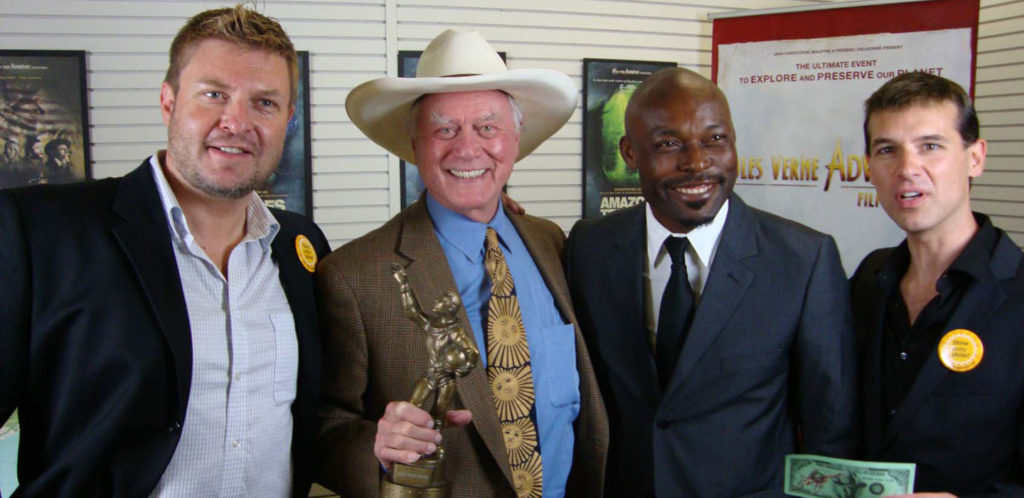 The first in its series of upcoming free public events, JV's Nature Day gathered the environmental presence of exhibitors from environmental non-profits to green cars, green technology, and products. On display, was also the vegetable oil running vehicle BABY from Award-Winning documentary "Nature Propelled."
"The Jules Verne Nature Day" hopes to inspire the youth and all other Angelenos on environmental issues in hopes of positive steps towards solutions to the downtown and surrounding communities of L.A., particularly to low-income families and school children.
Jules Verne Festival founders, Jean-Christophe Jeauffre and Frédéric Dieudonné explain: "Our aim is to foster a culture of sustainability in a rarely reached yet important new audience in a fun and entertaining way."