Kathy Griffin has a hell of a story to tell and she gets to tell it her way. The massive blowback that caused her career to vanish overnight, with the loss of TV contracts and other lucrative deals was due to Griffin posing for a photograph in which she held a mask resembling the bloodied head of President Donald J. Trump. After weathering the giant storm that sank her but didn't entirely destroy her, the straight-shooting comedienne, and self-proclaimed D-lister is back on stage, as a part of a new documentary film in which she pulls no punches.
In KATHY GRIFFIN: A HELL OF A STORY, screening at Outfest 2019, Griffin gets that comeback she has been waiting for. Carving her path back into the spotlight with a fresh and must-do perspective. With newfound strength, and utilizing her signature style of comedy, Griffin sets out on a mission to be the voice for the first amendment, women, and other individuals being silenced in pursuit of freedom, in expression and in speech, and on this quest she vows to not allow anyone to do to others what was done to her, referring to the way she felt her career and personal life threatened by the current administration's scare tactics.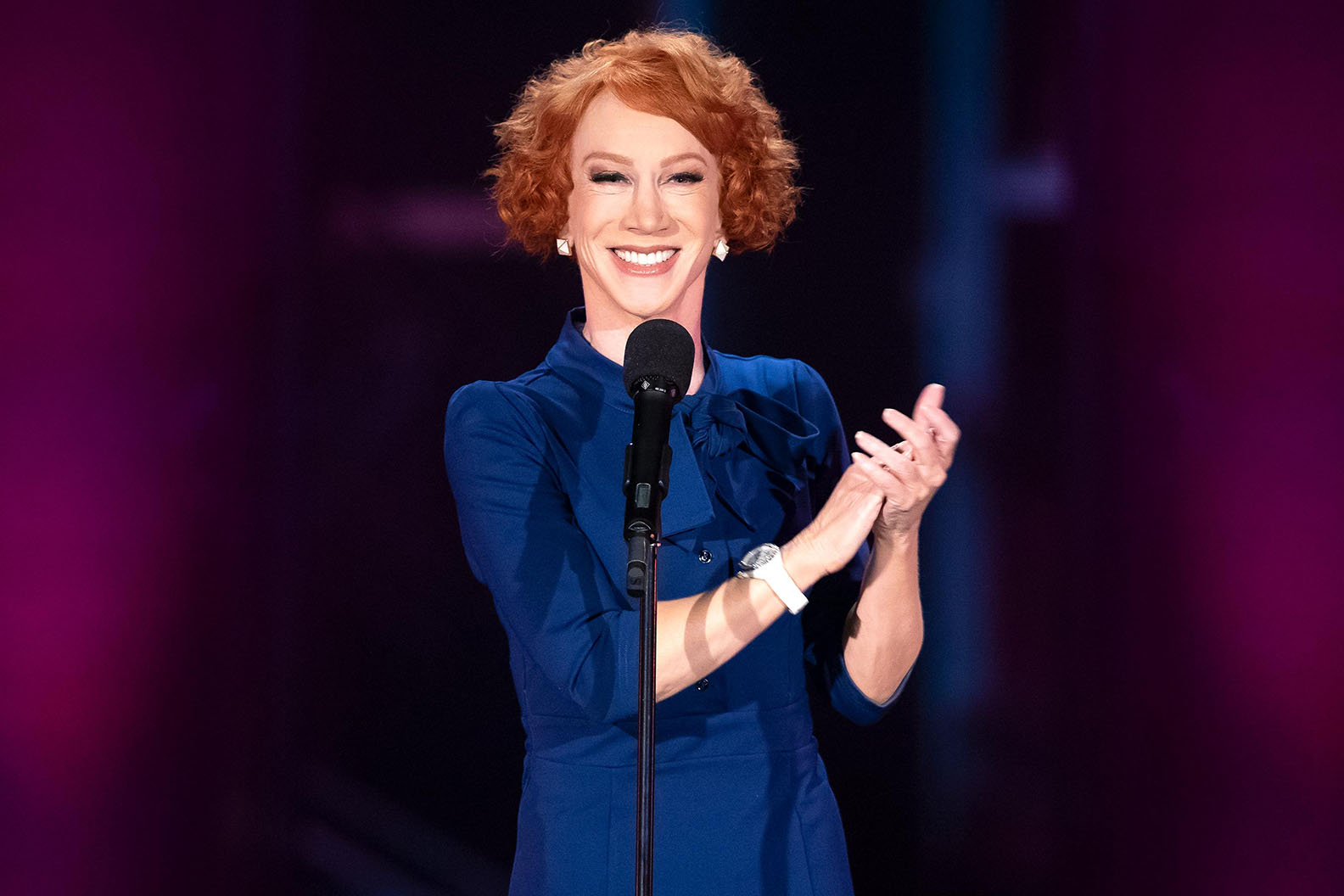 KATHY GRIFFIN: A HELL OF A STORY Screened at OUTFEST 2019
The very real and serious documentary film is the sandwich for a hilarious comedy special, in the middle, starring Kathy Griffin.  The film caught a break when SXSW premiered it, opening the doors for more exposure, leading to a Los Angeles screening at this year's Outfest.
A HELL OF A STORY gives viewers an intense, behind-the-scenes look inside the hell that became Griffin's life after posing for the controversial photo and the price she paid for it. Appearances were canceled, and she found herself dropped from her decade-long gig as the co-host of CNN's New Years Eve Live, with Anderson Cooper, just to name a few. To survive, Griffin looked outside the United States and booked shows overseas, at countries that are willing to host her comedy shows, but as she arrived at each destination, the funny lady was faced with the new unfunny reality of being a marked woman, answering questions to Interpol, which according to her and some news reports, stopped her at multiple airports.
In A HELL OF A STORY, viewers will see her first-person account, at times shot by herself, on her cell phone, in which she goes through a rollercoaster of emotions, detailing other personal turmoils in her life as the comic and her tour manager push through it all on a daily basis. Various news clips, phone conversations, and Griffin's confessional style, on-camera commentaries form a fuller picture of navigating the controversy and the roadblocks on every stop.
During its Outfest screening, Griffin was on hand to take part in a funny and revealing Q&A with writer, prody=ucer and showbiz expert, Louis Virtel.
This month, Fathom Events will bring A HELL OF A STORY to local theaters across America. For one night only, on July 31, fans can purchase tickets and watch the docu-comedy on the big screen.
KATHY GRIFFIN: A HELL OF A STORY completes our list for the best documentaries at Outfest 2019, along with CIRCUS OF BOOKS, VISION PORTRAITS and THE GARDEN LEFT BEHIND.
Watch the official trailer for KATHY GRIFFIN: A HELL OF A STORY.  Check Fathom Events and for info on local theaters participating in the on-night premiere of the film.