Yeah, we really just did go there with Jeremy Renner. But Queen Elizabeth herself would likely pop a bone out of her corset for this critical AND box-office fave, whose resume is a smorgasbord of talents. Check out the stats (speaking of food: you'd better get a snack first, and settle in):
Makeup Guru: He insists he did it to pay the bills, but I swear if he can give me any good pointers on a great smoky eye, I won't ever tease him about it.
Performance Artist: OK…, kinda. During Jeremy's early college years in his hometown of Modesto, California, he toyed around with Criminology studies while juggling his interest in theater. During that time, Renner discovered that the police department hired people to impersonate criminals for training exercises. "I got $50 a day to beat up cops and be unruly," he comments in a 2010 interview to Newsweek. "I was, like, cool!" Proving he's open for anything in this department, Jeremy even auditioned for–and made–the cut onto a Bravo Channel reality show, "The It Factor", which followed the lives of struggling actors. This was long before Heidi Klum and Tim Gunn put the network on the map for reality juiciness, however, and while Renner believes the show helped him open up more as a performer, the gig remains more of an interesting Trivial Pursuit answer about the actor.
Indie Theater Dweeb: For which this writer probably digs him the most. Renner can boast legit acting AND directing duties on his live "thee-ahh-tahh" experience, having done both on a production of the Howard Korder play "Search and Destroy" in 1998. The production, which ran for 3 weeks in one of LA's kitschy 99-seat houses, was generally panned by Variety, although they praised Renner's acting handiwork as "excellent."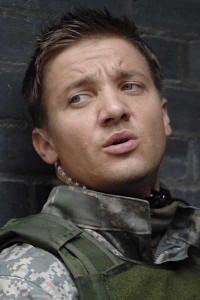 Contemporary Rock God (see; we told you to get a snack!): And no, we're NOT kidding. According to the website www.jeremeyleerenner.com: "He rocked out in his high school band before ever considering pursuing a career as an actor. Jeremy has written and produced much of his own original material featuring his skills on piano, guitar, and his powerful vocals. Though his skyrocketing acting career has left little time to work on his own musical endeavors, Jeremy takes the opportunity to show support and encouragement for his friends' pursuit of their musical aspirations whenever possible." Indeed, it's a treasure-trove of Renner goodness when you link him and the word "music" together in the internet search string, including his deep personal involvement with The Brother Sal, an early career cameo in Pink's "Trouble", and even getting charmed into an impromptu serenade of the drooling hostesses on "The View". He's also performed tracks for two of his movies: "The Assassination of Jesse James by the Coward Robert Ford" and "North Country".
Extreme Home Makeoverist: Bet you didn't see this one coming! (Also bet you didn't know there's such a word as "makeoverist". Neither did we.) But indeed; as this month's cover subject for Details magazine, Renner confesses that he and best friend Kristoffer Winters have a successful little side hobby: completely renovating iconic Hollywood homes. Sometimes, Jeremy even lives in the places while they're under construction. In your face, Ty Pennington.
Oscar Nominee: OK, OK; you probably knew this one. We'll give you the free square on your Bingo card. But let's face it; the guy's on a roll: after 2010's nom for "The Hurt Locker" (and his adorable, palpable excitement about it, taped live on "The Today Show":  as well as this year's nod for "The Town", you know the Academy is itchin' to get a little golden man in this guy's hands. (Let your mind take that where it wants to go; we can't do ALL the work for you.)
While he's waiting on that, we promise there's so much more to the Jeremy Renner buffet for you to gnosh on. As we answer the question of what's next on this guy's plate, it's actually easier to wonder what's NOT there.

For starters, Renner will lend his understated-hero-meets-smartass-rebel style to TWO major franchise names: alongside Tom Cruise in the next "Mission Impossible" installment, "Mission: Impossible 4 – Ghost Protocol", burning its dynamite wick at you just in time to escape the house over the holidays; as well as taking over the leading man duties for the re-start of the "Bourne" series. That's right, we said taking over—as in carrying the first film of the series that won't feature Matt Damon in the mach-twenty driver's seat.  Nervous a little, Jeremy? If he is, Renner states that the pressure isn't coming from "Jason Bourne" himself. "He's always been so complimentary to me from the moment I met him. Such a great guy," the actor tells MTV News. "I met him from 'The Town,' obviously, 'cause of him and Ben [Affleck] being best buds. I met him first at the Academy Awards, actually, for 'The Hurt Locker.' He sat in front of me, and he saw 'The Town' before I saw it and said he loved it. He's a very complimentary, loving dude."
Checked off in Renner's "Done" column already: the highly-anticipated "Avengers", directed by Joss Whedon and featuring all the super-hero goodness a geek could ever ask for (though you had us at "Joss Whedon")…and be still our oh-so-throbbing hearts: a brand-new concept, "Hansel and Gretel: Witch Hunters", teased with a "First Look" just this week in EW –seriously, how can a simple photo kick that much ass?
Ohhh, where to dig in first? The Jeremy Renner buffet overflows, and we have no idea where to start the tasting first! But we'll find a way. We MUST a find a way. It's our duty to the Renaissance, after all. Jeremy's already done HIS part.