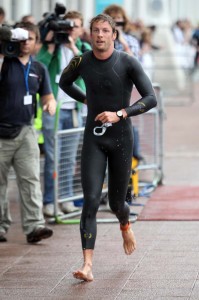 Formula One motor racing champion, Jensen Button gave an impressive performance at the London Triathlon, on Sunday Aug. 8, 2010 despite suffering from a case of tonsilities days before the event. Button finished fourth out of the 570 competitors in his group, with a time of 2.14:14; about seven minutes slower than last year. The annual event includes a 1500-meter (about 1 mile) swim, a 40-kilometer (about 24.85 miles) bike ride and a 10-kilometer (6.21 miles) run. It attracts 11,000 participants making it the largest triathlon in the world.
"Great day at the London Triathlon," twitted Button his Twitter page. "Suffered quite a bit on the run due to just being physically drained I guess from the antibiotics. Still reasonably happy with the result though."
Button competed to raise money for the Make-A-Wish Foundation, a charity which helps realizing the dreams and wishes of childern fighting life-threatening illnesses.
"I wasn't feeling very well at the start of the week, which is why I have come in a bit slower than last time round," Button said in a release from the organizers. "I really didn't want to miss out on the weekend, though, as I had such a fantastic time here last year, so I just decided to battle through it."